Throwback Thursday: 1970 — New Cargo Heaters Installed in ABF Freight Trucks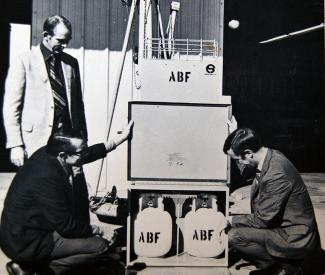 In December 1970, ABF Freight® (then known as Arkansas-Best Freight System) announced to its employees the purchase of new cargo heaters for linehaul use. The Customer Service department added 140 new cargo heaters to the system.
In the photo, ABF Freight Regional Sales Director Walter Willard (standing), Customer Service Director Bruce Whittaker (kneeling left) and Operations Assistant Vice President Gordon Watson examine the new cargo heaters.
The propane-fired units replaced old charcoal salamander heaters that had been used for several years.
Roger Curtis, vice president-Customer Service, said the heaters would enable drivers to haul cargos at a lower temperature than previous units, "in an effort to offer better protection for our customers' shipments during the coming winter months."