Trade Shows Happening in July 2016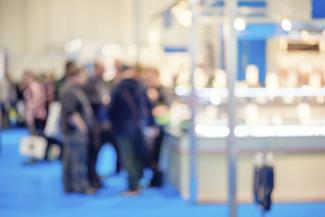 July 2016 Trade Shows in the U.S.
If you're gearing up for the summer trade show season, we've compiled a list of conferences and exhibitions happening in July to help you plan accordingly — including location information, lodging details and other show information. Let's take a look at these upcoming shows and what to expect. If you decide to exhibit, ABF Freight® can help with your trade show shipping needs.
Top trade shows in July
Learn more about these popular conventions happening across the country:
2016 Essence Festival: The 22nd annual Essence Festival is slated for June 30-July 3 in New Orleans, Louisiana. The festival is the largest event celebrating African-American culture and music in the U.S. and features plenty of activities, from educational sessions and an expo hall to networking events and concerts.
Accommodations: The festival offers a list of preferred hotels and options to book rooms; however, reservations can be made at your location of choice.
2016 FSASC Annual Conference: The Florida Society of Ambulatory Surgical Centers' annual conference will be held July 13-15 at the Hilton Orlando Bonnet Creek resort in Orlando, Florida. The trade show is designed to bring together ASC professionals with industry experts and vendors for three days of interaction and learning new perspectives. Bring multiple team members to take advantage of registration discounts.
Accommodations: The deadline to reserve your hotel stay at the discounted conference rate is June 21.
Microscopy & Microanalysis Meeting: The 2016 Microscopy & Microanalysis meeting (also known as M&M 2016) is scheduled for July 24-28 at the Columbus Convention Center in Columbus, Ohio. The conference is the premier meeting for scientists, technologists and students who use microscopy or microanalysis in their research. Check out the latest instrumentation and network with colleagues during this year's conference!
Accommodations: Rooms must be booked through the M&M Housing service to receive a discounted rate (pricing guaranteed through June 24).
WFH 2016 World Congress: World Federation of Hemophilia members will convene July 24-28 in Orlando, Florida, at the Orange County Convention Center. This event is expected to be the largest conference in the organization's history.
Accommodations: WFH is offering conference rates through several nearby hotels; however, the featured hotels are already sold out as of the time of this post. We recommend contacting the WFH World Congress Secretariat and Housing Bureau for more information or reservation suggestions.
SEBC 2016: The Southeast Building Conference will happen July 27-30 at the Gaylord Palms Resort and Convention Center in Kissimmee, Florida. It's the largest show in the southeast of its kind and is perfect for anyone in the building industry.
Accommodations: Attendees will receive a special resort rate by reserving through the SEBC website. Book early to avoid sellouts!
RDH "Under One Roof" 2016: The 15th annual RDH (Registered Dental Hygienists) Under One Roof conference will be held July 28-30 at the Gaylord National Marriott Resort & Convention Center in National Harbor, Maryland (near Washington D.C.). The show presents attendees the opportunity to earn continuing education credits and increase field knowledge, all while discovering new products and connecting with fellow hygienists.
Accommodations: Arrangements can be made through Preferred Convention Services at discounted rates through June 27.
22nd Annual OIGA Conference and Tradeshow: The Oklahoma Indian Gaming Association will host its annual conference this year from July 25-27 in Tulsa, Oklahoma, at the Cox Convention Center.
Accommodations: The conference has secured discounted hotel rates for those who register by July 2.
2016 Joint Annual Meeting: The American Dairy Science Association and the American Society of Animal Science will host the annual JAM meeting July 20-22 in Salt Lake City, Utah, at the Salt Palace Convention Center. This year's theme is "Animals and Science: Big Solutions for Grand Challenges." 
Accommodations: Discounted hotel rates have been secured; however, it's recommended to book early as space is limited.
Engage OK: The Oklahoma Department of Education's summer education conference tour begins July 18 at Broken Arrow High School in Broken Arrow, Oklahoma, and concludes July 28 at Lawton High School in Lawton, Oklahoma. This "on the road" event offers professional development and important updates on federal and state education laws to Oklahoma educators.
National Education Association (NEA) Expo 2016: The National Education Association's NEA Expo is the largest gathering of American educational leaders. More than 16,000 are expected to attend this year's event, held July 2-3 in Washington, D.C., at the Walter E. Washington Convention Center.
Accommodations: The NEA has blocks for attendees at the Renaissance Hotel in downtown Washington D.C., but rooms are based upon availability, so it's a good idea to register early.
Cultivate16: AmericanHort (the consolidation of the American Nursery and Landscape Association and Association of Horticultural Professionals) will hold its annual conference and trade show July 9-12 at the Greater Columbus Convention Center in Columbus, Ohio.
Accommodations: Cultivate attendees will have the option to choose from several discounted hotels around the convention center upon registration.
53rd ASHE Annual Conference & Technical Exhibition: Over 3,000 professionals will gather to learn about the latest in healthcare compliance and facility management in Denver from July 10-13 at the Colorado Convention Center. Attend this conference and get the tools you need to navigate the ever-changing world of health care.
Accommodations: ASHE has secured special rates at two hotels within walking distance of the Colorado Convention Center. You'll need to register for the conference first in order to get the discounted hotel rate. Book early to ensure a reservation!
BbWorld 2016 and Devcon 2016: Hosted by software company Blackboard, these conferences will be held July 11-14 at the Venetian/Palazzo in Las Vegas. Designed for education technology professionals, developers and administrators, the exhibition agenda is full of breakout sessions, networking events and learning expos.
Accommodations: BbWorld and DevCon attendees can book a discounted room at the Venetian/Palazzo through June 16.
ASI Show! Chicago: The largest ad specialty show of the summer attracts industry professionals from coast to coast. Held July 12-14 at McCormick Place in Chicago, the show is set to see more than 4,000 distributors and nearly 700 suppliers come together from across the country and beyond to prepare for the end-of-year sales season. The show brings together suppliers, decorators, distributors and others within the advertising industry to provide an opportunity to expand industry relationships, learn the latest trends, and discuss sales goals and clients' needs face to face with leading suppliers.
Accommodations: The Hyatt Regency McCormick Place is extending a discounted rate to attendees as the official show hotel. ASI distributor members who stay at the official show hotel are eligible to receive a room reimbursement for the first night of the exhibit — specific steps are required, so please check with an ASI representative for details.
ICAST/IFTD 2016: The world's largest sport fishing trade show will be held July 12-15 at the Orange County Convention Center in Orlando. Attendees can expect to learn the latest industry news at educational seminars, networking events and on the show floor through hundreds of exhibitors.
Accommodations: The conference has contracted with a number of hotels to offer discounted housing and will offer shuttle service for ICAST hotels not within walking distance of the exhibition. Reserve your hotel when registering for the conference to receive the discount rate.
Atlanta International Gift, Home and Rug Market: Thousands of buyers and sellers will convene in Atlanta for an annual conference at AmericasMart® over July 12-19. Find the most comprehensive collection of home décor, furniture and gifts at this show, and learn more about the latest products and trends through networking events and educational sessions.
Accommodations: This show is providing special benefits and accommodations for attendees through housing partner onPeak at a variety of hotels in the area — again, book early to ensure a reservation at discounted rates.
IFT16: The Institute of Food Technologists Annual Meeting and Food Expo is the largest food ingredients trade show in the world. Held July 16-19 in Chicago, more than 20,000 food experts and connoisseurs are expected to attend.
Accommodations: The Palmer House Hilton is the conference's hotel headquarters and special rates are available on a first-come, first-served basis.
San Diego Comic-Con International: The 2016 conference geared to comic book, science fiction and fantasy related film enthusiasts will be held July 21-24 at the San Diego Convention Center in San Diego, California.
Accommodations: Due to the popularity of this show, reservations for official Comic-Con hotels are currently closed due to sell-outs. Check travel sites for availability at other hotels in the area.
2016 NACo Annual Conference & Exposition: The National Association of Counties will hold its annual conference and exposition July 22-25 in Long Beach, California. County officials from across the country will gather to learn about new practices and policies for managing local economies.  
Accommodations: Attendees must be registered for the event in order to reserve a hotel room at the discounted housing rate. Rates are guaranteed until June 16, but keep in mind that availability is on a first-come, first-served basis.
Exhibiting at a trade show? Let us help
Ship your booth and exhibit materials with ABF Freight® to streamline your trade show shipping process. With advanced warehousing and guaranteed transit options available for a tailored shipment that fits your specific timeline, we'll help you coordinate move-in and move-out for seamless transportation to and from the show. For conferences and shows where ABF Freight is the official carrier, an ABF Freight trade show specialist stays on-site to oversee everything and answer any questions you might have throughout the show.
Whether it's going on the show floor to make sure delivery goes as planned or coordinating transportation and paperwork for the next show, we'll find a way to meet your needs. To schedule a shipment for your next trade show, call 844-560-2527   or email Trade Show Customer Service.
July 2016 trade show list
Still looking for a particular show? These events and exhibitions are also scheduled for July:
National Career Development Association (NCDA Global Conference): 6/30 -7/02 in Chicago, IL
PTA National Convention: 6/30 -7/03 in Orlando, FL
California Applicants' Attorneys Association (CAAA Summer Convention): 6/30-7/03 in San Francisco, CA
ANIME EXPO: 7/01-7/04 in Los Angeles, CA
Martial Arts SuperShow: 7/05-7/07 in Las Vegas, NV
International Children with Diabetes Conference — Diabetes 123: 7/05-7/10 in Orlando, FL
Texas Society for Respiratory Care (TSRC): 7/06-7/08 in Arlington, TX
National Association of Church Business Administration: 7/06-7/09 in Grapevine, TX
National Strength & Conditioning Association (NSCA) National Conference: 7/06-7/09 in New Orleans, LA
National Association of Elementary School Principals (NAESP): 7/06-7/08 in Washington, DC
American Orthopaedic Society for Sports Medicine (AOSSM): 7/07-7/10 in Colorado Springs, CO
Louisiana Academy of Family Physicians Annual (LAFP): 7/07-7/10 in Destin, FL
National Primary Care Nurse Practitioner Symposium: 7/07-7/10 in Keystone, CO
THE Aesthetic Show: 7/07 -7/10 in Las Vegas, NV
USA Gymnastics National Congress and Trade Show: 7/08-7/10 in San Jose, CA
Plant Biology (ASPB): 7/09-7/13 in Austin, TX
International Literacy Association (ILA): 7/09-7/11 in Boston, MA
American School Counselor Association (ASCA): 7/09-7/12 in New Orleans, LA
Association of College & University Housing Officers Conference: 7/09-7/12 in Seattle, WA
National Association of School Resource Officers (NASRO): 7/10-7/15 in Anaheim, CA
Scaffold & Access Industry Association (SAIA): 7/10-7/13 in Indianapolis, IN
Cisco Live USA: 7/10-7/14 in Las Vegas, NV
School Nutrition Association (SNA): 7/10-7/13 in San Antonio, TX
National Association of Student Financial Aid Admin (NASFAA): 7/10-7/13 in Washington, DC
American Council of Life Insurers (ACLI) Compliance & Legal Sections: 7/11-7/13 in Boston, MA
National Association of Pastoral Musicians (NPM): 7/11-7/16 in Houston, TX
IoT Evolution Expo (Internet of Things): 7/11-7/14 in Las Vegas, NV
World Of Color Expo: 7/11-7/16 in Washington, DC
North American Christian Convention (NACC): 7/12-7/15 in Anaheim, CA
Pawn Expo — National Pawnbrokers Association: 7/12-7/14 in Las Vegas, NV
Association of Higher Education Facilities Officers (APPA): 7/12-7/1 in Nashville, TN
Texworld USA: 7/12-7/14 in New York, NY
Home Textiles Sourcing Expo (HTSE): 7/12-7/14 in New York, NY
National Sports Safety and Security Conference & Exhibition (NCS4): 7/12-7/14 in Phoenix, AZ
Intersolar North America: 7/12-7/14 in San Francisco, CA
SEMICON West: 7/12-7/14 in San Francisco, CA
National Association of College & University Food Services: 7/13-7/16 in Anaheim, CA
CollegeBoard AP Annual Conference (APAC): 7/13 -7/17 in Anaheim, CA
Meetings Quest: 7/13-7/14 in Bloomington, MN
FreedomFest: 7/13 -7/16 in Las Vegas, NV
Illuminate— The BizBash Live Expo: 7/1-7/13 in Los Angeles, CA
IDEA World Fitness Convention™: 7/13-7/17 in Los Angeles, CA
Autism Society of America National Conference & Expo (ASA): 7/13-7/16 in New Orleans, LA
The Allied Genetics Conference: 7/13-7/17 in Orlando, FL
International Billiard & Home Recreation Expo (BCA): 7/13-7/15 in Schaumburg, IL
Atlanta Gift & Home Furnishings Market: 7/14-7/18 in Atlanta, GA
Academy of General Dentistry Annual Meeting (AGD): 7/14-7/17 in Boston, MA
THE NBM SHOW: 7/14-7/16 in Long Beach, CA
American Podiatric Medical Association (APMA): 7/14-7/17 in Philadelphia, PA
TransWorld Jewelry, Fashion & Accessories Show: 7/14-7/17 in Rosemont, IL
Colorado Vision Summit: 7/14-7/17 in Steamboat Springs, CO
Texas Pharmacy Association — Rxperts: 7/15-7/17 in Austin, TX
Expedite Expo: 7/15-7/16 in Lexington, KY
American Culinary Federation National Convention (ACF): 7/15-7/19 in Phoenix, AZ
SHAPE — An AT&T Tech Expo: 7/15-7/16 in San Francisco, CA
American Society of Clinical Oncology — Best of ASCO: 7/15-7/16 in Washington, DC
American Association of Law Libraries: 7/16-7/19 in Chicago, IL
NAACP Convention: 7/16-7/20 in Cincinnati, OH
Global Business Travel Association (GBTA): 7/16-7/20 in Denver, CO
SwimShow — Swimwear Association of Florida: 7/16-7/19 in Miami, FL
Association of Government Accountants Professional Development Training: 7/17-7/20 in Anaheim, CA
Tennessee Safety and Health Congress (TSHC): 7/17-7/20 in Nashville, TN
PROJECT SOLE New York: 7/17-7/19 in New York, NY
The Institute for Internal Auditors (IIA): 7/17-7/20 in New York, NY
American Society of Agricultural & Biological Engineers (ASABE): 7/17-7/20 in Orlando, FL
Texas High School Coaches Association (THSCA): 7/17-7/20 in San Antonio, TX
Health Forum Leadership Summit: 7/17-7/19 in San Diego, CA
Health Physics Society (HPS) Annual Meeting: 7/17-7/20 in Spokane, WA
Pan-Pacific Lymphoma Conference: 7/18-7/22 in Koloa, HI
Basic Cardiovascular Sciences (BCVS) American Heart Association: 7/18-7/21 in Phoenix, AZ
ORG Online Merchandising Workshop: 7/18-7/20 in Ranch Pales Verdes, CA
Wearables TechCon: 7/18-7/20 in San Jose, CA
Airborne Law Enforcement Association Annual Conference (ALEA): 7/18-7/23 in Savannah, GA
National Association of State Fire Marshals (NASFM): 7/19-7/21 in Albuquerque, NM
International Auctioneers Conference and Trade Show: 7/19-7/23 in Grand Rapids, MI
Photoshop World: 7/19-7/21 in Las Vegas, NV
National Association of County and City Health Officials (NACCHO): 7/19-7/21 in Phoenix, AZ
Association for Nursing Professional Development (ANPD): 7/19-7/22 in Pittsburgh, PA
Western Pension & Benefits Conference: 7/19-7/22 in Seattle, WA
Cardinal Health Retail Business Conference (RBC): 7/20-7/23 in Chicago, IL
Council on Hotel, Restaurant & Institutional Education (ICHRIE): 7/20-7/22 in Dallas, TX
National RAC (and MAC) Summit: 7/20-7/22 in San Antonio, TX
American Society for Microbiology (ASMCUE): 7/21-7/24 in Bethesda, MD
American Association of Meat Processors Exposition (AAMP): 7/21-7/23 in Omaha, NE
Virginia Academy of Family Physicians Annual (VAFP): 7/21-7/24 in Virginia Beach, VA
National Dental Association (NDA): 7/22-7/26 in Atlanta, GA
American Association for Justice (AAJ) Annual Meeting: 7/22-7/25 in Los Angeles, CA
American Association of Collages of Pharmacy (AACP): 7/23-7/27 in Anaheim, CA
EFAM-Office Expo (IAAP): 7/23-7/26 in Hollywood, FL
International Association of Venue Managers (IAVM) VenueConnect: 7/23-7/26 in Minneapolis, MN
National Council of La Raza (NCLR): 7/23-7/26 in Orlando, FL
School Bus Expo (STN): 7/23-7/27 in Reno, NV
Agricultural Media Summit: 7/23-7/27 in St. Louis, MO
SIGGRAPH: 7/24-7/28 in Anaheim, CA
International Premium Cigar & Pipe Retailers of America (IPCPR): 7/24-7/28 in Las Vegas, NV
Cosmoprof North America: 7/24-7/26 in Las Vegas, NV
HostingCon: 7/24-7/27 in New Orleans, LA
Society for Industrial Microbiology Annual (SIM): 7/24-7/28 in New Orleans, LA
JA International Jewelry Show: 7/24-7/26 in New York, NY
National Contract Management Association World Congress (NCMA): 7/24-7/27 in Orlando, FL
Philadelphia Gift Show: 7/24-7/27 in Philadelphia, PA
Restaurant Loss Prevention & Security Association (RLPSA): 7/24-7/27 in San Antonio, TX
NCSL International Workshop & Symposium: 7/24-7/28 in St. Paul, MN
LeadingAge Florida: 7/25-7/27 in Boca Raton, FL
Society of NeuroInterventional Surgery (SNIS): 7/25-7/29 in Boston, MA
Ohio Association for Career & Technical Education (ACTE): 7/25-7/27 in Columbus, OH
National Electronics Service Dealers Association (NPSC): 7/25-7/29 in New Orleans, LA
EAA AirVenture Oshkosh Fly-In: 7/25-7/31 in Oshkosh, WI
AIAA Propulsion & Energy Forum & Exhibition: 7/25-7/27 in Salt Lake City, UT
National Association of Scientific Material Managers (NAOSMM): 7/25-7/29 in St. Petersburg, FL
HydroVision International — Clean Energy: 7/26-7/29 in Minneapolis, MN
Catholic Marketing Network International Trade Show (CMN): 7/26-7/2 in Schaumburg, IL
National Science Teachers Association (NSTA) STEM Forum & Expo: 7/27-7/29 in Denver, CO
International Spine Intervention Society Conference: 7/27-7/30 in New Orleans, LA
Oklahoma Super Trade Show: 7/27-7/27 in Oklahoma City, OK
The Organization for Transplant Professionals (NATCO): 7/27-7/30 in Orlando, FL
American Academy of Dermatology Summer Meeting (AAD): 7/28-7/31 in Boston, MA
Family Medicine Residents & Students National Conference: 7/28-7/30 in Kansas City, MO
California Construction Expo (CalCon): 7/28-7/28 in Long Beach, CA
Produce Marketing Association Foodservice Conference: 7/29-7/31 in Monterey, CA
Scleroderma Foundation National Patient Education Conference: 7/29-7/31 in New Orleans, LA
Florida Petroleum Marketers & Convenience Store Association (FPMA): 7/29-8/01 in Orlando, FL
Ascend National Convention: 7/30-8/01 in Anaheim, CA
National Training Institute (NTI): 7/30-8/05 in Ann Arbor, MI
World Congress on Heart Disease: 7/30-8/01 in Boston, MA
Joint Statistical Meeting (JSM): 7/30-8/04 in Chicago, IL
Black Hat USA: 7/30-8/04 in Las Vegas, NV
National Medical Association (NMA): 7/30-8/03 in Los Angeles, CA
Society for Nutrition Education Annual Conference (SNE): 7/30-8/02 in San Diego, CA
American Phytopathological Society Annual (APS): 7/30-8/03 in Tampa, FL
SHARE Summer Technology Exchange: 7/31-8/05 in Atlanta, GA
American Agricultural Economics Association (AAEA): 7/31-8/02 in Boston, MA
RetailNow — Retail Solutions Providers Association (RSPA): 7/31-8/03 in Grapevine, TX
ASD Las Vegas: 7/31-8/03 in Las Vegas, NV
Las Vegas Market (Furniture): 7/31-8/04 in Las Vegas, NV
Association for Medical Imaging Management Annual Meeting (AHRA): 7/31-8/03 in Nashville, TN
Accessories — The Show: 7/31-8/02 in New York, NY
FAME: 7/31-8/02 in New York, NY
The Children's Club: 7/31-8/02 in New York, NY
Moda: 7/31-8/02 in New York, NY
Affiliate Summit East: 7/31-8/02 in New York, NY
Associated Locksmiths of America (ALOA): 7/31-8/07 in Orlando, FL
American Association for Clinical Chemistry (AACC): 7/31-8/04 in Philadelphia, PA
Association for Healthcare Resource and Materials Management (AHRMM): 7/31-8/03 in San Diego, CA
International Association of Food Protection (IAFP): 7/31-8/03 in St. Louis, MO
American Association of Physicists in Medicine (AAPM): 7/31-8/04 in Washington, DC