(photos courtesy of Brianna Wasko)
Las Vegas city driver embraces status as first woman to earn coveted spot
Brianna Wasko has a gift for recognizing possibilities. It's what prompted her cross-country move more than a decade ago and fueled her desire to earn her CDL-A. And it's also what inspires her most about being the first female driver in the 33-year history of the ABF Road Team.
Wasko, an ABF city driver in Las Vegas, NV, joins 14 other exemplary professionals on the company's 2023-2024 ABF Road Team, announced in January. Members serve a two-year term as ambassadors for both ABF Freight and the trucking industry and are available for speaking engagements nationwide. Each candidate is nominated by an ABF manager and evaluated by a steering committee based on safety record, job performance and an audio presentation. From a pool of around 500 eligible road and city drivers, the field was narrowed to 45 drivers who competed for the 15 spots.
"I was excited," Wasko said about learning of her appointment. "It's very significant. Not only because I'm the first female, but because I'm the only female driver at our terminal. I think a lot of the guys are excited for me, and they look forward to me being successful with this."
Making an impact with every interaction
When Aaron Gold took over as ABF's Las Vegas service center manager in February 2017, Wasko had been in her current role for more than two years. He quickly discovered how valuable she is to the team and to the company.
"She's somebody I count on; she's somebody we all count on," Gold said. "She's one of the most productive employees we have. She takes ownership of her route and with her customers. Brianna is customer obsessed, and she passes that on through her training. She's very invested in her job — she wants to see the company do well, and she wants to see all her fellow employees be successful."
Gold likes to pair new employees with Wasko because of her patience and knack for teaching the ABF Quality Process of DIRTFT (Do It Right The First Time). In fact, she met her husband and fellow ABF driver, Steve, while training him in 2017 (more on that later).
"I like bringing in the new guys and teaching them how we do things correctly and how we do things the ABF way — how it should be done," Wasko said.
Leading by example sets Wasko apart, Gold explained, and she demonstrates her character through how she conducts herself as a key contributor to a growing and thriving service center. He described how she takes out a full 53-foot trailer each day, makes 15 to 17 stops, and returns filled with pickups during her nine-hour shift.
"There's no messing around. She takes pride in the fact that there aren't too many women in the same position she's in," Gold said. "The city is growing, the economy here is growing, our service center is growing by leaps and bounds every month and every quarter, and she's right there at the forefront, leading with production and being customer obsessed. She's passing that on by training and showing how to do the job properly as an employee at ABF."
Wasko takes pride in being a source of knowledge and experience for her co-workers. "It takes a commitment to what you're doing," she said when asked what makes a good driver. "And playing it safe. When you're driving, you're putting yourself at risk along with everyone else out on the road."
Bringing more than hard work to the team
As hard as Wasko works, her playful side is never far from the surface. She decorates the Las Vegas service center for holidays and enjoys surprising her co-workers regularly with freshly baked cookies.
"For the holidays, she makes little goody bags and hands them out to all the drivers here at the service center, and she takes them to her customers as well," Gold said. "And every once in a while, on Fridays, she'll bake cookies and bring them in for all our drivers. It's something they look forward to and get excited about."
Gold stressed that the time and effort Wasko puts into those around her help build a culture that everyone can be proud of. "It rubs off," he said. "It's because of employees like her that we have a really good team here in Las Vegas."
Setting the wheels in motion for a driving career
Like many Las Vegas residents, Wasko is a transplant. She's originally from Monson, MA, about 80 miles southwest of Boston. She once worked as a lot manager at a car dealership and was intrigued by the idea of driving the car haulers that delivered vehicles. Working part-time on weekends as a limousine driver further sparked her interest.
"There was just something in the back of my mind that said maybe this was something that I could do," Wasko said. "I love to travel, and it was exciting finding out where I was going; it was always somewhere different. I wondered with truck driving, if I ever got my CDL, what would I be able to do?"
She fell in love with Las Vegas after visiting a high school classmate who had relocated there. A month later, Wasko was bound for the desert. She worked briefly at Harry Reid International Airport before getting her CDL permit and going over the road with her then-boyfriend, a long-haul truck driver, for a few months. She then returned to Las Vegas, went to truck driving school and earned her CDL in three days.
A whole new career — and so much more
Wasko envisioned success and satisfaction, but her time driving for ABF — in and out of the truck — has exceeded her expectations. She feels fortunate for the loyalty, camaraderie and benefits that come with her job. She and Steve enjoy traveling together in their free time and will celebrate their fifth wedding anniversary in September with a trip to Aruba.
"They hit it off right away," Gold said of the Waskos, who formed a friendship during training and began dating about six months later. "They're an awesome couple and two of my most productive people. Their interactions are great to see because you can tell they genuinely care for each other."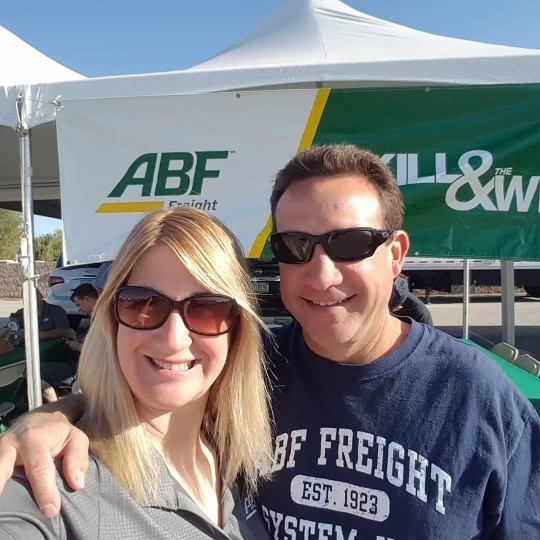 Wasko enjoys having a mutual support system with someone who works in the same profession. "It's great because we get to go home and just discuss our days," she said. "We're there for each other, and that's what we love about each other."
Their shared interest in travel doesn't hurt, either. She said one of her bucket list goals is to set off in a travel trailer to visit all 63 national parks within a year. "Travel is something we've always enjoyed doing from day one," Wasko said. "We love exploring in and around Las Vegas, and once we retire, we want to travel much more."
But there's still work to be done. And the first female member of the ABF Road Team is eager to travel new roads as she prepares for her first public presentation in April. "I love meeting new people; I love doing new things, and I love to challenge myself. I hope to do well. I've got a lot of people backing me up."