Benefits of a Career as a Dedicated Truck Driver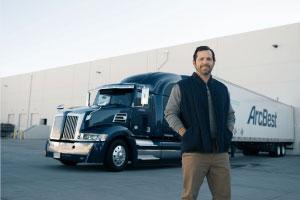 Find professional fulfillment while creating a healthy work-life balance
What if you could have more control over your schedule while having a better idea of what to expect day to day? Dedicated provides that. Driving a dedicated route offers a level of flexibility and predictability that's hard to find in the industry — and it can bring great opportunities for professional and personal satisfaction. Explore what makes dedicated unique and why it could be an ideal career choice.
5 reasons to drive dedicated
Curious about what to expect? Here are five advantages to driving dedicated:
Enjoy a consistent schedule and income
A dedicated driver usually has several loads planned in advance. This consistency and predictability keeps you from sitting idle, waiting for the next load in your area and losing potential earnings. Dedicated offers a reliable schedule that translates to a predictable weekly paycheck, which helps with budgeting.
Operate in a familiar area
The average dedicated driver travels 2,500-3,000 miles each week, depending on traffic, route and weather conditions. By completing these shorter trips on familiar roads and preferred routes — typically a loop or out-and-back runs between two locations — you can quickly begin to feel comfortable within those areas.
Decide how much you want to run
Dedicated schedules can vary depending on preference. You can set your schedule to be home most weekends or choose to stay out for weeks at a time to earn more money. Either way, having a predictable schedule allows you to plan for personal activities, be more available for your family and enjoy a healthy work-life balance.
Build strong relationships
Developing strong customer relationships is critical to doing business because dedicated drivers are often considered the faces of the carriers they represent. When you see customers regularly and get to know them, it increases your value to both the customer and the carrier, which can create a path for long-term career success.
Discover career growth opportunities
An industry-wide need for capacity presents opportunities for all types of professional drivers. In other words, you're in demand! Dedicated offers the chance to build a profitable and fulfilling career while nurturing relationships and helping to keep our nation's supply chain moving.
Looking for reliable driving options? Find them with ArcBest® Dedicated
Earning steady pay with a predictable schedule and regular home time is just part of what life as an ArcBest dedicated driver looks like. Run in your preferred lanes while connecting with our widespread customer network and having access to around-the-clock support. Learn more about ArcBest® Dedicated.