July and August 2018 Trade Shows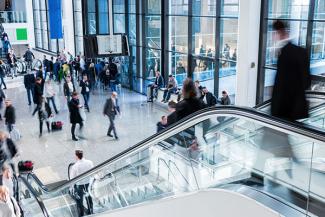 July and August trade shows in the U.S.
Health, beauty and apparel expos, along with trade shows targeting the construction and home improvement industry, highlight the list of upcoming events for July and August. If you sell products or services catered to those industries and are considering exhibiting at a show this summer, you may benefit from exposing your company to potential new clients, and from the opportunity to evaluate your competitors, survey the market and get new ideas for your business.
If you're planning on exhibiting this summer but need help deciding which shows to attend, this list can help identify some to fit your market. If you need help transporting your booth materials, contact ArcBest to learn about our trade show shipping services.
July trade shows
The Aesthetic ShowTM
Dermatologists, plastic and reconstructive surgeons, and others who practice cosmetic medicine are making plans to attend The Aesthetic Show, scheduled for July 5-8 at the Wynn Las Vegas hotel. The event attracts thousands of attendees and allows guests to sample the latest products and technology, learn about new trends, and attend educational seminars from top physicians in the field.
Accessories The Show
Accessories The Show will be July 22-24 at the Jacob K. Javits Convention Center in New York City. Guests will learn new design trends and get a first-hand look at upcoming fashion lines and other merchandise. Vendors and suppliers of men's and women's apparel and accessories can showcase their products in a vibrant buying environment.
Cosmoprof North America
The annual Cosmoprof North America conference takes place July 29-31 at Mandalay Bay Convention Center in Las Vegas. Each year, the event draws more than 1,000 exhibitors who provide products and services geared to cosmetics, personal care and professional beauty. Exhibitors will have the opportunity to meet and display their products to the more than 30,000 visitors.  
August trade shows
Sunbelt Builders ShowTM
The Sunbelt Builders Show will take place August 8-9 at the Hilton Anatole in Dallas. High-level decision makers from some of Texas' top contracting, building and remodeling firms will be on hand, which makes this show an attractive event for retailers and suppliers looking to sell their products and services to those in the industry.
American Massage Therapy Association (AMTA) National Convention
The American Massage Therapy Association (AMTA) National Convention will be held in Washington D.C., August 9-11. This convention is marketed as "The largest exhibit hall in the massage profession," and it is attended by health professionals who practice massage therapy and vendors who have products or services catered to that field. The convention will feature networking events, buying opportunities and continuing education.
Southeast Building Conference (SEBC)
Florida's largest building and home improvement trade show, the Southeast Building Conference, will take place August 16-17 at the Gaylord Palms & Resort Convention Center in Kissimmee, Florida. Organizers estimate that more than 3,500 builders, contractors and remodelers — many of whom have buying influence — will be on hand, giving exhibitors the opportunity to showcase their products and services to buyers in their target market.
Dallas Apparel & Accessories Market
Buyers, wholesalers and retailers of women's apparel, footwear and fashion accessories won't want to miss the Dallas Apparel & Accessories Market, scheduled for August 22-25 at the Dallas Market Center. The event provides exhibitors the opportunity to display new merchandise, learn of new services and trends and strengthen or create new relationships with customers in their target market.
International Woodworking Fair – IWF
The International Woodworking Fair is scheduled for August 22-25 at the Georgia World Congress Center in Atlanta, Georgia. The event is considered one of the world's largest trade shows for construction professionals and is a great opportunity to connect with qualified buyers from around the globe. The event is set to feature the latest products, trends and technologies catered to those in furniture manufacturing, architectural woodworking design and general woodworking, and will offer training programs and educational seminars.
PWX Public Works Expo – APWA
The American Public Works Association's annual Public Works Expo (PWX) will be held August 26-29 at the Kansas City Convention Center in Kansas City, Missouri. More than 5,000 public works professionals, including city and county engineers, construction directors and managers and city planners, will be at the expo to learn about new products and services and participate in educational seminars. Exhibitors will have a great opportunity to network and display their products and services.
Trade show shipping with ArcBest®
From on-time pickup and delivery options that coordinate with your busy schedule, to around-the-clock shipment monitoring and advanced warehousing, ArcBest has a portfolio of customizable trade show solutions. We work directly with general service contractors and trade show associations to ensure everything goes according to plan. So, whether you're just moving a few tables or have a more elaborate display, ArcBest can handle the details from start to finish — allowing you to focus on the success of your show. For questions, contact our experienced staff at tradeshow@arcb.com or call 844-560-2527.