September & October 2018 Trade Shows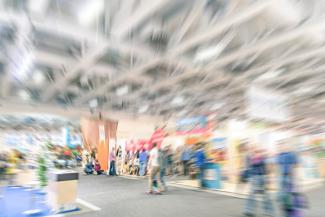 September and October 2018 trade shows in the U.S.
Trade shows and professional business conferences focus on industry-specific markets that attract thousands of potential customers. These events are a great venue to build your company's brand, connect with prospective customers and colleagues, and learn about new products, trends and other industry-related topics. If you're planning to exhibit at a show this fall and need help shipping your booth, contact ArcBest® to get details about our trade show shipping solutions.
September trade shows
GlassBuild America 2018
GlassBuild America 2018 will take place September 12-14 at the Las Vegas Convention Center. This is the nation's largest annual gathering for the window, glass and door industry. Exhibitors will be able to showcase new equipment, products and services to those in their buying market. The event also offers guests the opportunity to attend educational sessions and hands-on workshops.
AZA Annual Conference
The Association of Zoos & Aquariums (AZA) Annual Conference will be September 23-27 at the Washington State Convention Center in Seattle. This is considered the country's premiere buying and learning event for zoo and aquarium professionals. Event organizers anticipate more than 2,500 registered attendees will be present. They'll have an opportunity to sample products and services from more than 180 exhibitors who will have products like water purification and glass-sealant systems, rock- and cement-based products, animal healthcare products, ticketing and bookkeeping technology, and more on display.
NRPA 2018 Annual Conference
Parks and recreation professionals are preparing for the National Recreation and Park Association's annual conference and trade show, which is set for September 25-27 at the Indiana Convention Center & Lucas Oil Stadium. The conference is an ideal location for industry suppliers to get products in front of their target market. NRPA officials estimate that nearly 90 percent of attendees at the event have a role in the company's buying process and that nearly 100 percent of the registered guests spend their time on the showroom floor sampling products and services with the intent to purchase.
NASPL 2018 Conference & Trade Show
State lottery administrators and other lottery officials are making plans to attend the North American Association of State and Provincial Lotteries Annual Conference & Trade Show. The event will take place September 25-28 at the Huntington Convention Center in Cleveland, Ohio. It is considered the premiere event for the lottery industry. The conference will showcase the latest products and services from lottery suppliers and other vendors and will feature educational seminars and training sessions.
WEFTEC 2018
The Water Environment Federation's Technical Exhibition and Conference (WEFTEC) will be held September 29-October 3 at New Orleans Morial Convention Center in New Orleans. The conference is the largest annual water quality exhibition in the world, and gives water purification professionals access to educational workshops, face-to-face networking opportunities and a chance to discover new products and cutting-edge technology. 
PRINT® 18
PRINT® 18, one of the country's largest marketing events for those in graphic design and printmaking, will take place September 30-October 2 at McCormick Place South in Chicago. The event attracts thousands of printing, graphic design and graphic communications professionals from across North America to one place. Many attendees have purchasing power at their company, so it's a great event to attend for businesses who provide a service to this field.
Trade shows happening in October
International BoatBuilders' Exhibition & Conference
Those who work in boat building, design, maintenance and repair, and others in the marine and aquatic industry are preparing for the International BoatBuilders' Exhibition & Conference (IBEX). The conference is the largest marine industry trade event in the U.S. It will be held October 2-4 at the Tampa Convention Center in Florida. Attendees who build, design, service or sell boats or marine-related products will be at the event looking to sample or purchase the latest boating devices, accessories and technology. The conference offers a great opportunity for exhibitors to boost sales for their business, keep track of the latest industry trends and network with their peers. IBEX organizers estimate that nearly 70 percent of the event's guests have buying influence and that 80 percent of attendees come to the show with the intention to purchase.
Filtration International Conference & Exposition 2018
The Filtration International Conference & Exposition draws in thousands of leaders who work in the water, wastewater, air and hazardous waste filtration field. The conference will be October 2-4 at the Pennsylvania Convention Center in Philadelphia. More than 1,500 attendees are expected at the show, and they will be looking for the newest products, services and technology related to air and liquid filtration, and to learn about the latest industry trends.
NACS Show 2018
Convenience store owners and other fuel-retailing professionals will gather at the Las Vegas Convention Center October 7-10 for the National Association of Convenience Stores (NACS) annual conference. The event connects manufacturers and designers of commercial convenience store merchandise and accessories with buyers in the field. It is expected to draw more than 23,500 professionals who will be looking to discover new products and trends.  
AIMExpo
Motorcycle and powersports enthusiasts won't want to miss this year's American International Motorcycle Expo (AIMExpo), slated for October 11-14 at the Mandalay Bay Convention Center in Las Vegas. The expo will be filled with eager buyers, as well as media representatives and wholesalers and retailers, making it a great place for vendors with products geared toward motorcycles, scooters and ATVs to launch new products, increase brand awareness and make sales connections.
Remodeling Show and Deck Expo
Residential remodelers and other home building professionals from across the country are preparing for the Remodeling Show and Deck Expo, scheduled for October 9-11 at the Baltimore Convention Center in Maryland. Organizers expect more than 5,000 remodelers and builders will attend the event. Vendors at the show can display new products, connect with new and existing clients, and mingle with top industry leaders. Organizers estimate more than majority of event attendees represent larger remodeling and residential construction companies that make more than $1 million in sales each year — meaning exhibitors will have the opportunity to present their products and services to established companies that could result in long-term business.
IFAI Expo 2018
The Industrial Fabrics Association International (IFAI) will host its annual IFAI Expo in Dallas at the Kay Bailey Hutchison Convention Center, October 15-18. Attendees will get a chance to sample and discover new products and hear presentations from experts. The expo is the largest specialty fabric event in the country, attracting more than 5,000 guests with buying power.
Medtrade 2018
Designers and manufacturers of homecare medical equipment are preparing for Medtrade 2018. The event is the largest trade show and convention catered to the home medical equipment industry. Medtrade will take place October 15-17 at the Georgia World Congress Center in Atlanta. At the show, leading home healthcare providers and manufacturers will gather to sample and display the newest products, and to discuss and learn about the latest trends and innovations in areas like respiratory health, sleep, muscle rehabilitation and more.
NASGW 2018 Expo & Annual Meeting
The National Association of Sporting Goods Wholesalers (NASGW) expo and annual meeting will be October 16-19 at the David L. Lawrence Convention Center in Pittsburgh, Pennsylvania. The event is one of the top professional shooting exhibitions in the country, and it connects shooting sports professionals and wholesale buyers to manufacturers and suppliers of guns, ammunition and other accessories.
PMA Fresh Summit Convention & Expo
Packagers, labelers, growers and other solutions providers involved in the fresh produce and floral supply chain industries will be on hand for this year's Produce Marketing Association's (PMA) Fresh Summit Convention & Expo. The event will be at the Orange County Convention Center in Orlando, Florida, from October 18-20. Show officials expect more than 20,000 guests to attend.
The convention is a great way for vendors in this field to get in front of buyers from their target audience. According to research conducted by the PMA, nearly 80 percent of attendees at previous events had buying influence, and more than half of those attendees said they planned to purchase a product or service they saw at the show. Additionally, more than 70 percent of previous exhibitors have said that they saw their sales leads increase due to participating in the show.
ASLA 2018 Annual Meeting & Expo
Landscape architects and other lawn and garden professionals will gather October 19-22 in Philadelphia at the Pennsylvania Convention Center for the American Society of Landscape Architects (ASLA) Annual Meeting & Expo. Visitors will get to take part in hands-on workshops, educational training sessions and networking activities. Vendors selling items like stone and mulch, landscaping and gardening equipment, and other lawn care technologies and accessories should plan to exhibit at the event.
ISSA Show North America
Commercial cleaning professionals are gearing up for the International Sanitary Supply Association's (ISSA) ISSA Show North America. Taking place in Dallas at the Kay Bailey Hutchison Convention Center from October 29-November 1, the ISSA Show is one of the largest gatherings of cleaning professionals in the world. The event brings together some of the industry's top facility management and maintenance executives in order to conduct business, learn of new trade skills and innovations, and to see the latest technology and services available. Show officials estimate that more than 16,000 people will be at the event, many of whom have purchasing authority.
Ship your trade show booth with ArcBest®
From around-the-clock shipment monitoring to advanced warehousing options, ArcBest® offers a robust portfolio of customizable trade show shipping solutions. When you ship with us, you'll be matched with our experienced trade show team who can help answer your questions and guide you through the shipping process from start to finish. We work directly with general service contractors and trade show associations to make sure everything goes as planned. If you need to expedite your shipment, choose from our variety of time-critical solutions to make sure your freight arrives when and where it needs to. If you have questions, or need additional details, email us at tradeshow@arcb.com or call us at 844-560-2527.