Trade shows happening in January and February 2018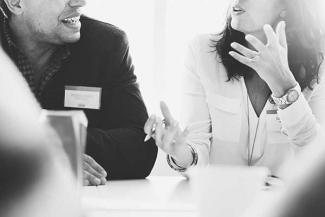 January and February trade shows taking place in the U.S.
Face-to-face interactions are integral in helping to grow and sustain business relationships. In fact, marketing experts report that in-person events remain one of the top ways to generate sales leads and build business opportunities. For businesses, this means there's a lot of optimism surrounding the trade show industry. The first months of the year are ripe with opportunity for exhibitors, especially if you're in the sports and outdoors industry or if you're a construction and hardware retailer or manufacturer. We've put together a list of conferences tailored to those industries to help you find one that meets the needs of your company.
Top trade shows in January
2018 NAHB International Builders' Show
More than 1,400 of the top home construction product manufacturers and suppliers in the world will gather for the International Builders' Show, set to take place January 9-11 at the Orange County Convention Center (OCCC) in Orlando, Florida. At the show, vendors will have a chance to showcase their products and make connections with customers.
Chicago Boat, RV & Sail Show
The Chicago Boat, RV & Sail Show will take place January 10-14 at McCormick Place – South in Chicago. The show attracts thousands of boating, watersports and outdoor enthusiasts each year, giving boating and water sport supply companies the perfect opportunity to get their products in front of consumers in their target market. 
Archery Trade Association 2018 Trade Show
The Archery Trade Association's annual trade show will be January 11-13 at the Indiana Convention Center in Indianapolis. The event is expected to draw more than 10,000 buyers, exhibitors and archery and bow hunting experts from across the globe. Attendees will get to explore booths to discover new products and designs, network with others in the trade and attend learning seminars.
Nation's Best Sports Winter Specialty Market
Nation's Best Sports members have access to this Winter Specialty Market where they can meet and sell to the NBS membership. It is slated for January 16-19 at the Fort Worth Convention Center in Fort Worth, Texas. This specific market gives attendees a chance to see the latest in ski and snowboarding apparel and accessories, and purchase products at discounted rates.  
Western Retail Lumber Buying Show
Building supply professionals, along with hardware store owners and suppliers are making plans for the Western Retail Lumber Buying Show, scheduled for January 17-19 at the BMO Centre, Stampede Park in Calgary, Alberta, Canada. This is where Canadian retailers in the lumber and home improvement industries come to vet new products and keep up with industry trends. The show is one of the largest of its kind in Canada, with more than 200 exhibitors in over 170,000 square feet.
Atlanta Boat Show
Boating and water sports enthusiasts are preparing for the Atlanta Boat Show, which is scheduled to take place January 18-21 at the Georgia World Congress Center in Atlanta. Exhibitors will have the opportunity to display and sell new boats, watercrafts and the latest in boating gear and accessories.
SHOT SHOW
SHOT SHOW 2018 (Shooting, Hunting, and Outdoor Trade), will take place in Las Vegas at the Sands Expo Center, from January 23-26. More than 64,000 industry professionals attended the show in 2016, making it one of the world's largest in the shooting, hunting and outdoor community. It's set to feature the latest products and technologies and offers programs, educational seminars and after-hours networking events.
Sports Licensing & Tailgate Show
Wholesalers, retailers and buyers for sporting goods and memorabilia are making plans to attend the Sports Licensing & Tailgate Show January 23-25 at the Las Vegas Convention Center. With more than 380 exhibitors, the event targets the sports and tailgating market. More than 4,500 visitors from across the country are expected to be on hand to preview licensed products ranging from apparel and accessories to toys and souvenirs. Organizers estimate that more than $3.8 million in sales took place in at last year's conference.
World of Concrete 2018
Commercial concrete and masonry suppliers exhibit their products and services at the annual World of Concrete conference, to be held January 23-26 at the Las Vegas Convention Center. With 55,000 registered industry professionals and 1,500 exhibiting companies, this is the largest annual international event dedicated to concrete and masonry professionals. Guests can participate in a number of learning opportunities, such as educational seminars with top industry experts, new product demonstrations and networking events. Exhibitors also have an opportunity to meet with potential buyers in their target market.
PGA Merchandise Show
Golf's leading equipment and merchandising event, the PGA Merchandise Show, takes place January 24-26 at the Orange County Convention Center in Orlando. This is a trade-only event for qualified golf industry professionals, and attendance is restricted to PGA Professionals and affiliates of the golf industry. At this show, exhibitors including golf merchandise manufacturers and distributors have the opportunity to display products and cutting-edge technology and interact face-to-face with PGA professionals, pro shop managers, pro shop merchandisers, and golfing equipment retailers.
New York Boat Show
All the newest model boats, plus the latest technology, boating gear and appliances will be on display at the New York Boat Show at the Javits Center, from January 24-28.
2018 Outdoor Retailer + Snow Show
The 2018 Outdoor Retailer + Snow Show, one of the country's largest merchant conferences catered to those in the outdoor- and snow-sports industries, will take place this year from January 25-28 at the Colorado Convention Center in Denver, Colorado.  The event provides buyers, retailers and those in outdoor retail the opportunity to strengthen or create new relationships with providers, sample new products, learn of new services, trends and more.
Surf Expo
Surf Expo is one of the premiere buying conferences for retailers and wholesalers in the surfing and boarding fashion and accessories industries. With more than 28,600 attendees and 2,500 booths, it's the largest board sports and beach/resorts lifestyle tradeshow in the world. The event is slated for January 25-27 at the Orange County Convention Center in Orlando.
February conferences
Golf Industry Show
Suppliers and manufacturers of golfing equipment and supplies should plan to head to the Henry B. Gonzalez Convention Center in San Antonio, Texas, February 7-8 for the annual Golf Industry Show. The event attracts more than 6,000 buyers from across the globe, giving golf facility professionals the opportunity to network and see the latest products.
Build Expo
Architects, engineers, general contractors, designers, real estate developers and more will be in attendance for the Dallas Build Expo at the Kay Bailey Hutchison Center in Dallas, on February 7-8. This targeted expo allows exhibitors to network with prospective customers and generate sales leads by showcasing a wide range of products and services related to the home building industry.
Miami International Boat Show
An estimated 100,000 boating, water sports, cruising and fishing enthusiasts from all over the world will be making their way to the Miami Marine Stadium Park & Basin over President's Day weekend, February 15-19 for the Miami International Boat Show. The show will feature a deep-water basin to accommodate large boats, and it will have both closed and open-air tented exhibit space for marine accessories, electronics, engines and nautical gifts and apparel.
Shipping to a trade show with ArcBest®
Choose a carrier you can trust to deliver your shipment on time and damage free. ArcBest offers a variety of trade show shipping services that can be customized to meet your needs. We provide on-site, on-time delivery and pickup and help coordinate the move-in and move-out process. And if we're the official carrier, we'll have a representative on-site to offer assistance and answer questions. To get a quote, or schedule your next trade show shipment, call 844-560-2527.