Upcoming Hardware Trade Shows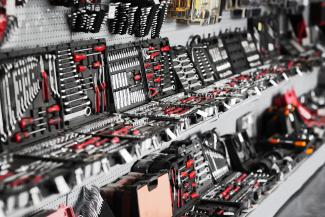 August and September 2017 Trade Shows
According to a study conducted by the Center for Exhibition Industry Research (CEIR), business-to-business trade shows are viewed as the second-most-important marketing and sales tactic for many businesses. And the hardware industry is no exception. Major retailers in this sector still see the value in attending major shows, and smaller businesses can see big benefits as well. From face-to-face interactions with prospective clients to the ability to see products new to the market, these events offer important insight and opportunity. Learn more about upcoming trade shows in the hardware industry, and see how to become an exhibitor.
If you're attending a trade show this fall and need to ship a booth or promotional materials to the event site, contact ArcBest® to learn about trade show shipping services.
Top trade shows in August
Sunbelt Builders Show:
The Sunbelt Builders Show will take place Aug. 2-3 in Dallas, Texas. Thousands of residential construction professionals are expected to gather for networking events, training seminars and new product demonstrations.
Exhibitor Info: Exhibitors may register now. Materials can be set up from July 31 to Aug. 1, but all booths must be set up by 5 p.m. on Aug. 1. Move out begins at 3 p.m. Aug. 3, and you must be off the convention floor by noon on Aug. 4.
Accommodations: The Hilton Anatole in the Dallas Business District is the host hotel.
Florida Hardware Fall Dealer Market:
Construction industry professionals, along with buyers and retailers, are making plans for the annual Florida Hardware Company Fall Dealer Market Aug. 12-13 in Orlando, Florida. Attendees will get a look at new goods and designs and will get a chance to hear presentations from industry experts.
Exhibitor Info: The deadline has passed to exhibit at the Florida Hardware Company's Fall Dealer Market. If you've already signed up, you may set up your booth on Aug. 11 from 8 a.m. to 5 p.m. The move-out process begins immediately following the show's conclusion. Early breakdowns are prohibited.
Accommodations: Reduced room rates are secured at the Double Tree Convention Center at the Entrance to Universal Orlando. Rooms may be reserved online, or by calling 800-222-TREE (8733).
Ace Hardware Fall Convention:
The annual Ace Hardware Fall Convention will take place Aug. 17-19 in Chicago. The event will allow visitors to learn about new products and services, and will offer networking opportunities and a chance to take part in educational seminars.
Exhibitor Info: For information on how to become an exhibitor at the convention, send an email to conventions@acehardware.com.
Accommodations: Call Ace Hardware at 866-290-5334 to ask about hotel accommodations.
September hardware trade shows
The Hardware Conference: 
Merchants and wholesalers will gather Sept. 8-10 at Marco Island, Florida, for The Hardware Conference. The event offers educational and networking opportunities, along with chances for suppliers to present new products and technologies to buyers.
Exhibitor Info: Booth set-up will take place from 8 a.m. to noon on Sept. 8. Move out begins following the conference's closing remarks at noon on Sept. 10.
Accommodations: To register for the show, complete the registration form online. For additional questions about the conference or hotel and travel accommodations, call 305-853-0049.
HDW Fall Dealer Market:
Home improvement professionals, remodelers, and others in the construction and building materials business are preparing for the HDW Fall Dealer Market in Shreveport, Louisiana. The event will take place Sept. 8-10.
Exhibitor Info: For more detail on exhibiting, contact Terri French at 601-948-4228 or by email at terrif@cds1958.com.
Accommodations: Contact the HDW Fall Dealer Market at 800-256-8527 to get details about travel and lodging.
Construction Suppliers Association Annual Conference & Expo:
Builders, developers and remodelers are planning for the Construction Suppliers Association Annual Conference & Expo, slated for Sept. 13-15 in Savannah, Georgia. Educational seminars, new merchandise and networking events will be available at the event.
Exhibitor Info: Interested in being a vendor? Call the Construction Suppliers Association at 678-674-1860 for details about registration requirements.
Accommodations: Conference officials have secured discounted room rates at the host hotel, the Westin Savannah Harbor Golf Resort & Spa. To make reservations, visit westinsavannah.com, or call 888-627-8457.
Monroe Hardware Fall Market:
Store owners and suppliers are planning for the Monroe Hardware Fall Market, scheduled this year for Sept. 15-17 in Myrtle Beach, South Carolina. New lines of products, appliances and other accessories will be on display. Guests will also have opportunities to take part in breakout sessions and learn about new selling strategies, new technology and upcoming industry trends.
Exhibitor Info: Interested exhibitors should contact Nancy Totherow at 704-398-7461 or ntotherow@fernexpo.com for additional details.
Accommodations: For lodging or travel questions, call 704-898-2110.
True Value Fall Reunion Show:
The annual True Value Fall Reunion Show takes place Sept. 25-27 at McCormick Place in Chicago. It will give retailers a chance to learn about new merchandise and retail strategies and will provide opportunities for networking and educational seminars.
Exhibitor Info: To become a vendor, contact Maureen Feck via email or by calling (773) 695-5165.
Accommodations: For information regarding hotel accommodations, call 773-695-5165.
Are you a trade show vendor? Ship your trade show booth with ArcBest
From expedited solutions, around-the-clock monitoring and advanced warehousing, ArcBest offers trade show solutions to meet your needs. When you ship materials with ArcBest, you can rely on the expertise of our trained trade show experts to navigate you through the shipping process. When we're the official carrier of a show, we'll have an experienced trade show specialist on-site to help you with all move-in and move-out procedures and to assist with anything else you might need.
To book a shipment, call 844-560-2527, or email our trade show customer service team.