A Shipper's Guide to the Full Truckload Market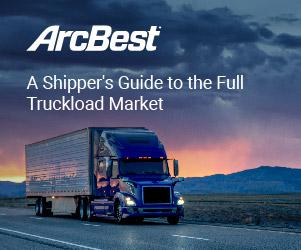 Explore truckload to stay ahead of market trends
In today's evolving and expanding shipping landscape, the most successful shipper is one who knows the ins and outs of the industry. From government regulations to the push and pull of supply and demand, there's a lot that goes into a truckload transaction. Consider this your 101 guide to becoming a truckload expert who understands capacity, rates, and how to navigate the market.
The truckload full picture: what it is and how it works
Full truckload (FTL) is a solution that provides exclusive use for shipments weighing 5,000 to 48,000 pounds. While a 53-foot dry van might be the first thing to come to mind when thinking about truckload, oversized or difficult-to-load freight can also travel on a flatbed trailer. Learn about different freight equipment options.
Exclusive use is one of truckload's biggest advantages and makes it one of the faster ground shipping options because freight travels directly from origin to destination. Knowing what to expect from transit times is an essential part of effectively coordinating your supply chain and can make all the difference in deciding if a solution is the right fit for a shipment. See truckload's transit times compared to other modes.
Who offers truckload services
The truckload market has three categories of businesses who help shippers move freight, and it's helpful to know the who's who of the market and what they do when you're choosing a provider.
Owner-operators are independent drivers operating just one truck.
Fleet owners are truckload providers who have a full fleet of trucks and employ several drivers.
Freight brokers are outsourced providers who don't usually own any equipment but instead help shippers find capacity. Since brokers shop rates on your behalf, you can save time and avoid calling multiple carriers to find trucks.
The moving parts to shipping your freight: a market overview
In shipping, freight volume doesn't always match available capacity, and this is especially true of truckload, where supply and demand are rarely balanced. This market imbalance can significantly affect rates and your ability to stay on schedule. But if you understand what factors most heavily affect your shipping experience, you can create strategies that meet your needs no matter how the market swings. Here are the major factors that affect truckload:
Seasonality and fluctuating capacity
The freight industry has four seasons based on predictable consumer spending habits, so time of year can play a big role in tightening capacity and fluctuating shipping prices. Understanding freight seasonality can tell you when and why capacity may be tighter or looser, and help you coordinate shipments to get the best price and avoid delays.
Quiet season: January – March
The year normally starts with a period of recovery after the busy holiday season, when demand and shipping rates drop, and Chinese imports and exports slow down for the Lunar New Year. During this time, a lot of shippers are using trucks for reverse logistics: receiving and processing holiday returns and exchanges. While the quiet season typically has a lot of available capacity, the increased chances of snowstorms — particularly in the Midwest — means it could be difficult to get freight on the road. Instead, the reduced demand can make it a great time to book shipments in advance, allowing you to secure capacity before more competitive seasons begin.
Produce season: April – July
Around March, the freight world starts to pick up again as fruits and vegetables ripen and are ready for distribution. This tightens capacity across the U.S., meaning that you may have to search or pay more for shipping space even if you're moving nonperishable goods. The produce season may be easier to navigate for shippers who were able to book in advance.
Peak season: August – October
Freight's peak season combines the high volume of produce with the back-to-school rush and early-bird holiday demand, meaning shippers of all kinds are competing for capacity.
Holiday season: November – January
Like the shipping peak, the holiday season is a tight-capacity market with lots of competition and an added rush to meet final holiday deadlines.
If you're struggling to secure trucks during tight seasons, consider exploring a truckload alternative to help you stay on schedule.
Balanced and unbalanced lanes
In shipping, a lane is the route between the pickup and delivery destinations (e.g., a shipment going from Dallas to Chicago, or vice versa, is traveling on the Dallas/Chicago lane).
A driver's goal when contracting a load is to avoid deadheading (carrying an empty trailer) by securing freight at both ends. Shipping on a balanced lane is a greater incentive for drivers because they don't waste time, money or fuel by hauling air. It also means better prices and less headaches booking capacity compared to unbalanced lanes.
Breaking down pricing factors
The complicated mix of variables that affect the market also influence how much you'll pay for a truckload shipment. And capacity is one of the biggest variables that can impact your bottom line. By planning ahead and working with a transportation provider that understands your freight needs, you can often find pricing solutions and contingency plans that allow you to stay competitive even in an unpredictable market.
Learn more about truckload pricing and how to talk to your carrier about rates.
The future of truckload: what to watch for
The freight industry is heavily regulated and quickly evolves to adopt new technology and meet consumer demands. From the electronic logging device (ELD) mandate to talk of new detention regulations, a lot has changed and will continue to do so. It's difficult to predict the future of truckload, but industry data points us to several topics that could be crucial to understanding and preparing for potential changes.
Driver shortage and capacity crunches
Available capacity is one of the biggest factors in keeping trucks — and the world — running. One of the greatest factors in determining capacity is how many drivers are available to carry freight. The driver shortage is a crucial industry topic, and trends have been documented as far back as 2010, with research pointing to high turnover (or "churning") and driver training as the main issues contributing to capacity constraints. More recently, respondents to the American Transportation Research Institute (ATRI)'s annual top 10 transportation issues poll selected the ongoing driver shortage as the number one shipping issue in 2020, making it their top concern for the 4th year in a row.
Lawmakers and industry experts understand that driver churn is a multifaceted issue, and they've proposed and debated everything from increasing driver wages and benefits to lowering age requirements as possible remedies. Wherever the solution comes from, it may require adjustments to processes and technology in order to keep up.
Long-term pandemic effects
The COVID-19 pandemic has exacerbated existing market stressors, and according to Transport Topics, 2021 has the power to shift the way we handle logistics. Consumer stockpiling and greater demand for ecommerce goods in 2020 created historic supply chain disruptions and shifted consumer habits that will likely continue once the pandemic wanes. Supply chains will need to adapt to new expectations in order to stay productive and profitable.
Transport Topics also notes that some consequences of the pandemic, like social distancing, encouraged positive changes as more people and businesses transitioned to remote work. For example, more shippers and carriers are adopting electronic solutions which are much more efficient and sustainable than their previous reliance on paper transactions and record-keeping.
New regulations
2021 has already brought changes to the U.S. shipping landscape in the form of a new transportation cabinet. On the campaign trail, President Joe Biden pitched an infrastructure plan which will address roadways, public transit, and more. Pete Buttigieg, the newly appointed secretary of transportation, said in early January 2021 that raising the fuel tax is a viable option for funding the plan.
In addition, the transportation segment of the proposal has a particular focus on sustainability, with an ambitious goal of reaching net zero emissions by 2050 — meaning shippers will need to keep their ears to the ground and be ready to rise to new emissions and efficiency standards as new regulations are implemented.
Want to know more about truckload? Check out these frequently asked questions.
Explore truckload with ArcBest
With nearly 100 years in the industry, ArcBest® has the knowledge to help you make the right decisions for your supply chain. And unlike traditional logistics companies, we have owned assets to help you secure truckload capacity when and where you need it. Learn more about our truckload solution, including our network of nearly 40,000 carriers.