FAQs about Shipping Truckload Freight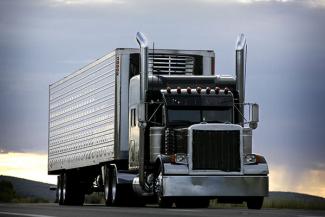 Things to know about truckload shipping
In the world of freight shipping, where shippers need to move freight of all types and sizes, a variety of options are available. One commonly used method is full truckload shipping (FTL) — it's the solution for shipments that require a dedicated truck, but is also used for transporting things like heavy-haul or oversized equipment, high-value goods and time-sensitive freight. Truckload freight typically travels on one trailer to one destination. That makes it an ideal solution for shippers who need faster transit times and less freight handling.
Questions about truckload freight
Industries ranging from retail and manufacturing to pharmaceuticals frequently utilize truckload services for recurring shipments. If you have freight to move, these frequently asked questions can help you get started. 
How do I know if I need FTL services?
Size and weight are common indicators that freight needs to move via truckload. This type of freight usually consists of 24 or more pallets or weighs between 15,000 and 42,500 pounds.
Factors also to be considered include:
If you prefer exclusive use of the equipment
If the freight is time-sensitive
If you have HAZMAT, perishable or other special freight
 
How can I find the right truckload partner?
Once you've determined the need for FTL shipping and start researching truckload companies, there are some details to keep in mind. While features like capacity, available special handling options and tracking capabilities are very important, one of the most critical things to look for in a truckload provider is a quality carrier selection and vetting process.
Here are some questions to ask:
Are you authorized by the Department of Transportation (DOT)?
All for-hire carriers and brokers are required to meet the standards of the DOT before they're eligible to move freight. Before booking a shipment, verify the company's credentials — they should have cargo insurance, and USDOT and MC numbers (indicating operating authority).
What is your geographic reach?
Where the goods are shipping to and from may have an impact on the provider you select. Because not all truckload companies can deliver to certain locations, check their local, regional and national capabilities to ensure your freight can be handled.
How visible will my shipment be during transit?
Being able to keep track of goods during transit is important — especially if they're high-value or time-sensitive. Ask your provider about available tracking options, including status reports and API integration. 
What additional services do you offer?
If your FTL freight requires extra care, ask if the provider offers premium solutions. Some of these options may include enhanced security, temperature control and expedited transit. Knowing how these services impact rates and capacity can help you make the best decision.  
What is your carrier vetting process?
To reduce risk and ensure your shipments are matched with reliable transportation providers, select a truckload partner with the processes and technology in place to research a carrier's credentials and operating history and the ability to electronically monitor carrier performance and safety scores.
What equipment options are available?
When you think of truckload equipment, the standard 53-foot semi-trailer may be what comes to mind. However, several other options are available. Some examples include:
Dry vans. Dry vans are enclosed trailers that are used to transport dry goods and other nonperishable items. Dry vans protect freight from the elements of the road and weather.
Flatbed trailers. Flatbed trailers allow cargo to be loaded or unloaded from the top, sides or back. There are several kinds of flatbed trailers, each with unique dimensions to accommodate the needs of any shipment. Tarps may be used to cover the freight while in transit.
Heavy-haul trailers. Heavy-haul trailers are used to transport large shipments that won't fit on a traditional flatbed trailer. Some cargo that travels on a heavy-haul trailer may require flags, lights or even a pilot vehicle to escort it while it is in transit. 
Refrigerated "reefer" trailer. A refrigerated trailer is a specialized piece of equipment used to transport temperature-sensitive cargo. The temperature inside the trailer can be set to stay within a particular range, regardless of the outdoor temperature.
Power only. Power-only trucking is used when you already have a trailer, but need to hire a driver to move your freight. Power-only hauling can be a good way to manage your supply chain if you have a limited amount of warehousing space.
Shipping container. Shipping containers can be loaded onto trucks, hauled on a chassis or moved via train or ship. They are ideal for shipments that will need to utilize multiple modes of transportation.
 
Talk to your truckload provider for help selecting the right choice.
What is the average transit time?
While transit times depend on factors such as the origin and destination, truckload typically allows for faster shipping times than services such as less-than-truckload (LTL). That's because truckload freight travels directly without stopping off for loading and unloading during transit. Most providers offer a shipping time calculator to give you an idea of how long it will take.
If you need your shipment to arrive faster than the estimated time, ask about expedite services. These generally include options for overnight, same-day or next-day shipping. 
What affects truckload freight rates?
FTL rates are usually based on a per-mile basis, with a minimum charge per load. Rates depend on trailer type, any special services, and can vary depending on the supply and demand of the market, as well as the time of the month, the season, the weight of the shipment, equipment availability, weather and its destination. For example, if you're hauling or picking up from an area with limited or restricted access, a service fee could be applied.
What are the best practices for shipping truckload freight?
Along with understanding how the process works, you'll want to follow some general guidelines to ensure a smooth experience:
Streamline loading and unloading. You'll most likely be responsible for loading and unloading, and having a plan in place will help create a faster and more efficient process. This can be accomplished through load planning and dock scheduling.
Give precise information. In order to receive accurate rates and transit times, you'll need to provide specific details. Knowing the exact weight and dimensions will help with pricing, and providing accurate details on shipping documents (such as contact information for the shipper and consignee) can help the carrier deliver on time. 
Use proper packaging. Using the right type of pallet, box or other packaging material will help protect goods during transit. Keep in mind that failing to package items properly can result in voided carrier liability coverage.
 
How do I book a shipment?
The booking process differs between truckload companies, but you should be able to get an online quote or call a service representative to schedule a shipment. If this is a regular order, consider scheduling in advance to minimize the risk of capacity issues.
ArcBest FTL services
ArcBest® offers a full array of truckload services to meet your shipping needs. From dry van and flatbed, to reefers and shipping containers, we'll help match you to the right equipment for your load.
You'll benefit from:
Premium access to capacity through a vast network of vetted carriers
Robust technology that includes live updates of a carrier's status from the Federal Motor Carrier Safety Administration (FMCSA) and other leading industry resources, shipment tracking and load monitoring capabilities
Around-the-clock customer service, including a team of dedicated truckload specialists available to coordinate your shipments
Streamlined pickup and delivery
Online billing options
 
Let ArcBest simplify your truckload needs
To book an FTL shipment with ArcBest, or for more information about our services, call 877-279-8090.