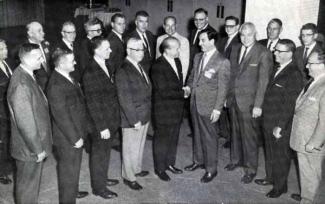 In October 1963, ABF Freight (then known as Arkansas-Best Freight System) was one of 22 trucking companies awarded for providing free transportation to Aiding Leukemia Stricken American Children (ALSAC).
Comedian and actor Danny Thomas hosted a "Breakfast with Danny Thomas" at the Morrison Hotel in Chicago to thank trucking executives for their efforts. Bill Farnsworth, ABF Freight service center manager in Chicago, received the award on behalf of ABF Freight.
In the photo, Farnsworth is on the front row, second from the left; Thomas is fourth from the right.
Read More >