Common Questions About Expedite Freight Shipping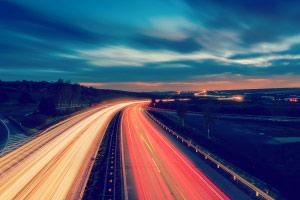 Ground expedite: the fastest option for over-the-road shipping
Ground expedite — also known as "hotshotting" — is often the solution of choice for time-sensitive and high-value freight. But what value does it add, how does it work, and how can you know if it's the right fit for your freight? Find the answers to these questions and more by exploring some of the most common questions about expedite.
Frequently asked expedite questions
How fast is expedite shipping?
Depending on the shipment details, ground expedite can reduce transit time by several hours (for shorter distances) or several days (for long-haul shipments). This is possible because pick-up and deliveries can happen 24/7/365, and most carriers use dual drivers to allow for more driving in a single day.
When should I consider using expedite for my freight?
While expedite is often thought of during emergency situations, like a disruption in manufacturing or an unforeseen market event, there are several reasons to make expedite part of your normal course of business. Here are some situations where ground expedite is commonly used:
When you need to fulfill a last-minute order

When you need to make up time after a manufacturing or production delay

When you have high-value goods that need an extra layer of security

Any time-sensitive need that requires specific pickup or specific delivery

When you need pickup or delivery outside of normal business hours
If you regularly face these or similar situations, it might be a good idea to have a conversation about expedite with your logistics provider.
Suggested read: Do I need time-critical or expedite?
What equipment is available for expedite?
Expedite freight can travel on cargo vans, straight trucks, dry vans, refrigerated units and other specialized trailers — it just depends on the specifications of your freight. Through our Panther Premium Logistics® fleet, ArcBest offers cargo vans, dry vans, flatbeds and temperature-controlled trailers. The more vehicles and specialized equipment your carrier has access to, the easier it is to find and book the right option for your freight.
What do I need to know about booking an expedite shipment?
Just like any other shipping solution, you'll need to accurately communicate your freight dimensions and shipping timeline to ensure you and your carrier are on the same page. If you have special handling requirements or other specific needs, you should also discuss them during booking. Providing all these details will help ensure you can set the right delivery expectations.
How do I know which provider to work with?
Choosing a provider should be based on your specific business needs, but you'll ultimately want to work with a service that has the knowledge and experience to become a true logistics partner. Follow these tips on finding an expedite provider for help choosing the right one.
Get speed and security through ArcBest ground expedite
When you need speedy transit with enhanced, precise tracking capabilities, ArcBest ground expedite delivers. Our Panther Premium Logistics® fleet has specialized equipment and a growing capacity network ready to get your next expedite shipment on the road. And when necessary, we'll leverage our owned assets through our LTL carrier ABF Freight® to make sure your shipment arrives with speed, reliability and precision. Learn more about ArcBest expedite today.