Flatbed Trailer Shipping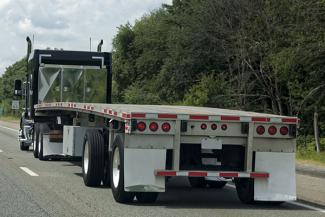 What is a flatbed trailer?
Because freight comes in all shapes and sizes, sometimes a specialized approach is necessary for getting a shipment to its destination. If it's heavy, wide, overweight or oversize, it requires transportation outside of what a standard enclosed freight trailer can accommodate. That's where flatbed shipping comes in. Like the name indicates, a flatbed truck or trailer is one with a flat bed and no sides or roof — enabling freight to be loaded and unloaded from the top, sides or rear.
Types of flatbed trailers
There are several kinds of flatbed trailers, each with unique dimensions to accommodate virtually any size and type of freight. Because there are government-mandated weight, height and width restrictions related to shipping, it's important to know what equipment is best for your load — otherwise you could risk the inconvenience and cost related to an over-dimensional or overweight shipment. Let's look at some of the most common flatbed options available, the types of freight typically hauled on them and tips for making sure your carrier has the information needed to ensure a successful flatbed shipment.  
Standard flatbed trailers
Because it's so versatile, the standard flatbed trailer is the most commonly used, and it may be the one with which you're most familiar. These trailers are typically 48' or 53' and can carry freight with maximum dimensions of 48' x 8'6" x 8'6" (lwh) or 53' x 8'6" x 8'6" (lwh). The maximum weight capacity is 48,000 pounds.
Standard flatbed trailers are typically loading dock height (58"), and are used for freight that requires top, side or rear loading.
Common freight shipped with a standard flatbed trailer:
Steel products
Lumber products
Construction equipment
Large industrial tubing
 Machinery
Single-drop deck trailer (Stepdeck)
Stepdeck trailers are an alternative to standard flatbeds when you need to ship cargo between 8'6" and 10' tall. Like the flatbed, this type of trailer is typically 48' long, but it features a raised step and lowered deck that allows for hauling taller loads without having to get special permits. The maximum commodity weight for this type of trailer is 48,000 pounds, and maximum freight dimensions are 11' x 8'6" x 9' (lwh) on the upper deck and 37' x 8'6" x 10" (lwh) on the lower deck.
Common freight shipped with a stepdeck trailer:
Farm equipment
Large construction equipment
Large electrical equipment
Heavy, bulky products
Double-drop lowboy trailer
The double-drop trailer is also sometimes called a Lowboy. Like the single-drop trailer, it's basically a flatbed that has been modified with a lower deck to legally carry taller freight — up to 12' tall. The maximum commodity weight for the double-drop deck is 45,000 pounds, and the freight dimensions for the main deck (often called the "well") are 28' x 8'6" x 12' (lwh). Because these trailers can be as low as 18" off the ground to allow for tall freight, forklift dock loading normally isn't an option. Instead, cranes are typically used to load cargo that can't be driven onto the trailer or side-loaded.
Common freight shipped with a double-drop trailer:
Large, heavy shipments
Industrial equipment (like bulldozers)
Irregularly proportioned shipments
Cargo that requires crane loading
Automobiles
Removable gooseneck trailer
Removable gooseneck trailers are similar to single-drop and double-drop trailers with one exception — they have a removable gooseneck that can act as a ramp, giving you the ability to drive equipment onto the trailer. They come in several different lengths and axle configurations to accommodate long, heavy shipments.
Common freight shipped with a removable gooseneck trailer:
Motorized equipment
Cranes
Tall shipping containers
Prefabricated components for building construction
Military equipment
Stretch flatbed trailers
Stretch trailers are available in flatbed, single-drop deck, double-drop deck and removable gooseneck. They're designed for carrying freight that is too long to be carried by the standard options. The heavier the load, the more axles required, so depending on the weight of the shipment, stretch trailers can have anywhere from three to 20 axles.
Conestoga trailer
The Conestoga trailer is one that stands out from the traditional flatbed. While it's still in the flatbed family because it can be loaded from the front, back, top or sides, the Conestoga comes with a durable sliding tarp system designed to protect freight in transit. Though they come in a range of sizes, the most common have freight dimension limits of 48' x 8'2" x 8' or 53' x 8'2" x 8' with a weight limit of 45,000 pounds. This type of trailer is commonly used to carry heavy loads that need security and protection from the elements. 
Common freight shipped with a Conestoga trailer:
Steel
Lumber
Wiring
Machinery
Aircraft or aircraft parts
Flatbed shipping tips
For a successful flatbed shipment, it's important to be as detailed as possible when describing the freight to your carrier. This helps ensure you get the right equipment and supplies for your load. Here are some items to also consider and discuss with your carrier:
What are the dimensions, weight and commodity of the shipment? This is "must know" information for every carrier. Remember that even one extra inch in width, length and height can have an impact.
How will your freight be loaded and unloaded? While some flatbed trailers can accommodate dock loading, many types cannot. Understanding the loading method will help your carrier understand the type of equipment that best suits your shipment.
Do you need a tarp? Because they're not enclosed, weather can sometimes play a role in flatbed shipping. Some shipments require a tarp for protection from the elements.
Do you need additional accessories like tire stoppers, corner protectors, adjustable pipe stakes or corner racks? Let your carrier know ahead of time so that you have the supplies need to safely and properly secure the load for shipping.
Need a flatbed trailer for your shipment? ArcBest® can help.
If you need help determining the right flatbed for delivering your freight, call 877-279-8090 — we'll help answer your dimensional questions and provide a flatbed shipping quote based on your requirements.