Service Center Spotlight: Little Rock, Arkansas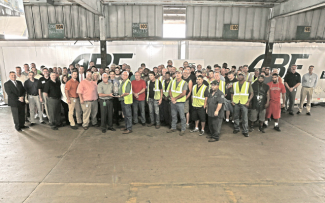 The successful operation of our Little Rock Distribution Center
Thirty-eight years of service, 442 employees, 197 dock doors and a 24/7 operations schedule describes our well-established ABF Freight® distribution center (DC) in Little Rock, Arkansas. With an average of 10,000 inbound and outbound shipments per week, this location plays a critical role in order fulfillment and supply chain management for ArcBest®. And while it's just one of the 248 service centers in the LTL network, it's a location known for continuously increasing customer satisfaction, improving freight handling efficiency and expanding its operational capabilities.
Facility attributes
Little Rock is one of the largest service centers in our network — sitting on 37.6 acres of land with 67,849 square feet of dock space and 59,800 square feet of shop space. With the high volume of shipments passing through, this space gives the Little Rock team the ability to function productively. A unique characteristic is the shop. Little Rock operates the largest power shop in the system with approximately 70 technicians who are certified and trained to maintain every piece of ABF Freight equipment. They repair on-site power units and trailers and also will pick up equipment from surrounding facilities that need attention. Caring for our equipment helps us provide reliable service for our customers, control costs and decrease downtime by knowing exactly what's being repaired. The shop is a critical part of this DC that enables daily operations to run more smoothly.
Day-to-day operations
A lot of hard work and dedication goes into running a facility this large. Each day, this DC handles a variety of freight, from tradeshow materials to product launches and truckloads to time critical and expedite. No matter what type of freight is coming or going, Little Rock receives it, breaks it down, moves it across the dock, and loads it for shipping with care and the least amount of handling as possible. Learn more about their daily operations to see how freight moves promptly and efficiently:
Linehaul function
As the manufacturing industry expands in the area, local suppliers need quick and cost-efficient methods for distributing products all over the country. Our linehaul drivers service between 60 and 70 end-of-the-line service centers daily and can deliver to any location within a 10-hour dispatch.
City delivery  
The city drivers are responsible for picking up and delivering shipments around the area. Over the years, they've developed strong business relationships with local customers and have been successful because of it. According to Pat Blaylock, service center manager at Little Rock, "Our city drivers really know their customers. They see them regularly and know what makes their operations tick. Once you build that trust and understand the customer's daily needs, it helps the driver provide a better delivery and pickup experience. The driver doesn't want to tie the customer up, and the customer doesn't want to tie the driver up — it's a healthy relationship where time is respected, and tasks are completed quickly and efficiently."
Freight handling
With thousands of shipments coming and going, the Little Rock employees work methodically to load every piece of freight carefully and onto the appropriate trailer. Primarily using forklifts, the dock employees work day and night to transfer freight across the dock and get it back on the road as fast as possible.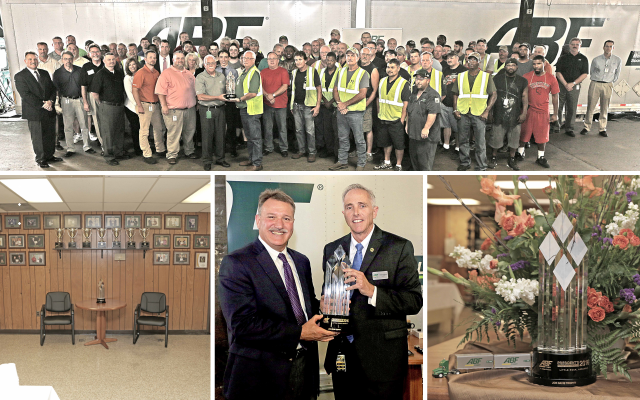 Contributing factors to Little Rock's success
When asked why the Little Rock DC is so successful, Pat said, "Our people. There's a lot of veterans who have been here a long time and understand the ABF culture. They understand what 'doing it right the first time' means, and that's something they strive to do. They understand the importance of taking care of our customers, why we must do that, and why we must continue to do that."
Other factors contributing to their long-term success are positive attitudes and desires to grow the company. After reflecting on his team, Pat says the employees exhibit many of the ArcBest values, including:
Collaboration: "Teamwork is everything. It's not one group over the other; it takes all of us to get the job done."
Integrity: "We strive to do the right thing every day." 
Excellence: "We go above and beyond to get things done for our customers. When you get a good group of experienced workers, they're good leaders and good teachers to younger employees showing them what we need to do."
 
Awards and special recognition
Due to the collaborative environment and customer-first approach, the Little Rock distribution center won the 2016 ABF President's Quality Award. This is the highest award any service center can win and signifies the best of the best in the system. According to Pat, "The award shows our people strive to do what's necessary each day. And when you do that, you're able to rise to the top."
Other accolades and achievements
Over the years, the Little Rock employees have represented ABF at the Arkansas Truck Driving Championships hosted by the Arkansas Trucking Association. Since 2008, they have won eight team trophies, and three team members — Garry Holliman, Loren Hatfield and Dave Hall — have won state Grand Champions multiple times and have gone on to represent ABF at the national level. Loren and Dave also have volunteered their time at local events such as Boosters and Big Rigs for the Junior League of Little Rock and Teen Driving ROADeo for the Arkansas Children's Hospital — giving these drivers an opportunity to educate the public about the transportation and logistics industry. The teams' plaques and trophies are displayed in the office on what Pat and the employees call "The Wall of Fame." The wall recognizes the team's skill to get things done right the first time and their will to best serve the customers, community and company.
Trust ArcBest to ship your freight
Little Rock is just one successful distribution center in a system of many. Hiring a reliable carrier with a secure network of service centers is critical to moving your freight across the country safely and quickly. At ArcBest, we offer an array of solutions to meet all your logistics needs. Learn more by calling 800-610-5544, or leave a comment below.