Service Center Spotlight: Tulsa, Oklahoma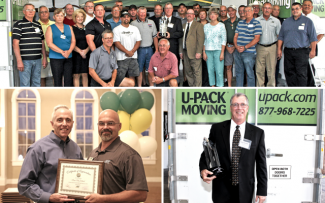 Recognizing the dedication of our Tulsa Service Center employees
At 3 a.m. every weekday, the lights at our Tulsa service center come on. As many of its employees start their day, most of Tulsa is still sleeping. But in a world where freight is continuously moving, those few extra hours are critical. Fortunately, Tulsa's employees have the will and determination to put in the hard work necessary to serve our customers well — and they've experienced growth as a result. The Tulsa service center stands out in the ArcBest® ABF Freight® network, and its employees are making an impact on our customers, company and community.
Facility focus
The Tulsa service center sits on six acres, with 7,260 square feet of dock space, 20 dock doors and 4,000 square feet of shop space. It's also near a major interstate, allowing drivers to get freight moving quickly. Operating a large on-site maintenance shop provides benefits such as quick and cost-effective repairs. And, during inclement weather (hail, ice and snow), the drivers can park many of the trailers in the shop to avoid damage and delays.
Daily operations
More than 400,000 people live in Tulsa. As the population continues to increase, more and more freight flows into and out of this region. Operations supervisors David King and Hunter Lowe use advanced internal planning tools to coordinate these shipments. And when the unexpected happens — such as unplanned pickups and deliveries — the team works together to find solutions for the customer.
"Like every service center, we have a certain close time for inbound shipments. Oftentimes, we'll get trailers coming in after this close time, and we'll still work that freight to get it delivered on time," said Gary Snedeker, service center manager at Tulsa. "We go the extra mile, and our people are involved in helping us get that done." 
The three "C's" of Tulsa's success
Customer-driven
Exceptional service is crucial in the trucking industry where customers rely on us to deliver their freight. Tulsa excels when it comes to customers. The office employees and drivers receive praise for the way they handle themselves and get the job done. "As a salesperson, it's very important that our customers are taken care of," said Ky Evans, ArcBest district sales manager. "In Tulsa, it doesn't matter if it's a big customer or a small customer, they're all treated equally."
 
Company values
Incorporating the company's core values — creativity, integrity, collaboration, growth, excellence and wellness — into each day is something the Tulsa employees strive to do. While they focus on each value, they specifically stand out in two: excellence and wellness.
 

Excellence. In 2012, Tulsa showed excellence by winning the ABF President's Quality award. This is the highest award any service center can receive and is a reflection of how well they operate and serve the region. When asked what this award means to them, Gary said, "It's a great honor because it rewards the people working here and recognizes what the service center has done."
Wellness. The Tulsa employees work hard to embrace total health. Each day, many employees use their lunch hour to walk and exercise. Outside of work, employees participate in wellness, too. For example, Gary plays ice hockey and soccer to stay active. This routine exercise helps improve health and is also great for relieving stress.
 

Community outreach
Along with taking care of customers, the Tulsa employees actively give back to their community. From raising money for sick children to coaching sports and teaching students how to fish, these employees make a difference at work and in the lives of others. Read how three employees serve their local community:
 
Sam Belt — ArcBest account manager
Sam was an All-American basketball player in college, played professionally in Australia and coached at the collegiate level. Though he no longer plays competitively, his love for the sport shines through his involvement with Tulsa's youth. Sam coaches local children's teams, leads summer skills camps, and speaks to hundreds of high school students about leadership and using their athletic ability to create future success. "I love basketball, so if I can coach little kids, get them involved and teach them, I'm all for it," Sam said. "When I do presentations for high school students, I talk with them about what it means to be a leader. I teach them to chase what gives them the best opportunity to get a degree and be successful."   
Jon Schwebach — ABF city driver Jon is the vice president of Jeepers Anonymous, a northwest Oklahoma-based Jeep club. Currently, the group sponsors the Warrior Kai Foundation — an organization named after Kai, a young boy who lost his battle to cancer in 2017, that supports children with illnesses. Kai's father was part of Jeepers Anonymous and started the foundation soon after Kai passed. Now, Jeepers Anonymous works with the foundation to provide food, transportation and financial aid to families impacted at The Children's Hospital at Saint Francis in Tulsa. Jon explained, "As people, it's something we have to do. I don't know what's going to happen to me, and I would want someone to help. Our calling isn't just to work and breathe every day, but to make an impact in someone else's life."
Mark Grasmann — ABF city driver Mark works with a group that teaches high school and college students about fishing and the outdoors. Each year, a variety of sponsors host tournaments and offer prizes such as rods, reels and depth finders. Mark enjoys taking his boat, letting the students look at it and teaching them what he knows. "It's a way to get these kids outdoors instead of on computers all the time, and it helps keep them out of trouble. It's a big deal for them to be involved in a group like this, learning how to take care of boats, how to fish, and getting to meet new people," Mark said.  
Employee recognition
Tulsa's positive and collaborative work environment also contributes to employee success. Each year, two to five drivers participate in the Oklahoma Truck Driving Championships, and many of those drivers qualify to compete at the national level. ABF Freight also has recognized four drivers for their industry expertise and safe driving:
Dean McFarland — 2018 Load Team Member
Jeffery Larson — 2017 Bronze Safety Driving Award & 2008 Road Team Member
Kent Jones — 2012 Road Team Member & 2013 Bronze Safety Driving Award
Leo Pidgeon — 2005 Bronze Safety Driving Award
 
Choose ArcBest for your shipping needs
The commitment of our Tulsa employees makes this service center a valuable location in our network. With more than 240 service centers in the ArcBest system, we offer a variety of logistics solutions both nationally and internationally. Whatever your shipping needs are, we can help. For more information, call 800-610-5544.