Standard Pallet Sizes and Types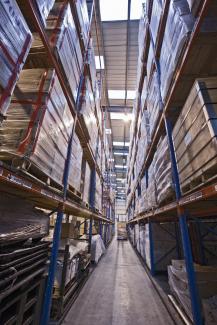 What is a shipping pallet?
For those new to pallet shipping, a pallet is basically a portable platform used to bundle items and provide support when a shipment is lifted by a forklift, front loader, pallet jack or other jacking device. To keep everything in place, items on a pallet are normally secured with materials such as stretch wrap, straps or pallet bands. Pallets come in a variety of shapes and sizes and can be made from a range of materials. 
Occasionally, you'll hear pallets incorrectly referred to as "skids." While the two are similar, the main difference is that pallets have bottom deck boards and skids don't. Skids are also normally used to
 store heavy items in a warehouse while pallets are most often used for shipping
Benefits of pallets
According to the National Wooden Pallet & Container Association, there are more than 1.8 billion pallets in service each day in the United States. Why are they so popular? Shipping freight on pallets is safer and more cost-effective than shipping loose freight. Palletizing freight enables one person to move large quantities of product safely, quickly and with minimal chance of damage. In some cases, shipping freight on a well-packaged pallet also can help save money by reducing the pounds per cubic foot of the shipment.
Should my freight be palletized?
Determining if pallets are right for a shipment depends on the freight profile. Palletize freight if it is too large or heavy for a single person to handle and if it is:
More than 75 pounds
Taller or wider than 42 inches
Difficult to move with a hand truck
Multiple pieces that are easily stacked and held together
 
Types of shipping pallets
The stringer pallet is the most common pallet design because it's generally cheaper to construct and repair than other pallet types. While forklift tines can be used along the length and width of the stringer pallet, the limitation is that pallet jacks can only be used in the length direction.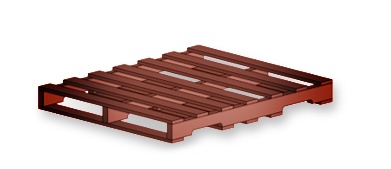 The block pallet is typically a more expensive design, but it allows for forklift tines and pallet jacks to be used in both the length and width directions.
For pallets that are longer than 72 inches, using chamfered runner boards on the bottom is recommended. This allows the pallet to slide across the dock plate when loading and unloading the freight. It's important to ensure the bottom deck and the chamfered runner boards are each 1.5 inches thick and that the chamfered runner boards are 28 inches apart. This design allows pallet jacks to access the pallet from the side.  

Pallet materials
The majority of the pallets used in North America are made from wood. Other materials include composite (plastic) pallets, which are more common in export and pharmaceuticals, metal pallets (steel or aluminum) or any combination of the materials mentioned.
Though paper-based pallets are an option, we do not recommend them. They're not rigid enough to handle the normal rigors of the less-than-truckload (LTL) environment (racks, forklift tines, etc.), and they fall apart if they get wet — which is very possible in high-humidity environments.  
Standard pallet sizes
A study completed by Virginia Tech and the USDA Forest Service states that the most common pallet size in North America (26 percent) is the 48" x 40" pallet. It's the most-used size because it's the standard footprint for the grocery industry. Below is a list of other standard pallet dimensions in North America.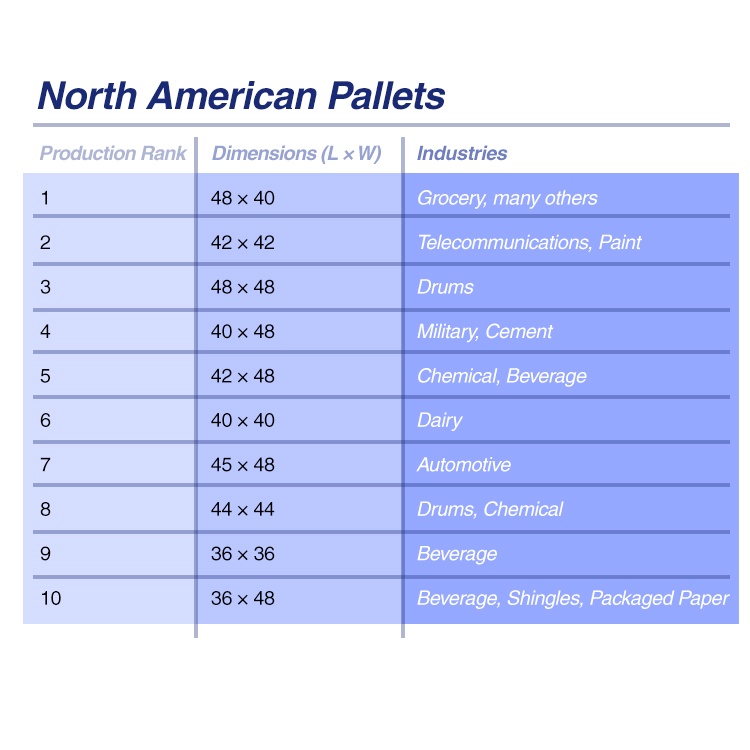 Wood pallet export regulations
The International Plant Protection Convention (IPPC) is a subdivision of the Food and Agriculture Organization (FAO) of the United Nations and works to regulate the movement of solid wood packaging material across the globe. The IPPC issues the regulations known as International Standards of Phytosanitary Measures (ISPMs) to stop the spread of invasive species (bugs and mold) around the world. The regulation specific to wood packaging is ISPM 15, which affects all wood packaging materials including pallets, crates and dunnage. It requires that packaging moving internationally be debarked and heat treated or fumigated with methyl bromide and stamped or branded with the "wheat stamp" (this does not apply to exports to Hawaii, Puerto Rico and other U.S. Trust Territories).  
Common pallet shipping failures
Failure to use the proper number of high-quality fasteners. Too few or weak fasteners create poor joint connections, which could result in pallet failure.
Using the lowest quality lumber available. A higher percentage of wood defects increases the probability of the pallet falling apart. Avoid using low-quality lumber that may have splits, unsound knots, rot and other structural defects.
Using a damaged pallet.
Failing to keep the freight and pallet attached to each other. The load should be secured to the pallet using materials like stretch wrap or strapping.
Allowing the freight to overhang the pallet. Freight not adequately supported by the pallet is more likely to be damaged.
Failure to eliminate voided space within the pallet load. Ideally, the palletized freight should be secured by stretch wrap and banding so that it will not move. The vibration in truck trailers is more likely to damage freight that is not secure.
 
Pallet packaging tips
Use a tie sheet between the bottom layer of freight and the top pallet deck. The tie sheet will help to distribute forces of the uneven pallet deck.
Consider using at least one tie sheet between upper layers to increase load stability if column stacking boxes.
Use shipping containers that are strong enough to support the weight of the freight. Also, make sure to consider the extra weight from the containers stacked on top of the bottom box within the load.
Avoid reusing corrugated boxes or any packaging that has been previously damaged.
Ensure all corrugated containers are sealed with tape or glue.
Check that the flutes in cardboard boxes are vertical for maximum stacking strength.
Load boxes on the pallet to allow for equal weight distribution.
Avoid stacking containers in a pyramid. The upper layers of boxes that are pyramid stacked are hard to stabilize properly with strapping or stretch film.
 
Additional pallet shipping recommendations
Protect all shipped freight with proper packaging in compliance with the National Motor Freight Classification (NMFC) standards.
Label any boxes with fragile items or items that require special care.
Make sure complete names and addresses are visible, ideally on the side of each piece of freight, so the entire shipment arrives intact.
Include a correct Bill of Lading to ensure an accurate invoice and correct freight charges.
Check that the shipper and consignee information match the Bill of Lading information exactly and that labels are legible and complete.
Use ISTA 3B or NMFC Rule 180 Test to validate packaging design concepts or changes before shipment.
 
If you need help determining the best shipping method for your freight, or if you would like to determine shipping rates for your palletized freight, call 800-610-5544, email customersolutions@arcb.com or get a quote online. We look forward to helping.