Why Shippers Use Managed Logistics Services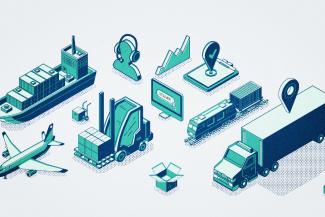 Outsourcing logistics processes can benefit your business
Because supply chains are becoming more complex, many shippers are looking outside their organizations to access the resources and expertise they need to stay competitive. And many are finding that working with a managed solutions provider is best for their business. By partnering in this way, they're able to expand their logistics services and technology, reduce costs, find efficiencies and stay ahead of supply chain disruptions.
Understanding the 5 advantages of managed solutions
A managed solutions provider can help your business:
Access the right supply chain services
Collaborating with a provider who offers an array of solutions can give you a competitive advantage in your industry. Your managed solutions partner will be able to recommend the best mode for each shipment type — ensuring your freight is always moving in an optimal way.
Stay up to date with technology
Technology is critical for developing and executing everything from supply and demand forecasting to freight visibility and capacity planning, but these systems can be costly to obtain. Utilizing your provider's existing technology and using them to get access to technology like transportation management systems (TMS) can help you receive the benefits of these resources with a smaller investment.
Reduce overhead and operational expenses
Purchasing and maintaining equipment, hiring additional employees and upgrading technology can significantly impact your bottom line. Working with a managed solutions provider allows you to grow your team and resources without being responsible for the entire investment. This helps free up capital for other business needs like marketing and sales.
Other cost-saving opportunities come from increased purchasing power. Rather than negotiating rates based solely on your freight volumes, a managed provider can often secure pricing based on their entire book of business. Which means your transportation costs should go down.
Find supply chain efficiencies
An efficient supply chain should have balanced expenses and limited time constraints and should create an optimal experience for the end consumer. A managed solutions provider can examine your supply chain from beginning to end to find opportunities to improve any or all of those key areas. Whether it's a complete supply chain redesign to overhaul existing operations or smaller adjustments like moving warehouse locations, any opportunity to improve can significantly impact costs and customer loyalty.
Shift seamlessly as needs change
Logistics providers are equipped with the technology and tools to act fast when problems arise — minimizing costly interruptions and keeping your freight moving. They're also positioned to help you mode shift to options with better pricing or more available capacity. These methods help you stay ahead of changing market conditions while competitors may fall behind.
Get started with ArcBest managed logistics
Ready to work with a provider that understands your needs and stays up to date on trends and technology? The ArcBest managed solutions team is ready to help. We'll collaborate with your existing team to optimize your supply chain and help develop a strategy that works for your business. Find out more about our managed logistics solutions or contact us to get started.