Accessorial Charges in Truckload and LTL Freight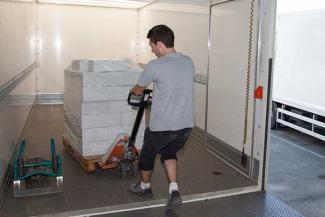 What are accessorial charges?
Accessorial charges are any additional expenses a customer incurs that go beyond the normal procedures when shipping truckload or less-than-truckload (LTL) goods. For example, let's say you're moving some restaurant equipment into a strip mall. Because of the complexity of the shipment, which would require the driver to unload the shipment and deliver it inside the building, the carrier will apply an additional fee. While the cost of accessorial charges varies by carrier, knowing some of the most common fees and how they occur can help you prepare your budget.
Common accessorial charges
Most accessorial charges are tied to services at the origin or destination as part of your final bill, so it's best to pay close attention to every detail so you can provide accurate information to the carrier. The following examples are some of the most common accessorial charges:
Ground pickup or delivery  
When a shipment arrives at a location without a loading dock, a lift gate or other means of transferring the freight from the trailer to the ground is required. Lift gate equipment isn't common on standard 28- or 53-foot trailers, so be sure you know the specifics of your destination's loading area and communicate that back to the carrier. This way they come with the right equipment.
Over dimensional goods
It's crucial for a carrier to know upfront if the freight they're transporting exceeds the size or weight limit of a standard shipment. Without reporting over dimensional measurements, the carrier will have to adjust appropriately on site and you'll likely face an additional fee.
Limited access pickup or delivery
A carrier may levy this fee if they're picking up or delivering to a location with limited access such as schools, military bases, prisons or construction sites. Delivering to these locations could be more challenging because they may not have loading docks, or they may require security inspections prior to entry.
Inside delivery
Inside delivery or pickup is a fee for having a carrier deliver or pick up a shipment that goes beyond the tailgate of the trailer utilized. This service may be requested by either the shipper or the consignee and will be provided at an additional charge.
Change in weight or description fee
If the correct weight or description is not specified on the bill of lading, the carrier may assess an additional fee for their correction.
Stop off
These charges typically occur when a shipment has two or more destinations. Multiple destinations require a driver to make several stops along the way, which could cause a delay for the other shipments they're carrying.  
Residential delivery
If a carrier has to travel into a residential area to deliver freight (whether it be a home address or a business), a residential delivery charge may apply. This is because of the complex nature and extra time needed to navigate a truck through a residential zone.
Lumper service
A lumper fee is assessed when a third-party service is used to load or unload the contents of the trailer. The fee is common in the grocery distribution and the food warehousing industry.
Detention
If the carrier is delayed for any reason, detention charges may apply. Some detention time will be embedded into the shipping contract, but this charge typically begins when the driver is detained beyond the time noted.
Storage
If you need the carrier to hold your freight at their service center for a specific time period, you may incur extra charges. Additional expenses may apply because your goods are taking up space in their warehouse and equipment, which disables them from moving other shipments. 
How to prepare
Gaining an understanding of what charges you may incur can help you prepare. Follow these tips to ensure you're effectively managing your shipment and avoiding unnecessary fees:
Describe the freight being moved. Knowing what you're shipping and informing the carrier of this will help them determine what services you need.
Accurately measure and weigh shipments. Providing exact measurements to your carrier beforehand helps to create a more accurate shipping rate.
Be thorough on your bill of lading. The more descriptive you can be on your bill of lading, the more precise your pricing will be. Try to provide your carrier with details such as complete addresses, the type of building or business where the freight will be delivered, and any points of contact the carrier might need.
Know your

National Motor Freight Classification (NMFC)

freight classification. Misclassified freight can lead to additional fees.  
Ask how the freight should be handled. Will your freight require special handling or additional equipment like lift gates, pallet jacks or forklifts to be loaded or unloaded? Let your carrier know in advance.
 
Questions?
If you have questions about specific accessorial charges related to your shipments or you need assistance optimizing your supply chain to avoid unexpected costs associated with accessorial charges, the trained professionals at ArcBest® are available to help. Call 800-610-5544 or leave a comment below for more information.
Learn more:
Learn about space-based pricing
ArcBest retail shipping solutions
ArcBest truckload solutions
Cube Calculator