Freight Pickup and Delivery – What You Should Know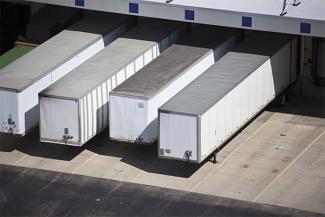 Freight pickup and delivery
Imagine you're the logistics manager responsible for scheduling hundreds of inbound and outbound shipments each day. You evaluate each of your orders at the start of every workday and start devising a shipping plan that will get your freight out on time. Say you've got one pallet of bedframes that need to be delivered to a local retailer today, and you need to get 10 sets of mattresses and box springs from your warehouse in Atlanta to another retailer in New York by the end of business tomorrow afternoon. How can you make sure the shipments get picked up in time for the expected delivery?  
The first step is to work with a carrier that offers the pickup and delivery options you need. Whether you're looking to expedite a shipment across the country quickly, move less-than-truckload (LTL) freight regionally or deliver a product to a residential address, ArcBest® can help you meet your customer's expectations. Discover how our pickup and delivery services work, and find answers to commonly asked questions.
How the pickup and delivery process works with ArcBest
Pick-up and delivery processes have a few key differences depending on the service. Below are the requirements for each solution, and information on how to schedule a shipment. If you're not sure which solution you need, you can contact your account manager or call customer solutions at 800-610-5544.
Less-than-truckload
Do you need to move an LTL shipment? Start by filling out a pickup request form. Enter the details of your shipment, including the addresses for the pickup and delivery locations, along with the date and time the shipment will be ready. Also, note the commodity type, the shipment's dimensions in inches, and if any special services are needed (e.g. liftgate, HAZMAT freight, non-stackable products). When the freight is picked up, you'll receive a PRO (tracking) number so that you can track the shipment in transit.
Truckload
If you're shipping truckload freight, pickups and deliveries should be scheduled by contacting our truckload team at 877-279-8090. We'll need the addresses for the pickup and delivery locations, along with the date and time that the freight needs to be picked up and delivered. We'll also need the specifics of the freight you're shipping, including:
Required equipment (flatbed trailers, refrigerated units, etc.)
The total linear feet, width and height
The number of pieces being moved
The commodity — and the NMFC number and UN number if the shipment is classified as HAZMAT
How to package or handle the shipment
 
If you have competitor rates or other information you'd like to be considered when your quote is processed, please supply that information as well. ArcBest provides a bill of lading and will coordinate pickup and delivery on your behalf.
Intermodal
Intermodal pickups and deliveries are similar to truckload shipments, with the exception that the shipper is responsible for securing their freight. We encourage a 24- to 48-hour notification to schedule intermodal pickups and deliveries to help prevent delays. To book a shipment, contact our intermodal team at 844-894-9465.
Time Critical
You can automatically schedule a pickup when you book your time-critical quote — no need to schedule a separate pickup at the time of booking. Don't need a quote or have published pricing? Just select the "Time-Critical Shipment" designation when completing your online pickup request. Do you need any pickup and delivery notifications or other in-transit tracking details? Let us know in the pickup request. Need to quickly ship freight long distance? Schedule an air cargo shipment through our time-critical team at 844-560-2526.
Expedite
Schedule a ground expedite pickup or delivery by calling 877-464-5094. When booking, please provide the origin and destination, billing information, and the requested pickup time (be sure to include the dock's hours of operation). Additionally, please provide the number of pieces being shipped, the shipment's weight and dimensions, and if any special equipment or instructions are required (such as liftgate, hazardous freight or freight traveling to Canada or Mexico). The majority of expedite shipments can be picked up and delivered within 24 hours of the request being made, and depending on the location, can possibly be picked up within 90 minutes of booking.  
Trade Show
Trade show shipments are unique because each show has different pickup and delivery time requirements. As a result, trade show customers often opt for time-critical solutions that can help ensure shipments arrive when needed. When scheduling pickup or delivery, be sure to include the following:
Name of the show
Name of the general service contractor
Booth number
Driver check-in time
 
Frequently asked questions
To simplify the process, we've answered some questions most commonly asked by our customers.
Who will pick up my freight?
If a carrier other than ABF Freight® or Panther Premium Logistics® is moving your freight, we will provide you with that carrier's information once the shipment is booked.
What if I want to use my own bill of lading?
ArcBest customers may use their own bill of lading, on most occasions. For customers moving truckload shipments who want to use their own bill of lading, that is fine, but please also provide the official bill of lading that we provide when scheduling the shipment.   
Is there a weight requirement for a shipment?
While some modes of transportation have weight limitations, ArcBest can move freight of all sizes through our broad portfolio of transportation options.   
Will ArcBest deliver freight inside my house?
We can provide residential delivery services like inside delivery, room of choice, stair carry, light assembly, dunnage removal and product placement through our final-mile solution.
Do you offer shipment tracking capabilities?
Yes. We offer around-the-clock monitoring for every shipment. And for high-value shipments we offer the option of additional security including geo-fencing with real-time tracking.
Do you provide special equipment or any additional service offerings?
You can select from several additional services based on the needs of your shipment. Do you need special equipment such as a flatbed trailer, lift gate or a shipment divider? Will solutions like time-critical services, inside delivery or residential pickups be required? Let us know, and we can set it up for you.
Can you make pickups or deliveries after hours or on the weekends?
Yes, we can meet most delivery windows through our time-critical, expedited and truckload solutions. To schedule after-hours service, please call 800-610-5544.
Will ArcBest ship to a trade show?
We specialize in trade show shipping! When you ship your booth with ArcBest and select time-definite delivery, your materials will arrive on the specified day and time. We'll take the freight to the dock where the show's designated general service contractor will process it and then deliver to the showroom floor.
Is there an extra charge for wait time?
Detention charges apply for most solutions, including less-than-truckload, truckload and expedited shipments. Trade show shipments are the exception — no detention charges apply when trade show shipments move on ABF Freight equipment.
Need pickup and delivery services?
From arranging pickups and deliveries, to making sure the right equipment is available, ArcBest provides quality shipping services both domestically and internationally. To get started, schedule a pickup online or call customer solutions at 800-610-5544.