Green Transportation Initiatives for a Sustainable Supply Chain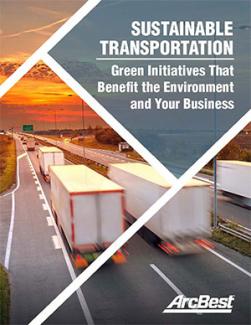 Sustainable transportation insight and eco-friendly initiatives
When you combine increasing concerns about environmental preservation with the challenges companies face attempting to conserve costs, green transportation and sustainable mobility become relevant topics. Because trucks alone account for 57 percent of global freight emissions, transportation and logistics service providers are tasked with minimizing their ecological impact — while also maintaining economical business practices. We created a whitepaper to shed light on the subject and offer examples of green transportation ideas in action.
Advantages of a green supply chain
ArcBest® carrier ABF Freight® began integrating eco-friendly transportation initiatives into its operations in the 1970s. Through efforts that include recycling programs and energy-efficient equipment upgrades, we're able to limit emissions and reduce costs long term. Download the whitepaper below for more sustainable supply chain examples, industry statistics and information about environmental responsibility. 
Download "Sustainable Transportation: Green Initiatives That Benefit the Environment and Your Business"