Is intermodal shipping right for your business?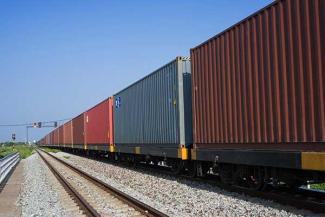 What is intermodal shipping?
Supply chain managers are always looking for ways to save their company time and money and improve transportation strategies. While moving freight over the road (OTR) offers plenty of benefits, some shippers may choose intermodal as an alternative to traditional trucking options. It combines multiple modes of transportation (usually OTR and rail) for the easy, efficient movement of freight from origin to destination. Shippers who choose this solution can see a reduction in transportation costs, have more access to capacity, and experience a more optimized supply chain. Understanding the characteristics of an intermodal shipment, the benefits of using this method and the types of equipment available can help you make the best decision for your business.
Characteristics of intermodal freight
So how do you know if intermodal is the right fit for you? It's a good choice if:
Freight is traveling 750 miles or more from pickup to delivery
You're moving finished goods (such as food, farming and industrial products) with a net weight of less than 43,500 pounds.
Cargo flow is continuous and in similar quantity (moving the same shipments to the same place regularly)
You're moving products with an intermediate value
 
Benefits of intermodal shipping
While traditional shipping options are popular, blending intermodal into your transportation mix could deliver a number of benefits such as:
Lower costs
Intermodal shipping lowers costs by allowing each mode of transportation to move a portion of the shipment during its journey. Using rail lines is typically more cost-effective because it's cheaper to transport cargo via train rather than relying solely on trucking. The U.S. Environmental Protection Agency reports that the longer the rail haul, the greater cost and fuel savings a shipper will see, compared to the shipping and handling costs of transporting freight by truck.  
More access to capacity
While OTR transportation is still a part of the shipping process, the shortage of drivers and tightened capacity (due in part to the new electronic logging device mandate and the Hours of Service rule) makes intermodal shipping an attractive option. It's easier to find a driver to move a shipment on a short-haul route as opposed to long-haul services, and there's more access to other equipment — such as rail or cargo ships — to allow you to streamline your logistics process.
Added security
The direct handling of freight can sometimes lead to damage, freight disruption or product loss. Because intermodal containers can travel on any equipment, the freight can be shifted between transportation modes without ever having to leave the container — which helps decrease the number of times it's handled and exposed to outside elements. In most cases, once you pack your shipment, it remains in the container until it reaches its final destination. Also, the use of GPS tracking devices on the containers reduces the chances of your shipment being misplaced during transit.
Environmental friendliness
Looking to reduce your supply chain's carbon footprint? Intermodal shipping can be an easy solution — you can help the environment and your bottom line at the same time. Shipping by rail reduces the number of miles your freight is on the road (studies show a single train can remove as many as 280 trucks off of the highways) while also optimizing your shipping routes for efficiency. In fact, an environmental study from the Association of American Railroads shows that moving freight by rail is four times more fuel efficient than by land. The study shows that trains can move one ton of freight nearly 500 miles per gallon of fuel and that greenhouse gas emissions are reduced by nearly 75 percent when freight is moved by rail.
Comparable transit times
Improvements to rail infrastructures and rail equipment have enhanced service options and shortened transit times. These efforts have helped make them comparable or, in some cases, mirror those of OTR delivery times. On average, ArcBest® intermodal transit times can range from 3-10 days, depending on geographic markets.
Types of equipment
Several types of equipment are used in intermodal transportation. The following are the most common types:
Intermodal shipping containers: A typical container is 53 feet long (for domestic travel) or 20 to 40 feet (for some westbound, international and ocean shipments) and can be used across multiple transportation modes (ship, rail and truck).
Container on Flat Car (COFC): A rail container without wheels that can be secured onto a railroad flatcar.
Trailer on Flat Car (TOFC): An over-the-road trailer that can be loaded onto a railroad flatcar or spine car.
Chassis: A rubber-tired undercarriage on which a container may be mounted for transportation over the road.
 
How an intermodal shipment travels with ArcBest®
Let's say you need to move several containers of barreled chemicals on pallets from your warehouse in Little Rock, Arkansas, to a customer in Los Angeles, California. When you book your shipment with ArcBest, we'll coordinate with a local drayage company to come to your facility with an empty container, or other equipment you'll need, and place the container on the trailer's chassis for live loading. Once the container is loaded, it will be taken to the rail yard, loaded onto a rail car and prepared for departure. The train will then travel to a rail yard in Los Angeles, where the container will be removed from the train and mounted back onto a chassis so it can be transported over the road. When it's ready, we'll coordinate pickup, deliver it to the consignee's address and unload the freight.
Utilize ArcBest's intermodal services
Through our partnerships with major railroad and major drayage companies, ArcBest customers experience reduced cargo handling, improved security, real-time shipment tracking, single-source billing, and increased capacity and flexibility with each shipment. Choose intermodal for your long-haul shipments today. To get started, call 844-894-9465.