Service Center Spotlight: Cincinnati, Ohio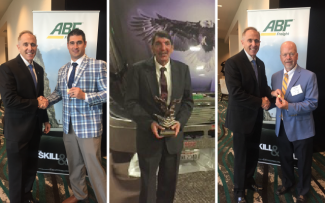 Cincinnati's success starts with its employees
Family, quality and wellness are three words that embody the team at our service center in Cincinnati, Ohio. Approximately 60 dock workers, city drivers, office employees and regional personnel operate this facility day and night to ensure customers receive on-time pickups and deliveries. Through extensive training and development, each employee has the skill to solve supply chain disruptions and the will to do what's best for the customer. District Sales Manager Jon Koopman describes how the Cincinnati team is impacting their region, "The employees here are a family. When the drivers or salespeople leave the gate, it comes down to taking care of our customers, taking care of the business and always taking care of each other."  
While Cincinnati is only one of 245 ABF Freight service centers in the ArcBest network, it's a location that strongly focuses on growing its people, customers and business. And by doing so, it is positively influencing the transportation and logistics industry.
Facility attributes  
Our Cincinnati service center opened its doors in 1990. Twenty-eight years later, this location continues to be a crucial part of our network. The facility is on the north side of the city and has quick and easy access to two major interstates — I-75 and I-275. Sitting on 26.5 acres, it's also one of our larger facilities with 42,480 square feet of dock space, 129 dock doors, 11,450 square feet of office space and 5,880 square feet of shop space. The on-site shop is used to maintain and repair ABF equipment, which in turn helps reduce downtime, keeping our tractors and trailers on the road.   
Day-to-day operations
Cincinnati operates nearly 24/7 — typically opening at 10 p.m. on Sundays and closing at 12 a.m. on Saturdays. As an end-of-the-line service center, Cincinnati runs a pickup and delivery operation and isn't used as a transfer point between any locations. Daily operations involve our city drivers picking up freight from local customers and shipping it out. Located only 42 miles away from our Dayton distribution center, Cincinnati has a strategic advantage for getting customers' freight moving quickly and efficiently through the ArcBest network. They handle a variety of shipments including:
Cincinnati's competitive advantage in freight transportation
Relationship development goes beyond the workplace at Cincinnati. Employees, especially the city drivers, are committed to establishing trustworthy relationships with each customer. In fact, when Jon visits with many of the customers, they're very complimentary of our hardworking drivers. "We have a group of excellent drivers who are there to be as helpful as necessary. They're a competitive advantage for us in this market," Jon said.
Strong focus on training and development
The Cincinnati management team believes success starts with their employees. By taking the time to train and develop each individual, this location continues to experience positive results.
"Everybody who comes in the door learns about carrying on the legacy and name. There's a lot of time put into making sure our people are developed for their roles and given the necessary time to adjust," said Clayton Mullins, service center manager at Cincinnati. "We take extra time to make sure they have all the tools necessary to be successful in their role. We don't want any of our employees to just be able to do their job; rather, we want them to do the job successfully."
Embracing wellness
One of the ArcBest core values is wellness — embracing total health. Recently, 75 percent of Cincinnati's employees participated in a 10-week health challenge sponsored by their Operations Manager, John Flood. Individuals competed to see who could drink the most water and take the most steps each day. John recorded the results and kept everyone updated on who was in the lead, making it a fun challenge for all.
Employees also have the opportunity to participate in company-wide health challenges throughout the year that further encourage total health.
Awards and special recognition
Cincinnati's strong focus on employee development also has led to numerous awards. Clayton and Jon were both awarded the ABF Freight President's Pin in May 2017 for their positive leadership and impact. "To me, it's a huge honor to have ABF Freight president [Tim Thorne] recognize you, what you're doing and know that it's appreciated," Clayton said.
Also in 2017, city driver Roger Anderson won second place in the Ohio Truck Driving Championships. For two days, Roger competed with drivers from all over the state on a written exam, pre-trip competition and driving competitions.  
Over the years, ABF Freight has awarded many of Cincinnati's drivers for their tremendous safety records:
Gregory Weldon — Silver Safety Driving Award (May 2017)
Wilfred Smith — Bronze Safety Driving Award (October 2016)
Steven Anderson — Bronze Safety Driving Award (January 2015)
Jeffrey Tharpe — Silver Safety Driving Award (November 2015)
Jeffery Day — Bronze Safety Driving Award (June 2008)
Kenneth Rose — 1 Million Miles Safety Driving Award (September 2005)
 
Choose quality with ArcBest
The dedication of our Cincinnati employees truly exemplifies the hard work they put in each day. And with 247 other service centers in our network, customers can choose from a variety of quality shipping solutions. Wherever your freight needs to go, trust ArcBest to get it there quickly and efficiently. For more information, call 800-610-5544.