Alternative Capacity Options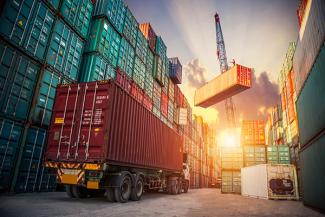 Utilize multiple transportation modes to solve capacity issues 
Relying on multiple sources for transportation isn't a new concept. Companies with owned assets often use 3PLs to supplement their equipment, and most businesses will count on several carriers to cover freight. But how often do companies diversify the modes they rely on, not just who covers their current modes?
Past experiences can make it easy to stick to doing things the way you've always done them. But in today's tight market, it's more important than ever to stay open to alternative capacity sources for your truckload freight. Take a look at some of the tradeoffs that happen with different mode shifts, and learn how ArcBest® can offer the capacity you need.
Other shipping methods
Truckload provides benefits like fast transit times and reduced handling, and many companies utilize the service regularly. However, if you're experiencing delays or having trouble getting a shipment covered because of the current capacity crunch, consider these other solutions.
Less-than-truckload (LTL)
While frequently associated with smaller shipments, LTL can be a good fit for freight that generally goes on a dry van. The extended transit times might not work for all shipments, but LTL does provide:
Flexibility. Most LTL carriers have multiple locations across the country (up to several hundred in some cases), making it easier to provide same-day pickups.
Potential cost savings. Depending on the size of the shipment, the LTL cost structure may be beneficial. Instead of paying for the entire trailer, you'll only pay for the space the freight occupies. These are typically offered on a volume spot quote basis.
 
Intermodal
In most cases, intermodal shipping is a good alternative for truckload freight that doesn't have strict time requirements. In exchange for longer transit times, you'll receive:
Consistent service. Trains don't get sick or take vacation days, so rail schedules are very reliable.
Historically cheaper rates. Capacity shortages are affecting this currently, but intermodal is historically the cheapest option for long haul shipments.
Little to no transferring. Because freight will typically travel for long distances on a rail line, it's very rarely transferred. However, it isn't possible to change the destination or expedite while the shipment is in transit.
 
Expedite
Expedite service is essentially an enhanced truckload experience. Although the rates are usually higher, this capacity source comes with:
Faster transit. Expedite carriers are specifically set up to deliver freight quickly.
Additional handling options. Premium services are available for sensitive or high-value items.
 
ArcBest assured capacity solutions
At ArcBest, we can handle shipments for you at any time with our asset and asset-light options. We offer custom logistics solutions through our best-in-class LTL carrier ABF Freight®, our ground expedite carrier Panther Premium Logistics®, and our network of carriers for ground, ocean and air.
Our position as a logistics company with assets gives us the unique ability to cover virtually any mode of freight movement and to meet complex operational requirements. No matter your needs, we can provide a solution. Reach out to us so we can discuss your options.