The Benefits of Shipping LTL Compared to Parcel

LTL vs. parcel: How to choose the right solution for your business
Choosing between parcel and less-than-truckload used to be pretty straightforward: lightweight shipments went parcel, heavy ones went LTL. But as carriers broadened their services, the line between the two became more blurred. Now, freight that used to be more economical to ship parcel is sometimes better suited for LTL — and vice versa. So how do companies decide which method is best to use when their products can move either way? And how do shippers used to parcel service go about navigating the unfamiliar LTL environment?
Take a look at how each process works, learn how to choose the best solution, and see how to get started with LTL shipping.
Key differences between LTL and parcel
The first step in deciding which option is best for your freight is diving into what makes them unique. While there certainly are some instances where either could be a viable solution, the two methods have some big differentiators, including weight and size limits, transportation and handling procedures, packaging requirements and delivery options.
Weight and size restrictions
Though there's now more overlap in what's allowed, weight and size restrictions still play a big role in choosing which method to use. LTL is usually a good fit unless you're only shipping a few small items, but parcel has a few more limitations. Take a look at the size and weight restrictions for three major parcel carriers: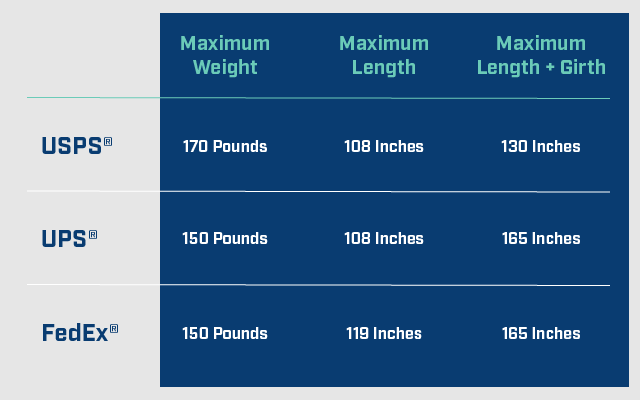 USPS®
Since January 1999, the United States Postal Service has had a weight and size limit of 70 pounds and 130 inches (length and girth combined) for parcel shipments mailed within the United States. This is the tightest restriction you'll find among parcel carriers, especially when you consider that there may be additional charges even within those limits — an oversized price will be applied to pieces that measure between 108-130 inches, and large, lightweight packages (less than 20 pounds but larger than 84 inches) will be charged at a higher rate.
UPS®
Individual items shipped with UPS can weigh up to 150 pounds and be 108 inches long (with a maximum length and girth combination of 165 inches). However, if the shipment is large or heavy, you may have to pay some additional fees:
Over Maximum Limits. A charge for every package that exceeds the weight and size limits.
Large Package. A charge for packages that are longer than 96 inches or have a combined length and girth between 130-165 inches. An additional fee is applied to large U.S. domestic shipments delivered to a residential address.
Additional Handling. A charge for each package that weighs more than 70 pounds.  
FedEx®
FedEx has a few different parcel shipping options with varying weight and size limits:
FedEx Express® allows up to 150 pounds, up to 119 inches in length and 165 inches in length and girth.
FedEx Ground® allows packages up to 150 pounds, up to 108 inches in length and 165 inches in length plus girth.
FedEx Home Delivery® allows up to 70 pounds, up to 108 inches in length and 165 inches in length plus girth.
They also have a few extra charges for packages that require additional handling or exceed the maximum weight and dimensions. Currently, the fee for oversized shipments is $675 per package.  
Handling and transportation
The limitations placed on parcel packages are primarily due to the way they're handled. Parcels are typically auto sorted on a conveyor belt and loaded into a truck by individuals — making it important for packages to be small enough to fit in the sorting machines and light enough to be safely maneuvered by one person. Once the packages are loaded, they're either directly delivered to a regional location or are transferred multiple times up to the point of delivery.
LTL freight is generally handled less frequently than parcel packages, reducing the overall risk of damage. With LTL, items are commonly moved using a forklift. Once loaded, the freight travels in the trailer until it reaches a distribution center, delivery service center or fulfillment center.
LTL also provides the ability to reduce shipping costs, transit times and handling with a transportation solution called zone skipping. It works like this: the shipper consolidates individual orders to fill an entire trailer heading to the same destination. The shipment travels from one major shipping zone to another, without stopping to unload or reload along the way. Once the driver reaches the destination region, the packages are deconsolidated and made ready for distribution.
Packaging requirements
Another difference between parcel and LTL shipments is how they're packaged. Parcels are usually boxed items with varying amounts of internal protective material (Bubblewrap®, Styrofoam, etc.). LTL freight is placed on pallets or in crates and is usually shrink-wrapped for extra protection. This packaging method is necessary to keep freight safe and secure during transit, and helps keep shipments together.
Delivery capabilities
It's a common misconception that LTL carriers only deliver to facilities with loading docks — many offer both business and residential options. And though parcel delivery typically ends at the entrance, LTL carriers offer additional services such as dunnage removal, placement and assembly. These extra options allow shippers to offer a premium level of service to their customers, which can make LTL a better solution for some companies.
Making a choice
While you may never exclusively use one service over the other, understanding when each one is most beneficial can help you make decisions that improve your bottom line. Since everything from the size of the item to how it needs to be delivered can affect the cost, it's a good idea to examine your freight profile and determine what method works best for different situations. Check out the chart below for a quick comparison: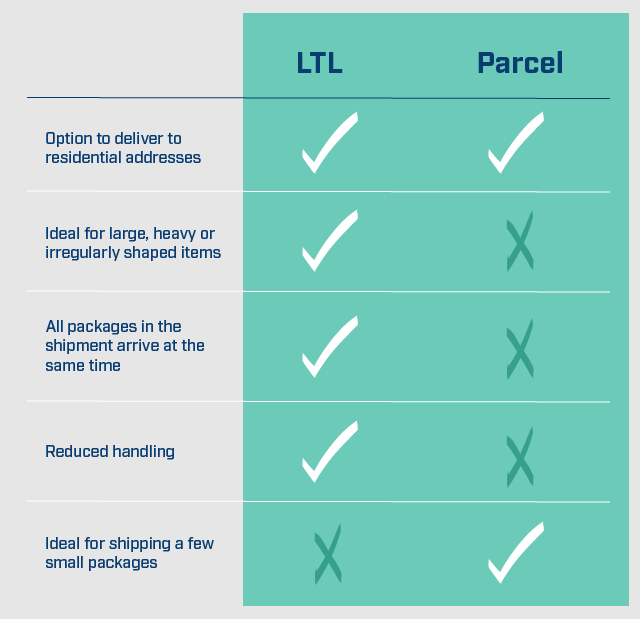 When is LTL the best option?
LTL is typically the best option if you're shipping:
Large quantities or heavy items. Once a shipment exceeds a certain number of packages or weight, LTL is generally more affordable.
Similar items to the same location. Combining like items into one shipment can be more cost-efficient and environmentally friendly than shipping packages individually. Even if the pieces are small and light, putting them together reduces the cost per package and lowers carbon emissions.
Irregularly shaped items. Because parcel carriers will charge extra for oversize pieces, LTL may be a cheaper option for some freight. For example, a beach umbrella is lightweight, but its length can make it an expensive parcel shipment.   
When to use parcel shipping
Parcel is ideal if you:
Are shipping small individual boxes. If you have a few small, lightweight items, parcel will usually be the more cost-efficient option.
Don't want to schedule pickups. If you don't want trucks coming to your location, you may want to ship parcel. Many carriers have drop-off locations where you can take packages during business hours.
Need faster delivery for a small shipment. Since LTL shipments are routed through a specific network, situations like overnighting a single package to a customer are better suited for parcel.
Getting started with LTL
If you've never shipped LTL before, it may seem a little overwhelming. But while there are a few different things to be aware of, your carrier will be able to walk you through the process and help you be successful.
ArcBest carrier ABF Freight® is an industry-leading LTL carrier with more than 95 years of transportation experience. If you're interested in discussing how LTL can benefit your business, our customer solutions team will be happy to help — just call 800-610-5544!
Or check out these helpful resources to learn more: