The Benefits of Shipping LTL Compared to Parcel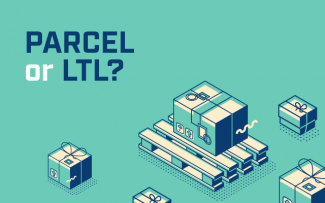 Deciding between parcel and LTL in a changing market
When the coronavirus started to spread throughout 2020, online shopping skyrocketed as businesses temporarily closed and millions of people stayed home. Digital Commerce 360 reported that online spending in 2020 was up 44%, which is the highest annual U.S. e-commerce growth in at least two decades.
This extreme change in shopping habits disrupted many parts of the supply chain, especially for small package shippers who suddenly found themselves struggling to find capacity. Parcel carriers, that previously expanded the number and size of packages they moved, started to limit shipments to only their most profitable. These policy changes in an already tight market often left shippers paying higher rates or looking for other ways to move freight that was refused.
As this e-commerce trend continues into 2021, shippers who can't find parcel capacity may need to look to other solutions to get products delivered. For many, LTL is the answer.
Parcel vs. LTL
Although not all small packages can be converted into LTL shipments, there are many times when freight could travel either way. Understanding how these two services differ can help you determine when your packages could go LTL and when they should ship parcel.
What is parcel shipping?
Parcel is a service that moves smaller, lightweight packages directly to a home or business. Typically, these shipments weigh less than 150 pounds and can be carried by one person without special equipment or extra help. Because of this, it's most often the solution of choice for online retailers with smaller shipments.
What is LTL shipping?
Less-than-truckload is a mode best-suited for goods that can be palletized and shipped all together but that don't fill a full trailer. Because LTL is a solution for shipments of intermediate size and weight, it can be a more affordable option for freight that's too large for parcel but too small for a full truckload.
Major differences between parcel and LTL
While parcel and LTL often carry similar freight, the two services have several differences. Here's how they compare:
Packing and loading
The main difference in how shipments are packed is that parcel travels in several individually addressed boxes while LTL shipments generally travel on pallets. Once parcel packages are dropped off at a loading facility, they're sorted on a conveyor belt and loaded onto a truck by hand. In contrast, with LTL shipping, pickup is scheduled at the shipper's location, and then the carrier loads the freight using a forklift or other machinery.
Transit
Both parcel and LTL shipments stop along their routes to offload and pick up freight, and their tracking labels get scanned at every stop. The biggest difference is how each move through its network. Because parcel is smaller and doesn't require loading equipment, it often offers same-day, next-day or two-day delivery. Because LTL shipments are loaded using a forklift, it can take a little more time to move freight between trucks, and standard delivery times range from a few days up to a week, depending on locations.
Delivery
With parcel shipping, once a driver puts a shipment in a mailbox or at a doorstep, drop off is complete — no delivery appointment needed. With LTL shipments, deliveries are appointment only and end at a loading dock (or when using a liftgate at locations without a dock).
Cost
Parcel is usually more cost effective when you're shipping just a few small boxes. However, if you're moving multiple like-shipments into the same region, using mode shifting strategies to convert parcel to LTL can lower your overall shipping costs by reducing the number of trucks you send to one area.
Benefits of LTL over parcel
Whether your freight has been rejected in the current parcel market, or you think LTL may be a better fit, here are some benefits to look forward to:
More accessible customer service
Sometimes delays and issues occur during shipping. When this happens, you need an immediate contact that can help. For parcel shippers, your only contact may be through a customer service line. LTL can offer more ways to get help when you need it. In addition to a customer care line, some LTL carriers provide contact information for their local freight facility, and if you are a frequent shipper with them, you will often be assigned an account manager to assist when you need it.
Fewer size and weight restrictions
Before the market tightened, many parcel carriers were expanding services to accept slightly larger packages, but most still won't accept heavier or irregularly shaped products. LTL has fewer limitations, making it a more affordable and efficient option for large, awkwardly shaped or heavy goods.
Options for customized and added services
It's a common misconception that LTL carriers only deliver to facilities with loading docks — many do both business and residential delivery, too. And though parcel typically ends at the entrance, LTL carriers can offer additional final mile services such as placement, packaging (dunnage) removal and assembly. These extra options give your customers a premium level of service that normally isn't available with a small package shipper.
Freight arrives at the same time
Unlike parcel orders which are typically packaged and shipped separately, LTL shipments are packed together, travel together and are delivered together. Because your entire order arrives all at once:
Freight is handled less, leading to fewer opportunities for loss or damage
You'll only have one tracking number, which makes managing orders more efficient
It will take less time to load and unload, which can help your customers improve their dock operations by reducing the time spent receiving and unpacking goods
You'll have fewer trucks going to the same destination, which saves you money and improves your carbon footprint
How to choose
Parcel and LTL are both valuable and efficient shipping solutions, and you may never exclusively use one over the other. If you're unsure which service to choose for specific shipments, the chart below can help guide your decision: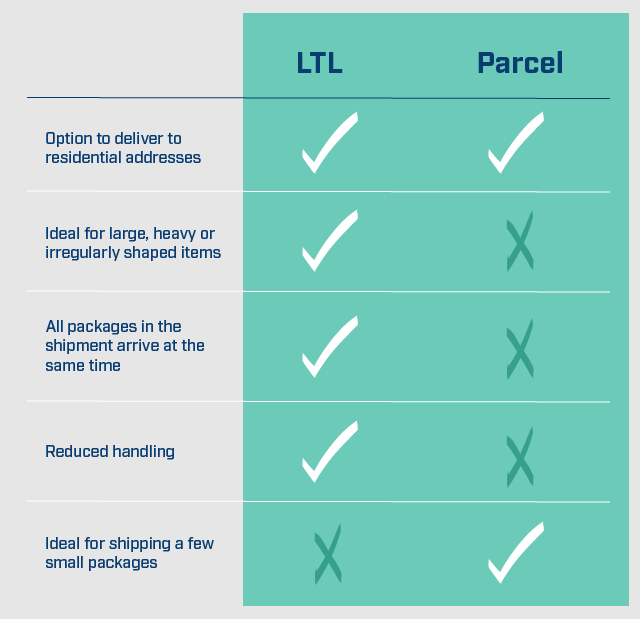 Overcome parcel capacity constraints with LTL solutions
Don't let an overwhelmed parcel market keep you from delivering to your customers. When it makes sense, choose LTL. ArcBest® offers a variety of reliable less-than-truckload shipping services, including a diverse base of LTL brokerage options and our industry-leading carrier ABF Freight®. Our team can work with you to convert your small packages to LTL shipments and then coordinate shipping on your behalf. Learn more about our managed solutions.
Other helpful resources: