LTL Freight Shipping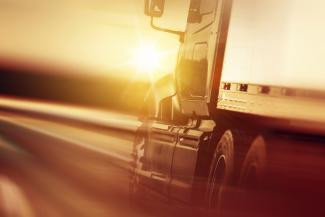 Defining Less-than-truckload: What does it mean and who is it for?
You've had multiple out-of-state sales this week and customers are requesting home delivery — something you don't normally do. Everything is wrapped, boxed and ready to go, but what's the best way to get the products to your customers? Less-than-truckload (LTL) shipping is designed for freight that weighs between 150 and 20,000 pounds and isn't large enough to require a full semi-trailer. If your freight meets these basic criteria, LTL can be an efficient and affordable shipping solution. 
How LTL transport works
LTL carriers typically move freight across the country by consolidating shipments headed in the same direction and transporting them on the same trailer. While methods vary, many carriers use strategically placed service and distribution centers to optimize their routes. Here's how it works:
Smaller service centers pick up local freight and either:

Deliver it (if the destination in within its area)
Consolidate it with other shipments

Consolidated freight is transported to another distribution center and is either:

Picked up for delivery
Consolidated with other freight and loaded on another trailer

This process continues until all freight arrives at the service center performing delivery
 
Additional options
While standard delivery and handling is adequate for most items, trade show booths, critical parts and other sensitive goods may need extra services. Customize your LTL shipments with options such as:
Advantages of LTL shipping
Shippers who previously have relied on parcel or full-truckload (FTL) services can benefit from LTL shipping. When compared to these alternatives, LTL provides advantages such as cost reduction, improved packaging, specialized handling options and reduced environmental impact. 
Compare to full-truckload shipping
FTL services are exactly what the name implies — one shipper using the entire semi-trailer. If you have a large amount of freight (or require premium services such as temperature control), this option is an effective transportation method. However, shipping just a few pallets on a full trailer can be expensive. And because one truck can haul multiple LTL shipments at the same time, LTL is also better for the environment.
Compare to parcel service
Parcel shipping is typically used for small lightweight packages, but some shippers may want to utilize this service rather than LTL. While this may work for some freight, LTL is often a preferable option due to packaging, handling and cost. Heavy or bulky items are generally more expensive with this method, which can be a deterrent for many shippers. Parcel services also don't allow for palletizing (which can protect items during transit) or special handling, whereas LTL does.
Factors that determine less-than-truckload rates
Other than basic transportation costs, four primary factors influence LTL rates: weight/dimensions, distance, freight classification and special services. Learn more about each one: 
Weight and dimensions
Because trailers have a set amount of space (and a limit for how much weight they can hold), carriers need to know the exact weight and dimensions of your freight. Providing correct measurements will reduce the risk for unexpected charges. Learn more about space-based pricing for LTL shipments.
Distance
The route your shipment takes plays a role in how much it costs. Have the origin and destination ZIP codes ready during the quote process — this is to check for both distance and serviceability.
Classification
The industry uses a standard classification system, National Motor Freight Classification or NMFC. The class of your freight influences the price of your shipment and is required for an accurate rate quote. Class is determined by factors like density, value, stowability and handling.
Special services
As mentioned previously, special services can be added to LTL shipments. Let your carrier know of any additional services you'll need at both origin and destination so those charges can be added to the freight bill.
Understanding these elements and providing all relevant information during the quote process will ensure you receive an accurate rate.
Get a quote from ArcBest
ArcBest® LTL carrier ABF Freight® has been recognized for best-in-class performance in productivity, safety and security, loss and damage prevention, and innovation. When freight moves within our network, our experience and reputation ensures it's handled with security and product safety in mind. Get an LTL quote online or learn more about ArcBest LTL solutions by calling 844-734-7306 or emailing customersolutions@arcb.com.