Optimize Your Product Launch with a Load Plan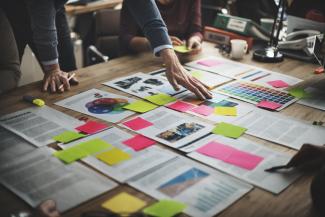 Effective product rollout strategies
A successful product launch starts with a transportation load plan — how your merchandise is packaged, consolidated and loaded for optimal shipping and delivery. Load planning greatly impacts both transportation costs and transit times. An inefficient or incomplete plan could cause delays that bring your product debut to a halt. Check out the details below to learn how our systematic load planning and coordination ensures your merchandise arrives where it's needed on time and damage-free.
Gathering your data
Clear, up-to-date data is critical tocarrying out a smooth product launch. This consists of the necessary information to map out the transportation logistics that gets your merchandise from post-production to retail store shelves across the country. Simply provide the following data and we'll create a customized load plan that meets your specific needs:
Delivery location in spreadsheet format. Because your rollout will involve transporting merchandise to multiple locations, the planning starts with identifying all the locations included in the product launch. At a minimum, we'll need the ZIP codes for each delivery site. 
Accurate freight dimensions. This is used to calculate the total volume of your shipment, which is the amount of space needed to accommodate the freight (also called the "cube" of the shipment). 
Accurate shipment weight. The weight is used to calculate the total shipment density, which is found by dividing the weight of the shipment by its total cubic feet. The result is the pounds per cubic foot, or density. 
Number of handling units. Your product may be loaded on pallets (also called "skids"), which are portable platforms made of wood or plastic used for handling, storing or moving materials and packages. If your product is shipped loose in cartons or boxes, we'll hand-work the freight for cargo care purposes. 
Product launch timeframe. Sharing the scope of the project lets those responsible for transporting and delivering merchandise know when the freight will be available for pickup and delivery. 
Due dates for delivery and setup. A crucial element of any rollout is the date (or dates) when the shipments are expected to be delivered. 
Shipping location info. The shipping location is the origination point or the place your merchandise will be made available for pick-up by the carrier.
A picture of the freight for reference purposes. Having a picture of the freight allows the carrier to determine what sort of stabilizing support is needed once it's loaded onto the trailer. Load bars, air bags and decking tables are examples of items used to support freight in transit.
Customizing your load plan
For a simple product launch, the shipping plan likely will include a straightforward, dock-to-dock solution. For more complex rollouts, take advantage of our diverse shipping services to tailor a load plan to meet your unique needs.
These transportation solutions can work together to optimize your rollout strategy. Choose the services you need based on your timeline, location and product requirements:
LTL — regional and national less-than-truckload shipping
Truckload — offers specialized equipment for all load types
Ocean — international LTL/LCL transportation
Warehousing — complete visibility with cross-dock/transload services and inventory tracking
Time critical — expedited transit and specific time windows offered for precise deliveries
Liftgate — for heavy items or locations without a dock
Inside delivery — value-added delivery to retail locations
White glove and final mile — options include placement, assembly, dunnage removal and more
For example, a product that's manufactured overseas may require international shipping that needs to be stored in a U.S. warehouse until closer to launch date. The orders then need to be shipped to their final destinations via LTL, adding expedited transit for delivery on a specific date and liftgate service because of the product size. Inside delivery is preferred with endcap product placement, setup, assembly and dunnage removal included to get the product ready for launch day.
ArcBest® has the resources and experience to seamlessly execute on this scenario and countless others. The Enterprise Solutions team will help you coordinate large-scale projects for a successful product launch — every time.      
Choose a trustworthy carrier to protect against damages
When shipment counts for a special project reach the hundreds or thousands, careful freight handling becomes extra important. Our transportation network reduces handling through advanced shipment planning and optimization to avoid the potential for damage. Select a transportation provider that's committed to keeping your cargo intact throughout the launch process.
Easy load planning by a single point of contact
Streamline your new product rollout with a dedicated specialist to manage the load plan for you. Count on our professionals to build a comprehensive solution that ensures your product is delivered to each location safely and securely.
Get a load plan that saves time and lowers cost
For efficient planning that improves the product launch process, contact your local representative or call 844-894-9462.