Planning and Shipping a Trade Show Booth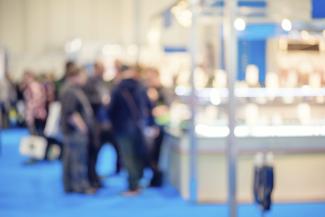 Information for Trade Show Exhibitors
If you've never attended a trade show or don't attend very often, you may not know where to start after you sign up for the show. Let's take a look at the primary details you need to know, plus a few key terms and definitions to help you plan your trade show shipping schedule successfully.
Getting Started
One of the first things you should do when you find out you're attending a trade show is to register as a show exhibitor. This includes signing up for your trade show booth (the space where you'll display your product or services) and registering your attendance to make sure you have the proper tickets or badges for entrance. Keep in mind 
that you'll also need to book your personal travel reservations to get there if it's not a local event. Most exhibition companies will designate a specific hotel as the official show accommodations and lodging (often connected to or in the same building as the show itself), but be sure to book early to avoid sellouts. Book air travel as early as possible to secure the best rates.
Once you've registered for the trade show, you'll receive an exhibitor manual that includes detailed information about the entire event. Refer to this resource to find out everything from the dates you need to know for shipping, setup and teardown to contact information for transportation and booth supply rental services.
How to Ship a Trade Show Booth
The easiest way to ship your trade show materials is to contact your preferred transportation provider (or the official show carrier) for assistance. It's helpful to ask yourself the following questions and keep the information on hand as you prepare for the show and schedule your trade show booth shipping:
Where is my booth? What is the booth number?
Who is the contractor, decorator and transportation provider for the show?
What are the dates for the show (move-in/move-out)?
Am I going to ship direct to the show or use advance warehousing options if they're available?
How many shipments will I have? (Will the booth materials and my actual product ship together or separately?)
What are the dimensions and weight of my shipment(s)?
We've also compiled several important details that will make shipping your trade show booth easier — review these tips to save time and streamline the process.
Proper labeling and packaging is critical to protecting your freight during transit and making sure it arrives when and where it needs to be. Palletize and shrink-wrap your booth materials whenever possible, boxing or crating single items. If you're shipping individual cases or pieces, label each item clearly.
Don't guess when it comes to the weight and size of your shipment. Determine actual dimensions/measurements, weight totals and item descriptions prior to getting a quote to ensure accuracy. Estimated shipment details can result in unexpected freight charges.
Decide early if you prefer to ship your trade show freight through advance warehousing or directly to the show. The difference is that advance warehousing allows you to ship your materials up to 30 days prior to the start of the show, giving plenty of time for transit and making it easier to get your materials delivered to you on the show floor upon your arrival. Alternatively, you can ship directly to the show, but keep in mind that you'll need to allow adequate lead time (which can vary depending on how many shipments will be arriving to the expo hall at the same time). You also could experience delays in getting your materials delivered to your booth during hectic move-in times.
Don't forget that you'll have to schedule an outbound shipment to get your items back to your office or storage area from the exhibit hall once the show ends. We recommend scheduling your outbound shipment at the same time you schedule delivery to the show.
Trade Show Terms You Should Know
If you're not a regular on the trade show circuit, you'll probably come across several unfamiliar phrases in the exhibitor manual or on the show website. Take a look at these common trade show terms for a better understanding of how it all works.
Advance Warehousing/Advance Receiving: This service allows you to ship your booth materials to the trade show destination in advance. Your items are held in a local warehouse upon arrival, then moved to the exhibition hall and onto the trade show floor during your designated move-in time frame. Advance warehousing helps you avoid extra last-minute shipping charges to make sure your items arrive within that specific time frame.
Bill of Lading: The document that sets the shipping terms between you and the transportation provider. For trade show purposes, the Bill of Lading should include:
Delivery address and date
Show name and location
Exhibiting company name and contractor company name
Your booth number
Whether you need advanced warehousing or direct delivery
Move-in/move-out dates and times
The driver check-in time(s)
The weight and dimensions of what you're shipping along with the commodity ID
Your name and contact number
Carrier: A transportation company that provides shipping services for your freight to and from the exhibition center. Many shows designate an official carrier to handle the majority of trade show freight.
Contractor/General Contractor/Official Show Contractor: The company appointed by the show coordinator/management that provides necessary exhibition services for the show and its exhibitors.
Decorator: The company or individual that supplies exhibitors with table and booth draping, carpeting, exhibit materials and signage for the trade show. Exhibitors can opt to supply some of their own materials or rent them from the decorator.
Drayage: The process that occurs when your trade show booth and materials are moved from the shipping dock to the show floor for booth setup (and the reverse for when the show is over).
Exhibit Hall: The area within an exposition or conference center where exhibits/booths are located.
Exhibitor: The person or company displaying their products or services at a trade show.
Exhibitor Appointed Contractor: An independent service provider that isn't one of the officially designated show contractors. Exhibitors may choose to use an EAC for booth services, but preapproval by the show's management is typically required.
Exhibit/Booth Accessories: These include items you might not think about when planning your trade show exhibition, such as lighting, electrical outlets, seating, carpeting, tables, trash cans, signage and draperies. These items are typically available from the show decorator or the exhibition service itself.
Floorplan: The layout or blueprint of the exhibition hall that includes specifics such as individual booth sizes, locations and exhibitor names, aisle designation, concession areas, entry/exit locations and more.
Material Handling: Can refer to the movement of your materials to and from the shipping and receiving area to your specific booth, as well as the services offered by show contractors to setup and/or dismantle your exhibit.
Move-in/Move-out: The dates specified by the show coordinators for beginning show setup and booth disassembly, respectively.
Packing List: A document that lists the contents of a shipment.
Show Floor: The area within the exposition center or exhibit hall where the trade show occurs.
Teardown: Also referred to as dismantling or takedown, teardown refers to the allotted time frame for disassembling and packing up your trade show booth after the show is over. 
Trade Show Shipping Services
If you're still unsure about some of the details regarding an upcoming show, ArcBest® can help. Our experienced coordinators will ask the right questions to determine your needs and guide you through the process of shipping your trade show booth, every step of the way. For more information, contact Trade Show Customer Service or call 844-560-2527.