Shipping to Mexico from the USA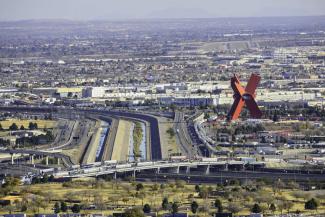 Getting shipments to Mexico
The North American Free Trade Agreement (NAFTA) was established in 1994 to simplify trade between the United States, Mexico and Canada. This agreement helped North America improve its position in the global marketplace by eliminating high tariffs and encouraging more cross-border shipping. NAFTA has made importing and exporting easier for businesses, but shippers still must follow important steps and regulations. Learn more about how shipping from the USA to Mexico works and see how ArcBest® can streamline the process.
Frequently asked questions about shipping to Mexico
What items can I ship to Mexico?
Most commercial freight can be exported to Mexico as long you have the proper paperwork, but some carriers may have certain restrictions. Ask about any prohibited items to be sure you're meeting their guidelines.  
Do my goods qualify under NAFTA?
In order to receive NAFTA benefits, freight must meet the rules of origin, which are designed to ensure the product was wholly manufactured with domestic material. Learn more about how to determine if your shipment qualifies here. 
How does ground freight cross the border and clear Mexico customs?
Ground freight bound for Mexico travels the same way as any shipment within the U.S. until it reaches a shipping facility near the border. At that point, a freight forwarder, customs broker and drayage company are needed to get freight into Mexico. Here's how it works:  
Your domestic carrier will deliver the shipment to your freight forwarder of choice, which then acts on behalf of your Mexican customs broker to prepare it to cross the border.
The freight forwarder inspects the shipment, makes sure customs documentation is correct, and hires a drayage company.
The drayage company takes the shipment over the border, gets it through customs, and delivers the freight to the carrier handling final delivery.
The carrier delivers the shipment to the consignee.
 
What is a customs broker and how do I find one?
Customs brokers are licensed to act as an agent on your behalf to clear goods at the border. While most carriers won't recommend specific brokers, they should be able to provide a list to help you hire one.
What documentation will I need?
While your domestic carrier will only need a bill of lading, the other parties will need additional documents. Learn more about each one:
Commercial invoice. Includes information about the parties involved in the shipment, what goods are being transferred and where they originated. It must also have a statement and signature certifying that the invoice is true.
Shipper's export declaration. Required by the U.S. Department of Commerce for shipments that are exported to certain countries, contain controlled items or exceed a certain dollar amount.
Packing list. Details the specifics of each component of the shipment.
NAFTA Certificate of Origin (if goods qualify). Identifies which products are eligible to receive preferential tariff treatment. Not required for goods valued at less than $1,000 USD.
 
Will my cargo stay in/on the same trailer?
Because shipments have to go through customs, freight will typically get unloaded for inspection. Less-than-truckload shipments may also be off-loaded and consolidated with other freight before the drayage company takes it across the border. Your carrier should be able to provide information about consolidation and handling for specific items.
How does air freight clear customs?
Multiple airports (including Mexico City International Airport and Guadalajara International Airport) have internal customs offices. Once freight arrives at the airport, your carrier will turn the proper documentation over to your customs broker, who will clear it. The carrier can then pick up the freight and deliver it to its final destination.    
ArcBest Mexico Shipping Services
With five sales offices located throughout Mexico, experienced bilingual customer service representatives, and simplified rates and invoices, ArcBest makes it easy to get shipments into Mexico. We offer:
Less-than-truckload and ground expedite to most locations through ABF Freight® and Panther Premium Logistics®
Truckload, air shipping and hand-carry services
Drayage services
Single freight bill rated door-to-door
Complete shipment tracking from U.S. origin to final destination
Dedicated trailer pools for priority shipments
Fast, reliable service. For shipments moving in the ABF network, transit times are typically no more than 72 hours after clearing the border. For expedited transit times, shipments will move via our Panther service.
 
Our facilities are located in Laredo, El Paso and Rio Grande Valley, Texas; and San Diego, California. From these locations, shipments can cross the border into Nuevo Laredo, Ciudad Juarez, Matamoros or Reynosa, and Tijuana, respectively. The most common port of entry is between Laredo, Texas, and Nuevo Laredo, Tamaulipas.
For additional information or to get a quote, please call 800-610-5544.