February Market Update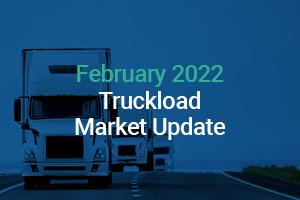 The impact of inflation, rising gas prices and other uncertainties
The turn of the year brought a host of new challenges. The ongoing pandemic, rampant inflation, rising fuel prices, and Russia's invasion of Ukraine led to uncertainty in the markets and at home. Since the first of January, the Dow Jones Industrial Average has fallen over 3K points and consumer sentiment hit a 10-year low. This month's market update will highlight these events and discuss how the market is positioned for the remainder of the year.
In mid-January, Covid-19 cases peaked, with total cases reaching a 7-day average of 807K. This resulted in widespread worker absenteeism and reduced capacity. Looking at the National Outbound Tender Rejection Index provided by FreightWaves, we did see a meaningful spike in tender rejections during this period (Chart 1).

Inflation is also top of mind for many Americans. Last month's blog post addressed this issue in detail. Last year, inflation reached its highest level since 1982. Experts at Goldman Sachs recently estimated that the Federal Reserve could raise interest rates up to seven times in 2022 in an effort to counteract inflation. Inflation can be described as "too much money chasing too few goods." Rising interest rates will have the effect of limiting the money supply, helping to slow down inflation.
On our nation's highways, the average price of diesel has increased over 30% year-over-year. Since the first of the year, diesel has increased 19% or almost $0.70 per gallon (Chart 2). Much of this increase can be tied to the ongoing war in Ukraine since Russia is one of the world's largest producers of fossil fuels. With the new U.S ban on imports of Russian oil, energy markets will be further disrupted, and gas prices will likely continue to rise.

With all this uncertainty, it should be no surprise that consumer sentiment is struggling. However, some economists are still predicting that consumer spending will remain strong. They cite high household savings rates tied to higher wages and government stimulus programs. Supporting this theory, retail sales were strong in January, posting a 3.8% increase over December 2021.
The latest freight forecast from ACT Research, published on February 14th, suggests that inventories will normalize in the third quarter. This would begin to support a deceleration of spot rates during the latter half of 2022 (Chart 3). In the near term, we are on the cusp of spring produce season and capacity is expected to tighten in early April as additional capacity is allocated to hauling seasonal produce.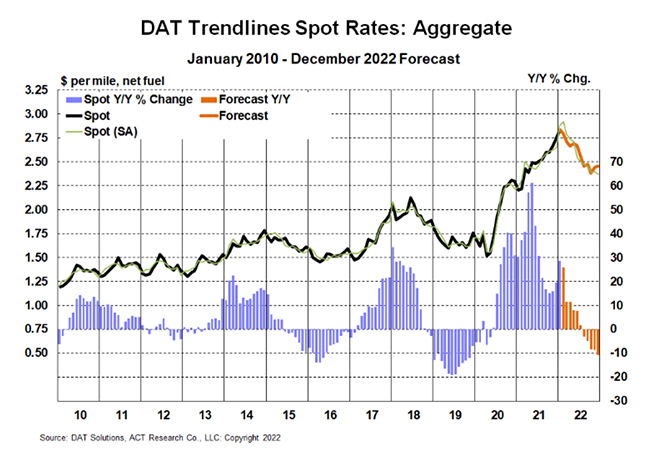 ArcBest is known for delivering exceptional service during unprecedented times. As a logistics company with owned assets, we're able to offer solutions through ABF Freight® and our Panther Premium Logistics® fleet in addition to our network of more than 80,000 capacity providers. With a combination of advanced supply chain technology and an experienced customer solutions team, ArcBest is equipped to find ways to solve even the toughest logistics problems.