June Market Update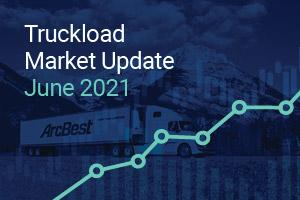 What factors have led to the current truckload market?
Name a business or industry and they are probably struggling to keep their inventories high enough to meet customer demand. Why is this happening? The short and easy answer is COVID-19, but that would be an oversimplification. There are several other causes worth discussing.
U.S. spending during the pandemic lockdown
During lockdown, consumers changed their spending habits. They stopped spending on services and shifted their spending to goods. And they did so at unprecedented levels. This increase in purchased goods began a ripple effect that we are still experiencing today. According to the Outbound Tender Volume Index (Chart 1), truckload volumes began increasing in May 2020 and have remained elevated ever since.

Shipping congestion
As consumer spending increased, suppliers rushed to meet demand and as products flooded the United States, increased port congestion and wait times were inevitable. This was especially true at the ports of Los Angeles and Long Beach. Approximately 50% of all imports pass through these ports. During February 2021, ship traffic increased by 31% and container traffic increased by 49%. As containers arrived, COVID protocols resulted in reduced manpower available to unload. Pre-pandemic, it wasn't unusual for some ships to experience 1-2 day wait times. Today at the ports of Los Angeles and Long Beach, container ships dot the sea's horizon, with wait times extending beyond two weeks.
Container shortages
We have also experienced a significant imbalance between imports and exports. The Port of Los Angeles recently reported that the import to export ratio has reached 4:1. Meaning that for every four containers imported only one is exported. This imbalance has resulted in a short supply of available containers.  This container shortage has made importing products to the U.S. difficult and expensive.
You might think the simple solution would be to load empty containers onto outbound ships to correct the imbalance. But remember, these ports are congested with ships that have been waiting weeks to unload. Neither the time nor the manpower is available to load the empty containers. And so, the number of containers in the U.S. is expected to continue to accumulate until the situation changes.
Just-in-Time supply chains
Many companies in America embraced the strategy of Just-in-Time (JIT) supply chains and inventory minimization. When companies implement JIT inventory management, they construct their supply chain so materials and supplies only arrive at their destination at the moment they are needed. This strategy has allowed companies to be more flexible and reduce costs. After all, not possessing large volumes of inventory means not possessing large amounts of sunk costs and product commitment.
When supply chains began experiencing disruption, many companies did not have enough inventory on hand to prevent material shortages and stock-outs. During April, we saw the total business inventory to sales ratio fall to an all-time low (Chart 1). These shortages have manifested in a variety of industries, most notably the automotive industry (Chart 2). A shortage of semi-conductor chips has significantly impaired automotive production.
The cause of the semi-conductor shortage can be attributed to the change in U.S. spending habits. Many of the products that consumers purchased during the pandemic required semi-conductor chips. And as manufacturers rushed to replenish inventories, port congestion and strained supply chains presented a significant challenge.


Impact on the truckload market
The effects of these supply chain disruptions are being felt all over the truckload market. The spot market DAT average for vans (ex. fuel surcharge) is 7% higher than its 2020 peak and 20% higher than its 2019 peak. Year over year, the load to truck ratio for van equipment has increased 219%.  Both metrics highlight the challenges faced by shippers.
Between low inventory levels, an unprecedented volume of freight, and increased spot market volatility, choosing a reliable transportation provider is more important than ever. It is still uncertain when port congestion will decrease, when shipping container distribution will even out, and when consumer spending habits will revert to pre-pandemic patterns.
With a combination of advanced supply chain technology and an experienced customer solutions team, ArcBest is equipped to find ways to solve even the toughest logistics problems. Learn more about ArcBest solutions.
---