May Market Update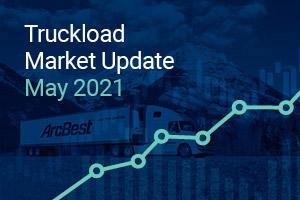 Freight demand and capacity constraints are still impacting the truckload market
During the pandemic, the economy experienced a major shift in consumer spending. A major boost in household income due to stimulus payments and expanded unemployment benefits paired with health and safety restrictions in the service industry shifted consumer spending from services to goods. This shift has led to historically low inventories, strong manufacturing, and all-time-high retail sales, which has resulted in increased demand for logistics services. Now the question becomes how and when consumer spending will shift back towards services as we transition out of the pandemic and back towards a more normal environment.
According to Fred data for March 2021, goods are still outpacing services with a YoY increase of 46.9% compared to a YoY increase of only 6.6% for services. Goods expenditures have also surpassed their pre-pandemic level by 29.5% (Feb. 2020 compared to March 2021) while services are still -3.0% below their pre-pandemic level. However, service expenditures are expected to increase quickly as many states lift health and safety restrictions, more people get vaccinated, and pent up demand begins to make an impact.
While an increase in service expenditures is broadly anticipated, goods aren't expected to see a significant decline anytime soon. According to The Conference Board, the Consumer Confidence Survey has "rebounded sharply over the last two months and is now at its highest level since February 2020." High consumer confidence is considered a good indicator of future spending, and while some of that spending will go to services, plenty of it is expected go to goods as well. Real Disposable Personal Income is also a good indicator of future spending and is currently at an all-time high and up 29.3% YoY, according to Fred data for March 2021.
In addition to elevated spending, several key indicators for freight demand are doing exceptionally well. Inventory levels are at historic lows, especially retail, and are expected to remain low throughout 2021 as supply chain constraints make it difficult to restock at a fast-enough pace to keep up with spending. Manufacturing PMI has been above 50 (indicating growth) for 11 consecutive months, above 60 for 3 consecutive months, and is expected to remain elevated throughout the remainder of the year. Class 8 sales are being held down by shortages in semiconductor chips and steel which is making it difficult to relieve capacity constraints as well.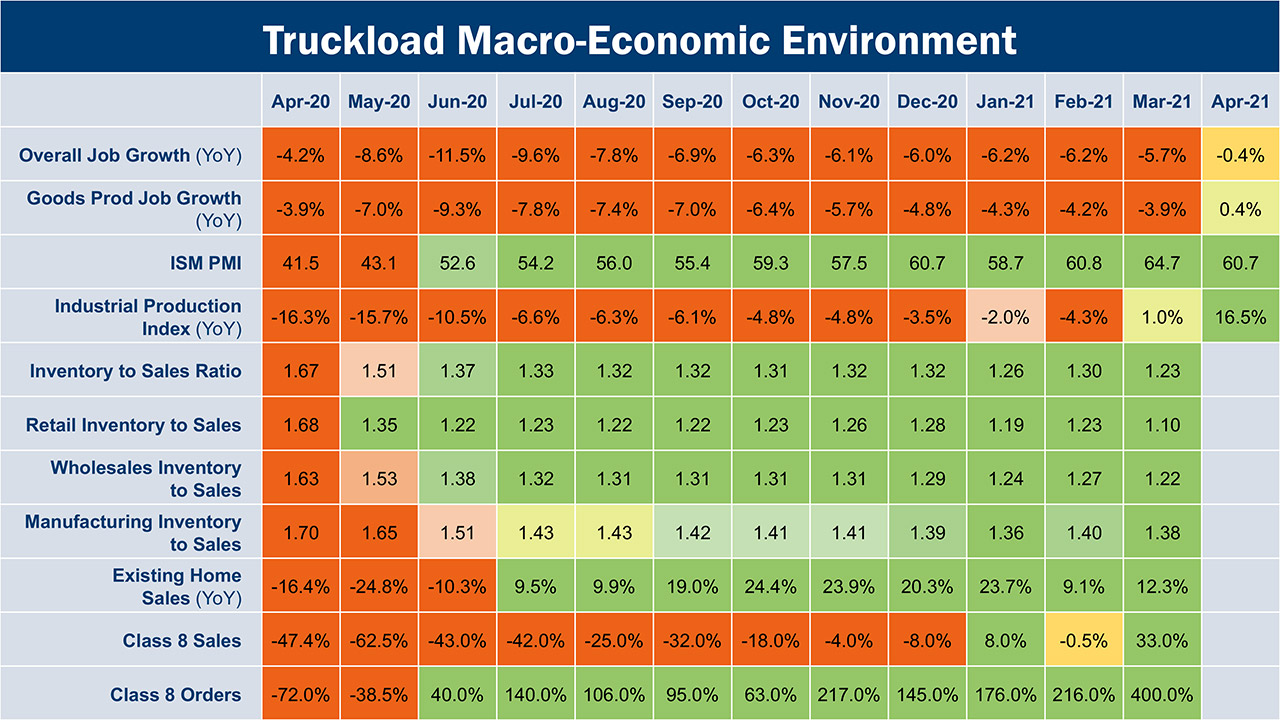 Overall, freight demand is expected to back off the exceptional highs we have seen over the past few months, but it is projected to remain strong throughout 2021. Spending is up, real disposable income is up, inventories are low, and manufacturing is strong and shows indications of continued strength. For those looking for an "inflection point" in demand growth, current expectations are Q1/Q2 of 2022 as Class 8 sales make a material impact on capacity, restocking catches up to spending, and manufacturing works its way through the backlog of orders. But because the market can change for multiple reasons, we'll continue to provide updates and commentary to help you stay informed.
Learn more about ArcBest logistics services and see our latest articles on the blog.