November Market Update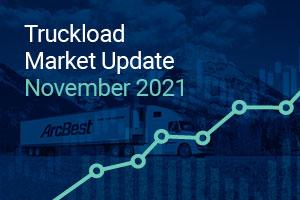 Putting it all together: When will the supply chain normalize?
Our September Market Update took a deep look into the supply side issues that are pushing supply chains to their limits while our October Market Update explored the unprecedented demand that the market has been experiencing for the past several months. This month we'll put supply and demand together to better understand what must happen for the supply chain to improve and how long it will take to get there.
Visualizing the supply chain
You've likely read at least one news article that attempts to place the burden of the supply chain woes on a particular group or section of the supply chain. In reality, no single factor has brought us to where we are today. The diagram below provides a simplified illustration of some of the pieces, or "gears," of the supply chain. With this illustration, we can visualize how each piece of the supply chain is vitally important in keeping the gears running at the speed needed to satisfy demand. It should be noted that due to Just-In-Time shipping, the supply chain has little, if any, ability to absorb a disruption.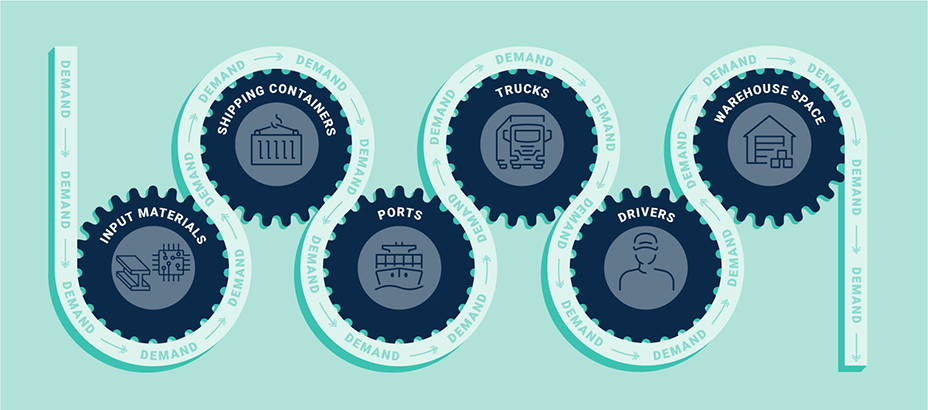 By thinking about the supply chain as a set of gears, we can understand how the slowing of one gear disrupts the entire machine (consider the Suez Canal blockage under normal circumstances). Now imagine multiple gears slow significantly (shortage of input materials, shortage of shipping containers, no space for additional containers at the ports, shortage of trucks and drivers, no warehouse space) while demand simultaneously surges to historic levels (the pandemic shifting spending from services to goods while government stimulus checks raise consumer spending).
In this example, when a single gear catches up with demand it quickly becomes locked up again by the next gear in line. As new demand continues to feed into the supply chain, this gear once again falls behind. We have seen this recently when ports were asked to operate 24/7 to ease the backlog. While this would have helped rectify the situation if the gears further down the line were turning as they should, the effort has had little benefit because there are not enough trucks to pick up the extra containers and not enough warehouse space to store them.
This is what makes the current situation so difficult to resolve. We don't need one gear to start turning faster, we need all of them to start turning faster at the same time. We need additional shipping containers, but we first need the input materials to manufacture them. We need those input materials to be able to move through the supply chain, so we also need space at the ports. To free up space at the ports, we need more drivers to deliver the containers and additional space at warehouses. The supply chain is off-cycle and each of the gears will have to speed up together to get it back on-cycle.
When can we expect relief?
This will be a lengthy and gradual process. Shortages of input materials such as semiconductor chips and steel are slowing the manufacturing of new trucks and containers. The backlog at the southern California ports hit a new all-time high of 84 container ships waiting to anchor as of November 17, 2021 compared to a pre-pandemic average of 0 to 2 ships at any given time. The driver shortage is currently estimated to be around 80,000 drivers — up from a pre-pandemic shortage of 61,500.
As we mentioned in our previous updates, current expectations are that supply chain constraints will begin to ease in the second half of 2022 as some additional capacity becomes available from the manufacturing of new trucks. The market is likely to see more of a shift in spending towards services as Covid-19 fears continue to ease which will also help alleviate some of the stress on the supply chain. Clearly, there is no quick fix to the many issues the supply chain is facing. Nor can those issues be resolved by a single group.
It will take time and patience to resolve the many issues facing our supply chain. With a combination of advanced supply chain technology and an experienced customer solutions team, ArcBest is equipped to find ways to solve even the toughest logistics problems. We're committed to being by your side through these difficult times. Learn more about ArcBest solutions.