ABF Freight Driver Dave Hall Named Arkansas Driver of the Year
Dave Hall, an ABF Freight road driver based in Little Rock, Arkansas, was honored on August 17 by the Arkansas Trucking Association as its Driver of the Year during the ATA Annual Business Conference & Vendor Showcase in Rogers, Arkansas.
"We are very proud of Dave and the way he represents ABF, ArcBest and the trucking industry as a whole," said Tim Thorne, ABF Freight president.
Hall has 32 years of experience in the trucking industry and joined ABF in 2014. In 2019, Dave was Grand Champion in 5-axle at the National Truck Driving Championships, and in 2015 and in 2007, he was Grand Champion in 4-axle at the Arkansas Truck Driving Championships. He also serves as a captain on the Arkansas Road Team.
Each year, the statewide trucking association recognizes one driver for his or her strong and noteworthy professional qualifications, experience and performance.
"Dave is well-known and loved at his company, in his community, and even at our own annual events. He is a great man to know with an incredible safety record," Shannon Newton, president of the Arkansas Trucking Association, stated in a press release. "In a year when we've experienced the absolutely essential contributions of truck drivers, Dave stands out among our heroes."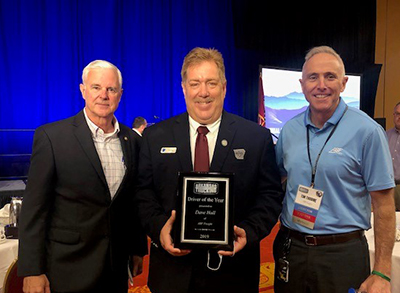 ABF Freight driver Dave Hall (center) was named the Arkansas Driver of the Year by the Arkansas Trucking Association. Pictured with him are U.S. Rep. Steve Womack (left) and ABF Freight President Tim Thorne.