ArcBest Carrier ABF Freight Transports Hand Sanitizer For ATA
ArcBest®, through its less-than-truckload carrier ABF Freight®, is helping distribute free hand sanitizer for truck drivers.
The American Trucking Associations partnered with Protective Insurance Company to expand the supply of hand sanitizer available to truck drivers along major U.S. freight corridors. ABF Freight is hauling 55-gallon drums of hand sanitizer that will be available for truck drivers to refill their personal bottles at no cost.
"It was exciting and an honor to participate in this event," said Scotty Davis, ABF Freight road driver and America's Road Team Captain. "I've been thinking how great it is to maybe help keep somebody from possibly getting the virus."
Davis picked up the sanitizer drums from Hotel Tango Distillery, which produced the hand sanitizer.
"We are extremely proud of all the hard work and effort our drivers have been putting in to keep America moving forward during these trying times," said Seth Runser, vice president – linehaul operations for ABF Freight. "It is an honor for us to partner with ATA and Protective Insurance to keep our frontline heroes safe and deliver hand sanitizer for truck drivers across the country."
The sanitizer drums are available at refill stations at the following locations:
Alabama — Scale House on I-20E, Heflin, Ala.

Colorado — Travel Centers of America, 5101 Quebec St., Commerce City, Colo.

Indiana — Stoops Freightliner-Quality Trailer, 1851 West Thompson Road, Indianapolis, Ind.

Iowa — Iowa 80 Truckstop Fuel Center, 390 W. Iowa 80 Road, Walcott, Iowa

Ohio — Jet Express, 4518 Webster St., Dayton, Ohio

Pennsylvania — Sideling Hill Rest Stop, PA Turnpike Milepost 172.4 East and West Bound, Waterfall, Pa.

New Jersey — Molly Pitcher Rest Area, Exit 8A NJ Turnpike

Texas — Love's Travel Center No. 719, 1610 Cotton Gin Road, Troy, Texas

Texas — Flying J No. 726, I-20 Exit 472, 7425 Bonnie View Road, Dallas, Texas
"Protecting America's truck drivers, and ensuring they can stay safe and healthy while on the road," is paramount," ATA President and CEO Chris Spear stated in an ATA press release. "While we continue to work with federal agencies on the strategic distribution of PPE, we're also taking our own initiative — partnering with industry allies — to build supply networks for drivers to tap into."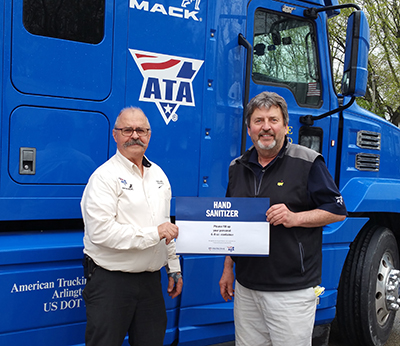 ABF Freight driver Scotty Davis, left, picked up hand sanitizer from Hotel Tango Distillery. Davis is also an America's Road Team Captain.