ArcBest Training Department Awarded
The ArcBest Training Department has been awarded a 2016 CUBIC Award.

The ArcBest training team was named runner-up for Learning Organization of the Year for companies with more than 5,000 employees. The category recognizes departments that have developed innovative programs aimed at closing skills gaps within an enterprise.

Brad Truitt, senior training manager, and Michael Alexander, corporate trainer, accepted the award during Corporate Learning Week, held in Dallas in November.

The CUBIC (Corporate University Best-in-Class) Awards honor, recognize and promote learning organizations and corporate universities that set standards of excellence. The CUBIC Awards and Corporate Learning Week and are sponsored by Corporate Learning Network, an online resource and event hub for the global training and learning community.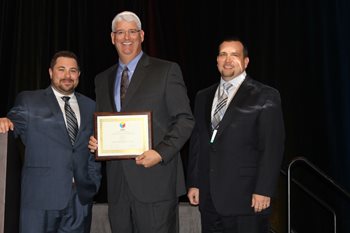 ArcBest's Brad Truitt (center) and Michael Alexander (right) accept the 2016 CUBIC Award.