Bramwell, Butler named America's Road Team captains for 2022-23
ABF drivers will serve two-year appointment as industry ambassadors
ABF city drivers Bob Bramwell of Centerview, MO and Teddy Butler of Hampton, GA have been selected as America's Road Team captains for 2022-23. The American Trucking Associations announced the 22 representatives during a Jan. 18 event at the ATA headquarters in Arlington, VA.
Formed in 1986, America's Road Team is a national public outreach program led by elite professional truck drivers who serve as industry ambassadors during their two-year appointments. With support from their respective employers, captains set aside a few days each month to attend events nationwide, where they address transportation and safety issues, discuss trucking's essential role in our economy and promote career opportunities. They also are available to conduct ride-alongs with policy makers and media representatives to demonstrate the skill and discipline required to safely navigate our nation's highways.
The ATA received more than 2,000 nominations before the field was narrowed to 34 finalists, a group that included state-level road team captains and national truck driving championship winners. Through a rigorous review process, a panel of judges — ranging from trucking executives to members of the trade media — evaluated finalists based on their overall safe-driving record, communication skills, and the ability to clearly and effectively express their industry knowledge.
Interaction, education go hand in hand for captains
ABF drivers who wish to be considered for America's Road Team must be a member of the ABF Road Team and go through the company's training process for the national competition. Kirk Weis (2015-16), a longtime ABF driver from Rio Rancho, NM, is one of 12 active ABF captains on the America's Road Team roster.
Weis and other "veteran captains," as the ATA calls them, often continue their involvement with the ATA as ambassadors and mentors. This allowed him to team with ABF Project Manager Robin Johnson to prepare Bramwell and Butler in their quest to become America's Road Team captains.
"This is a perfect fit for Bob," Weis said of Bramwell. "His strong family values and the desire to spread the word of safety and support our industry is in his blood. Bob is a true professional and he will represent ABF well."
Weis described Butler as "soft-spoken and kind" and he believes the military shaped Butler into the person he is today. "(Butler's) leadership role in the Army has carried over into training and welcoming TMAP employees to ABF. His character is the reason Teddy is so successful in his career."
Another key tool supporting the mission of America's Road Team is a 2021 Volvo VNL 760 — also known as the Interstate One Image Truck. Captains tour the country in this customized tractor-trailer and mobile classroom equipped with educational displays, a conference room with multiple screens and a state-of-the-art driving simulator.
Driving bug bit Bramwell early on to set career in motion
Driving a truck was always Plan A for the 37-year-old Bramwell. He's a third-generation truck driver who began his career at 16, hauling grain to southern Missouri dairy farms after school.
Following high school, he became an owner-operator and pulled cattle, combines and construction equipment, both locally and over the road. Bramwell's father, Byron, is a veteran America's Road Team captain and is still driving after more than 45 years.
"I like to joke that ABF is my first 'real' job," said Bramwell, who began driving for ABF in 2009. "Growing up on a farm, you learn first-hand how essential this industry is and what it has to offer as a career."
Mark Smith, the ABF service center manager in Sedalia, MO, said Bramwell's family ties to the industry and wide range of experience gives him a unique perspective.
"I cannot think of a more qualified person to represent the truck drivers' side of our industry (as an America's Road Team captain)," Smith said. "He understands the challenges and benefits of being an owner-operator, and what it takes to make a living on your own. Since he has been with ABF, he understands the challenges and benefits of working for a large trucking company. The knowledge Bob has gained from being on both sides of the fence as a driver will help provide our legislators with the insight to make better rules and decisions for future drivers."
Bramwell called his appointment as Road Team captain "humbling" and credits his mentors for fueling the desire for continuous learning and growth. "To be chosen to be part of such a group of professionals both past and present to help represent our industry is such an honor," he said.
Butler found a home with ABF after a long military career
After serving for 27 years in the U.S. Army, ABF hired Butler as a dock worker and offered him the chance to go to school for his CDL. This was before the Teamsters Military Assistance Program (TMAP) was created to help active-duty service members transition to employment in the private sector. Butler now uses his experience as a template to mentor TMAP participants starting careers with ABF.
"Being on the road, helping people, has changed my life," said Butler, 56. "I enjoy meeting people, making them happy and making sure they get freight the way they want it. Just making them satisfied makes my day."
Butler offers a simple (but not always easy) recipe for becoming an elite professional driver. "You've got to pack your patience," he said. "Be alert, pay attention and think safety all the time. If you love doing it, your character shows it. I get there on time and have a big smile on my face."
Like Bramwell, Butler doesn't consider his job difficult. Instead, he views challenges as growth opportunities.
"You see a lot of stuff out there, so you just adapt and adjust; that's what I learned in the military," Butler said. "You just carry that over."
Dana Hammer, ABF's Atlanta service center manager, said Butler has a knack for teaching professional skills by relating to new employees and demonstrating a growth mindset.
"Teddy is an extraordinary person who takes pride in passing along the knowledge he's gathered over the years on to others," Hammer said. "His leadership and mentoring abilities help eliminate the stress and worry that come along with learning a new skillset. I'm proud of what Teddy has accomplished and look forward to seeing him grow as a Road Team captain."
Safety, gratitude critical to professional success
Outside of his truck, Butler spends as much time as he can with his wife, Michele, and their six children. His other interests include sports (he's an Atlanta Falcons fan), traveling, singing and playing piano.
When asked what he wants the general public to know about trucking or truck drivers that they might not be aware of, Butler reinforced the importance of safe driving. "You have respect trucks the same way we do. Make driving your primary thing, not your secondary thing, and avoid distractions. Stay focused because you never know when you'll have to make a certain move."
While Bramwell loves to drive, he's just as passionate about his family. He and his wife, Heather, have two children. They enjoy working on the family farm, taking lake trips and watching their kids participate in various activities.
"It's great to truly be a part of moving America's commerce every day, delivering something important, knowing it makes a difference — whether it's a crucial part to keep a pipeline running or delivering a little kid's swing set for their birthday," Bramwell said. "Also, I'm fortunate that I have a job that allows me to be home every night with my family."
In his new role, Bramwell hopes to impart how essential trucks and drivers are to the nation's supply chain.
"Remember," he said. "If you got it, a truck brought it."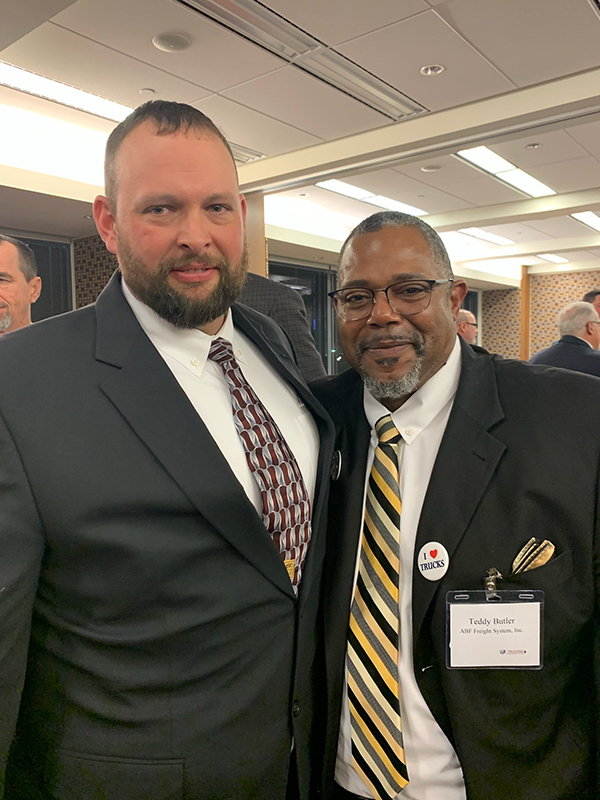 ABF drivers Bob Bramwell and Teddy Butler at ATA headquarters in Arlington, Virginia.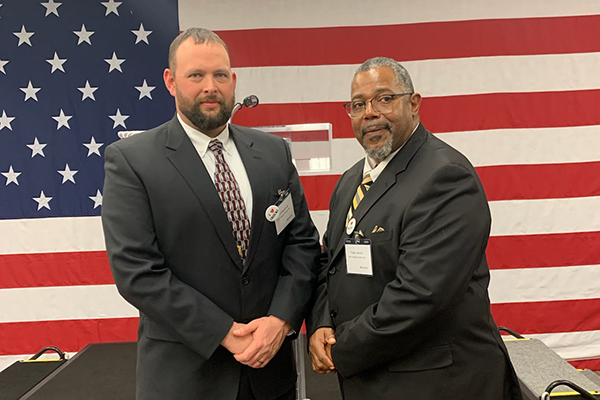 ABF drivers and 2022-23 America's Road Team captains Bob Bramwell and Teddy Butler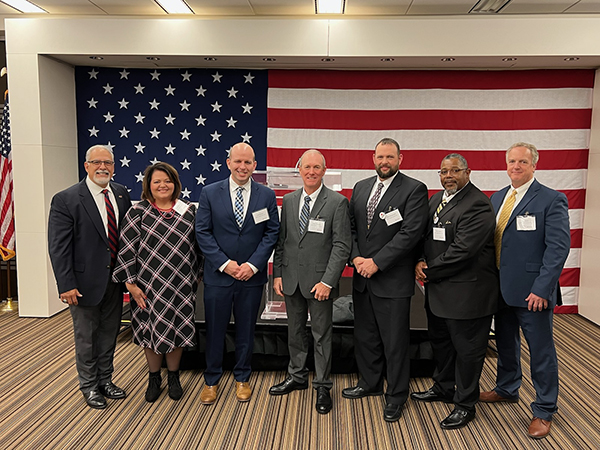 ABF was well represented during the announcement of the America's Road Team captains for 2022-23 on Jan. 18 in Arlington, Virginia. From left: Ralph Garcia, ABF driver and veteran captain; Robin Johnson, Project Manager for ABF; Seth Runser, ABF President; Terry Bennett, ABF driver and Road Team finalist; Bob Bramwell, ABF driver and new America's Road Team Captain; Teddy Butler, ABF driver and new America's Road Team captain; and Ed Myers, Vice President of Linehaul for ABF