Giving back to our communities
It is a big part of ArcBest's culture and we're committed to serving those around us. To keep this commitment during our 100th anniversary, we've planned several centennial giving events.
Where we're giving
Each quarter, we'll donate funds to a different organization that aligns with our philanthropic pillars.
1Q: Feeding America
2Q: Dolly Parton's - Imagination Library
3Q: St. Christopher Truckers Development and Relief Fund
Service Center and field employees also have an opportunity to apply for grants to give back causes in their local communities. And several one-time gifts are planned throughout the year.
How we're generating funds for quarterly partners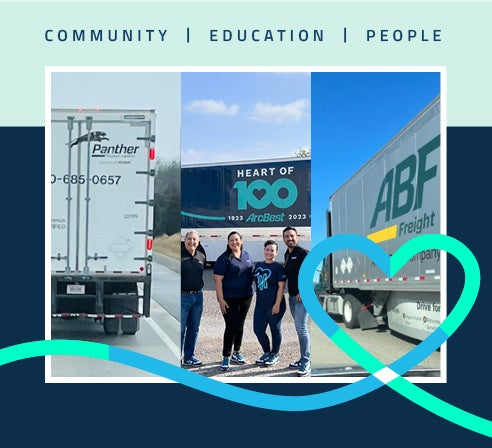 Blog Post
ArcBest Giving Initiatives
As ArcBest celebrates 100 years, we're giving back to our communities. See what donations we have planned for this year. 
Continue Reading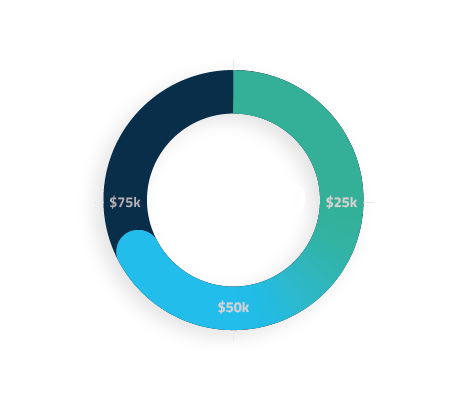 Funds raised through our spot-a-trailer campaign
Track our progress towards donating $100,000 in 2023 through this campaign. Visit our Facebook page to see more photo submissions and for official rules and details. 100 stories of impact
Our people are at the heart of everything we do, including giving back. They're strengthening communities, enhancing customer relationships and creating a more positive workplace. Throughout the year, we'll highlight 100 examples of how our employees give back to their communities.
Giving hygiene items
During a Fort Smith campus-wide "Sock and Soap" drive, ArcBest employees Megan Chaplin and Angie Rutledge, did more than drop off bars of soap. They organized their co-workers, collected money, and bought items such as socks, soap and hygiene products for The Next Step Homeless Services, an organization providing safe refuge, case management, hot meals, and life skills training to people experiencing homelessness.
Serving athletes at the Special Olympics
During the Chicago Special Olympics basketball tournament, members of the MoLo team served as scorekeepers and tracked player statistics. Those who served from the MoLo team were Jack Appelbaum, Courtney Guerriero, Bill Halloran, Hayley Heavey, Tim Kandl and Haley Siegel.
Sharing transportation opportunities with young women
Scouts BSA Troop 177 in Decatur, Georgia, made history, becoming one of the first troops for girls. ABF employee Bruce Bugg helped them complete the requirements for their Truck Transportation Merit Badge. He helped them understand how trucking impacts commerce and explained many different career opportunities in the industry. Due to COVID precautions, the required service center visit was proving difficult. However, Bugg gave them a virtual tour using Google Maps and on-site camera footage, finding a way for them to fulfill their badge requirements safely.
Serving as judges for a robotics tournament
When Darby Junior High in Fort Smith hosted a FIRST LEGO League tournament, they needed experts to evaluate students' research, problem-solving, coding and engineering skills. Four ArcBest Technologies employees served as table judges and encouraged young engineers: Brenda Erskine, Harsh Kakashaniya, Ashwin Kumat and Koyal Bhartia.
Taking the Polar Plunge
Several members of the MoLo team in Nashville, Tennessee, raised more than $2,400 for the Special Olympics by participating in The Polar Plunge. During this event, they secured pledged donations to participate in the "coolest event of the winter": diving into cold water. Volunteers from the MoLo team were Logan Alexander, Gianni Anfuso, Josh Bacud, Nate Dick, Gabby Murrill, Daniel Rowley, Ross Stafford and Brendan Sullivan.
The Spot-A-Trailer campaign is led solely by ArcBest. It is not affiliated with Facebook, Meta, Instagram, LinkedIn, or any other social media platforms or other entities or individuals.