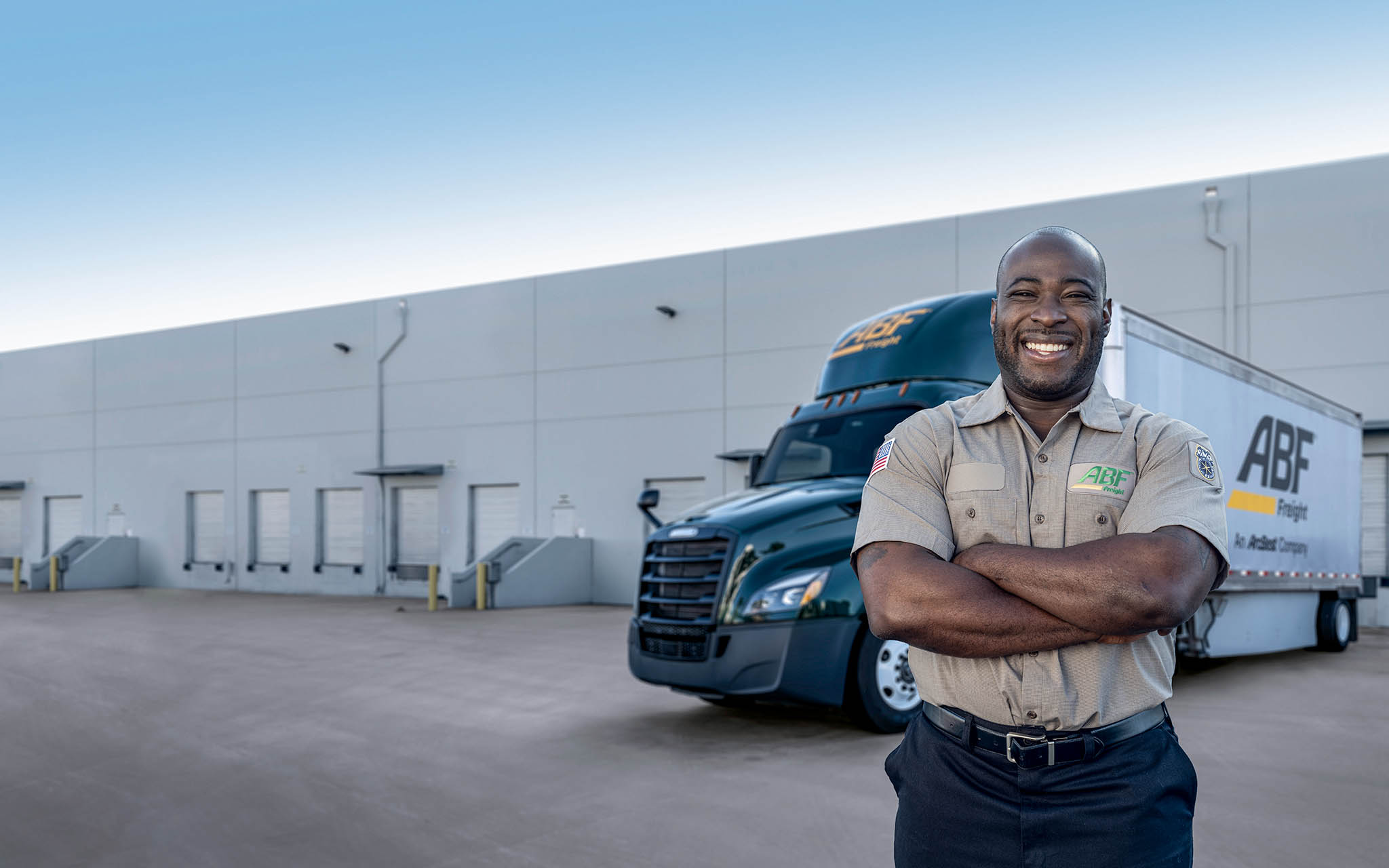 ABF Freight
Providing reliable
Less-than-Truckload
services since 1923
LTL Solutions
Trust ABF Freight to transport your LTL shipments safely and securely.
Driving Opportunities
Get more time at home and build a career you can be proud of– apply today!
Pickup Request
Ready for freight to be picked up? Use our convenient digital pickup request tool.
Who is ABF Freight?
ABF Freight®, an ArcBest company, is one of the nation's largest and most trusted less-than-truckload carriers. With 100 years of experience, a detailed quality improvement process, and an innovative transportation network of 239 service centers across all 50 states, Canada and Puerto Rico, ABF delivers LTL freight with precision and skill.
Commitment to Safety
We care about the safety of each ABF employee, our customers, vendors and those we share the highways with each day. This is why ABF has a longstanding commitment to safety and security, and it shows in the quality of our work.
ABF Safety Awards
ATA President's Trophy
Only seven-time winner of the American Trucking Associations (ATA) President's Trophy, recognizing the most outstanding carrier in the over 100 million miles category based on safety record, programs and community outreach
ATA Excellence in Security
Nine-time winner of the ATA Excellence in Security Award, recognizing the company's ability to protect its employees, property, trucks and cargo.
ATA Claims & Loss Prevention
Only nine-time winner of the ATA Claims & Loss Prevention Award, recognizing the company's outstanding performance and commitment to customers to its claims and loss prevention programs
227 Safety Awards
227 Safety Awards presented to ABF drivers and employees
250 Safe Driving Milestones
250 ABF city and road drivers reached safe driving milestones

Leading National LTL Carrier
Trust ABF Freight to transport your LTL shipments safely and securely. Customer satisfaction is our number one priority, and we take pride in providing innovative transportation solutions through our industry-leading LTL services.
Connect with Sales
Commitment to Sustainability
Because we understand the impact our equipment can have on the environment, ABF has operated with sustainability in mind for nearly 50 years. Efficiency measures range from limiting truck speeds to conserve fuel and reduce emissions to purchasing equipment with computerized engine shut offs that reduce idling, minimize fuel consumption and limit emissions. We also consistently replace older equipment models with newer, cleaner trucks to further reduce net emissions — the average age of ABF road tractors is 22 months and city power units average six years.
In 2021, ABF was presented the Environmental Protection Agency (EPA) SmartWay Excellence Award for the 5th time, and third year running. This award recognizes the top shipping and logistics companies that move goods in the cleanest, most energy-efficient way. Learn more about ArcBest sustainability efforts.
Our People
Rooted in ArcBest's values-driven culture, the people at ABF take pride in their work and have a reputation for excellence. Through the ABF Driver Development Program and other on-the-job-training offerings, ABF provides excellent service to ArcBest LTL customers — committed to delivering every shipment with professionalism and care. And we're proud to hire our nation's heroes. Through the Teamsters Military Assistance Program (TMAP), ABF offers job opportunities for Army personnel transitioning to their new civilian career — training soldiers across the country for their Class A CDLs and getting them ready for a career in the LTL industry.