June 2017 Trade Shows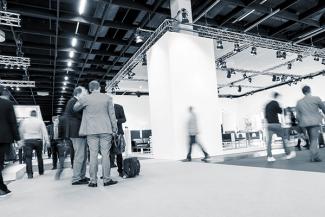 June 2017 trade shows in the U.S.
Hardware and construction expos, educational conferences, and cooking and baking seminars highlight the June trade show market. Trade shows offer a range of professional benefits and are a great time to network with potential clients, learn from industry leaders and promote a new product. If you're planning to attend a show this summer, review our list of the top trade shows scheduled for June. We've compiled information about all the important details you might need to start planning your trip.
ArcBest® offers a variety of trade show shipping services. If you need to ship your booth or exhibiting materials, contact us and we'll help you get started.
Trade shows happening in June
Blade Show 2017: Knife collectors and sellers are planning for the 2017 Blade Show, scheduled for June 2-4 in Atlanta. Visitors, buyers and others who attend will have a chance to sample and purchase new products and can participate in safety courses and other training and tutorial workshops. 
Accommodations: The Cobb Galleria Centre in downtown Atlanta will host the event, and the Blade Show has secured discounted room rates at local hotels. Make reservations here or by email at blade@eventsphere.com. Book rooms early to avoid a sellout.
Dairy-Deli-Bake Seminar & Expo (IDDBA 2017): The International Dairy Deli Bakery Association welcomes buyers, merchandisers, restaurant owners and others in the food industry to Anaheim, California, June 4-6 for IDDBA 17. The symposium offers attendees learning and networking opportunities and a chance to sample new products from vendors. Visitors also will get to experience live cooking and product demonstrations and mingle with industry experts.
Accommodations: Discounted hotel group rates are in place for the event. Book a room now to receive the group rate. For additional questions, email the conference at iddba@iddba.org, or call 800-297-1601.
SEGD Conference: Researchers, web developers, graphic designers and content creators may want to go to the 2017 SEGD Conference, scheduled for June 8-10 in Miami Beach, Florida. Registered guests will learn about new technology and educational materials and will have opportunities to network and collaborate with others. 
Accommodations: Special room rates are reserved for SEGD Conference guests. Loews Miami Beach Hotel is the host hotel, and accommodations may be made through the hotel reservation system or by calling 888-879-0462.
Western Roofing Expo: Roofers, home improvement professionals, contractors and others in the construction industry are planning to go to the Western Roofing Expo 2017, set for June 11-13 in Las Vegas. Guests will have a chance to participate in networking sessions and educational workshops on topics such as waterproofing and roofing best practices. The expo also gives merchants and vendors an opportunity to display their latest products.
Accommodations:  The conference has secured special room rates at the host hotel, Paris Las Vegas Hotel & Casino. Make reservations online, by email or by phone at 800-725-0333.
NeoCon 2017: Those in the commercial design industry won't want to miss NeoCon 2017, scheduled for June 12-14 in Chicago. Design professionals who visit will meet with clients and learn about new products and industry trends.
Accommodations: NeoCon officials have secured reduced-rate hotel rooms for attendees. Rooms should be booked through OnPeak, the official housing provider for the event, by May 22 to receive the special rate.
ACE17: The American Water Works Association Annual Conference & Exposition takes place June 12-14 in Philadelphia. The event offers water industry officials an assortment of training opportunities and a chance to meet and share ideas with one another.
Accommodations: For housing assistance for the conference, call 866-364-9515, or contact Par Avion, the event's official housing company. Reservations must be placed by May 15 to receive the group rate.
MD&M East: Medical manufacturing professionals are planning for MD&M East, scheduled for June 13-15 in New York City. The summit will offer in-depth educational sessions, networking opportunities and will give visitors a chance to preview new products and technology.
Accommodations: Conference registration is underway. Make travel arrangements early to get the best availability and pricing.
InfoComm 2017: Audiovisual professionals will want to be at InfoComm 2017, slated for June 14-16 in Orlando. Event attendees will gather to learn about the latest products and designs and will meet others to discuss technological advancements in the field. 
Accommodations: InfoComm has secured discounted hotel rates for eventgoers. Book your hotel room through onPeak, the official housing provider of the show. Rooms are available on a limited basis, so book early for best selection and pricing. 
United Fresh 2017: Produce wholesalers, foodservice companies, and retail produce managers and merchandisers are preparing for the United Fresh Convention, held this year from June 13-15 in Chicago. The forum will showcase new food products and trends and will give patrons a moment to talk to industry experts. Attendees can learn about advancements in food technology and supply chain management and can gather tips on how to grow their businesses.
Accommodations: United Fresh has secured discounted hotel room rates at the host hotel, Hyatt Regency Chicago, and several other hotels in downtown Chicago. Reservations may be placed online through onPeak, the official housing provider of United Fresh.
International Bowl Expo: Bowling industry professionals are preparing for the International Bowl Expo, which will be June 18-22 in Nashville, Tennessee. The expo offers interactive seminars and workshops and gives attendees opportunities to learn about new bowling products and innovations in technology.
Accommodations: Lowered room rates are in place at the Gaylord Opryland Resort & Convention Center, the host hotel, for a limited time. Book your room here, or call the hotel at 615-889-1000. Reservations must be placed by May 19 to receive the group discount.
Safety 2017: Safety professionals who work in risk management, workers' compensation or other areas of workplace safety might want to catch Safety 2017, scheduled for June 19-22 in Denver. The symposium give participants an opportunity to participate in interactive educational and training courses and networking opportunities.
Accommodations: Discounted hotel room rates are in place at several hotels in downtown Denver. Place reservations by May 24 to get the discounted price.
Florida Roofing and Sheet Metal Contractors Association's 95th Annual Convention: Roofers, welders, contractors and fabricators should plan to go to the FRSA 95th Annual Convention, taking place June 22-24 in Orlando. The event provides educational seminars and breakout networking opportunities. The conference gives patrons an opportunity to preview new products and discover industry trends.
Accommodations: The Hyatt Regency Orlando will host the conference, and special room rates are in place for eventgoers. Contact FRSA at 407-671-3772, ext. 100, for more information.
2017 American Library Association Annual Conference: The American Library Association will host its annual meeting June 22-27 in Chicago. Librarians, curators and other guests can make connections with colleagues and will hear presentations from authors, illustrators and publishers. Guests also will learn about new releases for the coming year.
Accommodations: Reduced housing rates for the event are secured at several Chicago hotels. Reservations may be made by email at ala@onpeak.com, or by phone at 800-584-9047.
NSA 2017: The National Sheriffs' Association will host its annual conference in Reno, Nevada, on June 23-28. Sheriff's office officials and members of law enforcement entities from around the country will gather to discuss safety tactics and to learn about new products and equipment designed to enhance the services law enforcement provides to the public.
Accommodations: To make reservations, contact the conference's official housing provider, Orchid Event Solutions, by email at help@orchideventsolutions.com, or by calling either 877-505-0683 or 801-505-4921. Orchid Event Solutions is available Monday through Friday from 7 a.m. to 6 p.m., Mountain Standard Time. Rooms should be booked early to avoid a sellout.
BOMA 2017: Commercial builders, Realtors and commercial property owners are marking their calendars to attend the BOMA International Annual Conference and Expo on June 24-27 in Nashville, Tennessee. The three-day gathering will feature educational clinics and will provide visitors an opportunity to speak with industry experts to hear about new trends in the real estate sector.
Accommodations: Event organizers have secured marked down hotel room rates in downtown Nashville for guests of the conference. Go to the event's website to register and to make hotel reservations. For questions about accommodations, call 800-840-1835.
2017 EASA Convention: Engineers, motor manufacturers, and suppliers and designers of mechanical products are gearing up for this year's EASA Convention, set for June 25-27 in Tampa, Florida. The event offers continuing education classes, engineering programs and other programs that will increase attendees' knowledge of the motor repair and assembly industry.
Accommodations: Discounted room blocks are in place at the Embassy Suites Downtown, the Marriott Waterside and Westin Harbour Island in Tampa. Reservations must be made through Experient, the official housing provider of the convention. Reservations can be made until May 29. Any changes to lodging details should be done before June 4.
NEA Expo: The National Education Association Expo will be held June 30 through July 1 in Boston. America's education leaders will gather at the event to discover new educational tools, services and products, and to discuss new strategies with colleagues and others in the field.
Accommodations: The conference has secured reduced room rates at area hotels. Contact NEA Housing for lodging questions.
Ship your trade show booth with ArcBest
When you ship your trade show materials with ArcBest, we'll coordinate all aspects of the shipment — including the move-in and move-out process — to ensure that everything arrives in a safe and timely manner. We offer advanced warehousing and online tracking, and if we're the official carrier of a show, we'll provide a trade show specialist who will stay on-site. To schedule a shipment or get a quote, call 844-560-2527.