Throwback Thursday: 1955 — Employees Rescue Families From Fire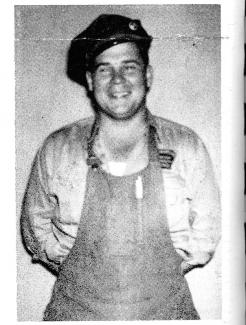 Shortly after 1 a.m. on a January night in 1955, two Arkansas Motor Freight Lines employees rescued people from a burning building.
While standing on the dock at the Pine Bluff, Arkansas, service center, dock worker Jimmie L. Barbre (pictured) and road driver C.F. Waters saw flames "shooting skyward" from a row of buildings a block away. They called the local fire department and then ran to the scene of the fire.
A neighborhood theater, the Alamo Theatre, was on fire, and the flames were spreading to adjacent buildings. "Knowing that several families occupied living quarters on the second floor of the adjoining building," Barbre and Waters roused the residents and helped them get to safety, according to the AMF employee magazine.
The fire department soon arrived and fought the fire until 5 a.m. The theater and several buildings were later razed.
"Hats off to Barbre and Waters, whose prompt action resulted in no casualties from the fire," the magazine reported.
Arkansas Motor Freight is a predecessor of ArcBest carrier ABF Freight®.